With one of the most exciting come from behind wins in recent memory, Antonio DeMarco (27-2-1, 20KOs) is on top of the world as the WBC lightweight champion. Last October as he trailed on the score cards, DeMarco of Tijuana by way of Los Mochis, Mexico, stopped two-time world champion Jorge Linares in the 11th round of their title bout.
With the win, DeMarco realized a long life dream of being a world champion. Last March, DeMarco defended the title against Miguel "Mickey" Roman with a fifth round KO in his hometown of Los Mochis.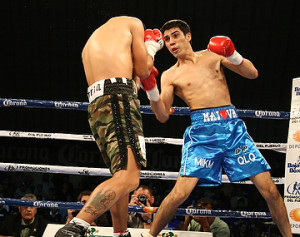 Earlier this week DeMarco was awarded by the Tijuana Boxing Commission an accolade for his performances outside of Mexico in 2011. DeMarco is now set to defend his title once again, now either in Mexicali or Tijuana, on August 20th against Alejandro Sanabria (32-1-1, 24KOs) of Mexico City, Mexico. Sanabria has held the WBC Silver lightweight strap.
"I am ready to fight. I have been in the gym working lightly but soon we will pick up the pace," DeMarco stated. "Sanabria is a strong fighter. I know I will have to be at my best but I am not worried, I am sure my team will put together a good strategy for the fight. I am happy to be fighting in Baja California, something I have not done in a long time, so I am looking forward to it."
DeMarco will be in attendance at the 99th Annual Fontana Days Festival on Satuday, June 2nd. DeMarco will be taking pictures and signing autographs for his fans as part of the Casa Hispana Booth at the parade held in Fontana, California. The booth will be located at Veterans Park, 17255 Merril Avenue, Fontana, CA, 92335.