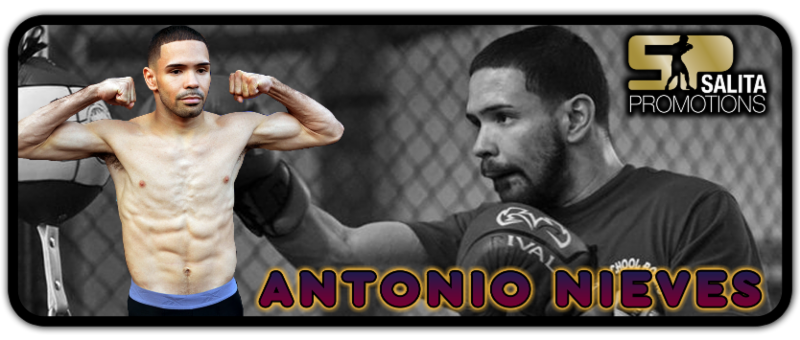 Last Saturday (November 26), Cleveland, Ohio-based bantamweight Antonio "Carita" Nieves stayed busy and kept himself in line for a cross-state showdown with Cincinnati-based WBA Bantamweight Champion Rau'shee Warren by stopping Hungary's Szilveszter Ajtai with a single body shot.
Fighting at the Firebird Athletic Center in Bedford, Ohio, WBO #5-rated Nieves (17-0-2, 9 KOs) planted a single left hook to the Hungarian's body at :46 seconds of round two to earn his 17th professional victory.
The impressive victory keeps alive Nieves' dream of facing cross-state rival Warren in an all-Ohio bantamweight championship fight.
"The goal has always been to become a world champion," said Nieves, post-fight. "I'd love to fight for the WBO championship and bring that belt back to the United States. The dream fight would be a unification fight with Rau'shee Warren. I would love an all American, all Ohio match up with a great fighter like Rau'shee. We fought once in the amateurs back in 2011 when I had about four hours' notice. He won that fight by decision in Cincinnati. While we have always respected him, the next time we meet, there will be a different result and a different winner."
Nieves' promoter, Dmitry Salita of Salita Promotions, says he's happy with his fighter's performance.
"Antonio did what he's supposed to do as one of the world's best 118-lb fighters," said Salita. "That body shot he landed was one that few fighters could withstand. He's in perfect shape and ready for his world title shot, which we are working to secure for him in the near future. I'm not sure I want Rau'shee Warren's people to watch the video though. They may not give us the fight we really want."