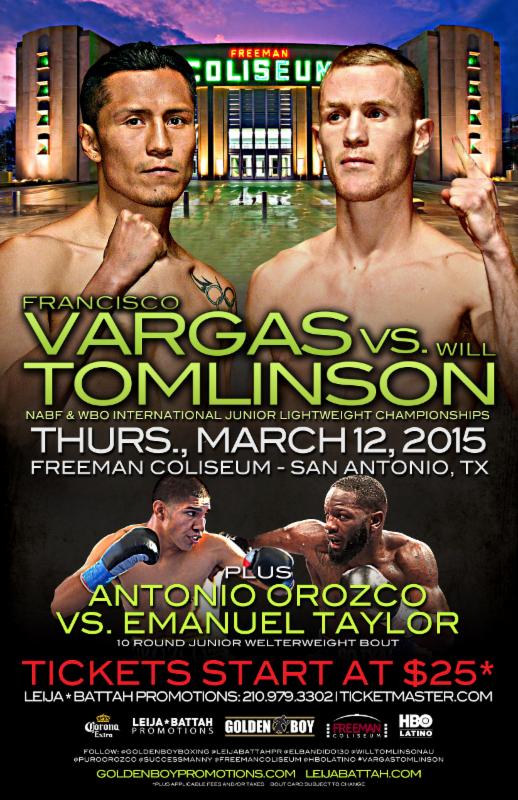 Undefeated Mexican brawler Antonio "Relentless" Orozco (21-0, 15 KOs) will have to wait to make his 2015 debut. Orozco was injured on Monday, Feb 2. when he suffered a deep cut near the right eye while sparring during training camp.
His personal doctor determined the cut was too deep in dimension and would not heal fast enough for his scheduled bout on March 12. Orozco withdrew from participation as the co-main event for Francisco "El Bandido" Vargas (21-0-1, 15 KOs) versus "Wild" Will Tomlinson (23-1-1, 13 KOs) from the Freeman Coliseum in San Antonio, Texas on Thursday, March 12th, airing live on HBO Latino beginning at 9:45 p.m. ET/PT.
Orozco was scheduled to face the well-known, tough punching Emanuel "Tranzformer" Taylor (18-3, 12 KOs) in a 10-round junior welterweight co-main bout promoted by Golden Boy Promotions in association with Star Boxing.
"I was prepared and excited to go up against Emanuel Taylor on March 12. I know that facing him and beating him would have been a grand debut in 2015," said Orozco. "I am very disappointed in the outcome and now need to heal and be ready for a fight as soon as possible."
The Golden Boy Promotions and Leija*Battah Promotions event will go on with the announcement of Frankie "Pit Bull" Gomez (18-0, 13 KOs) of Los Angeles, Calif. as the co-main event in a 10-round welterweight bout against an opponent yet to be announced.
Frankie "Pit Bull" Gomez, is a tough fighter from East Los Angeles. Fighting in his first bout in almost a year, Gomez is ready to take on any fighter that will face him and take him to the next level in his career. Undefeated, the super lightweight prospect most recently fought Orlando Vazquez at the Stub Hub Center, in Carson, Calif. in April and won by knockout in the second round of their scheduled 10-round bout. Later in July, Gomez went the distance against Vernon Paris at Fantasy Springs Resort Casino winning by unanimous decision.