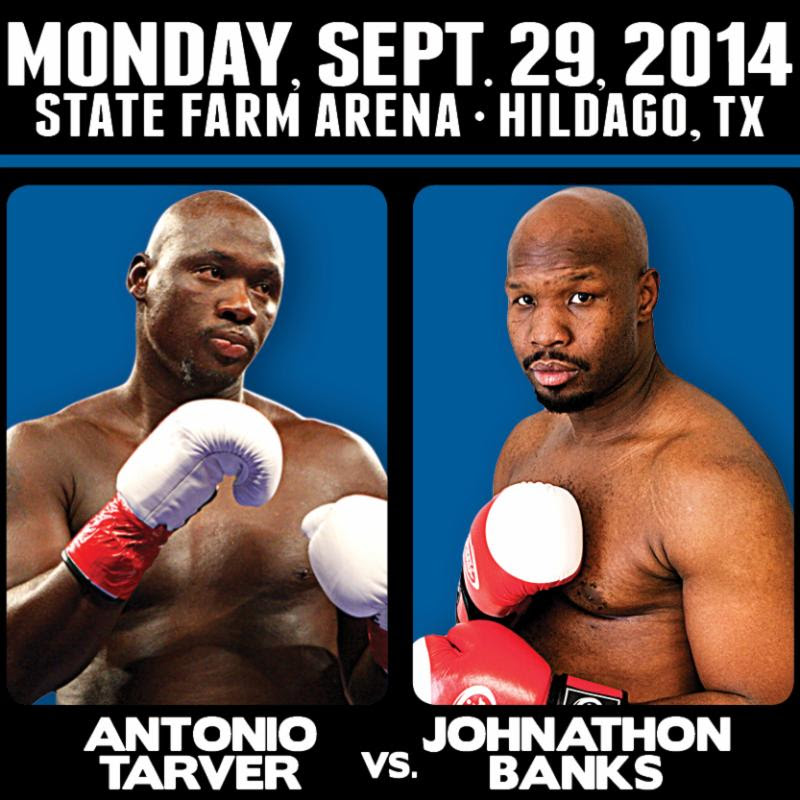 The recently announced junior featherweight bout between Southern California favorite Joseph "Jo Jo" Diaz and Mexican warrior Raul "Bule" Hidalgo has been elevated to the main event for the Monday, Sept. 29 Golden Boy Live! fight night from the State Farm Arena in Hidalgo, Texas due to an injury suffered by former light heavyweight world champion Antonio Tarver.
Tarver, who was scheduled to face Johnathon Banks in a 10-round heavyweight bout on FOX Sports, injured his thumb during training camp. "The injury actually happened two and a half weeks ago and I've been trying my hardest to work through it. Finally my doctor ordered an X-ray and we found out it was a fracture," Tarver said of his injury.
Tarver added, "I'm very disappointed I won't get to face Johnathon Banks, but hopefully we will be able to reschedule this fight with him for a later date. I was ready to make a statement with this fight, and I'll be back as soon as I can." Tarver still plans to be in Texas, however, to witness his son Antonio Jr.'s professional debut.
The remainder of the televised portion of the card will feature a co-main event between New Mexican junior welterweight Fidel "The Atrisco Kid" Maldonado Jr. (18-2, 15 KOs) and an opponent to be determined, as well as junior welterweight Ricardo "Dinamita" Alvarez (23-3, 13 KOs) in the televised opener against an opponent to be determined.
"The show must go on," said Oscar De La Hoya, founder and president of Golden Boy Promotions. "The loss of the Tarver vs. Banks fight is a disappointment, but fans in the State Farm Arena and those watching at home on FOX Sports 1 and FOX Deportes will not be disappointed."
A fighter whose maturity in the ring far surpasses his 21 years of age, South El Monte, California's Joseph Diaz Jr. (11-0, 7 KOs) is enjoying a meteoric rise through the junior featherweight division. Already a 2014 winner over Jiovany Fuentes and Luis Maldonado, Diaz Jr. was impressive in his first 10-round bout in July, as he outpointed prospect Ramiro Robles.
One of Diaz' most seasoned opponents yet, Chihuahua Mexico's Raul Hidalgo (22-11, 16 KOs) has fit a lot of experience into his four years as a professional, and he intends to use every bit of it to score the upset on Sept. 29. A ferocious competitor who has faced off with the likes of Ivan Morales, AJ Banal, Daiki Kameda and Christopher Martin, the 25-year-old Hidalgo has won three of his last four bouts, most recently outpointing Gonzalo Garcia over 12 rounds in July.