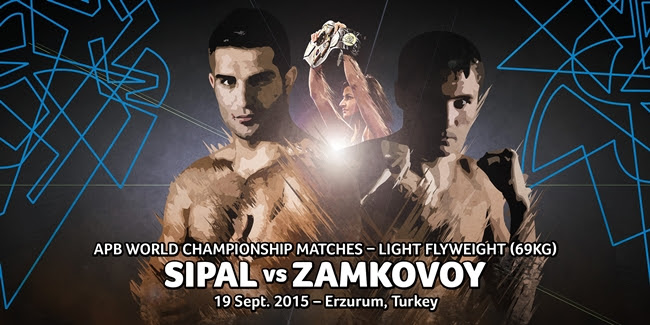 Abdrakhmanov vs Tojibaev II set to produce a Lightweight title thriller in Tashkent
A sold out O'zbekiston Sport Majmuasi in Tashkent, Uzbekistan will host the APB World Championship Matches on Saturday night, where Lightweight (60 kg) Champion Berik Abdrakhmanov (KAZ) defends his title against Hurshid Tojibaev (UZB).
Boxing fans around the world can view the action from 20:30 (GMT +5) at https://www.youtube.com/user/AIBAproboxingTV.
Abdrakhmanov has amassed a flawless 4-0 record in APB, and defeated Tojibaev over eight rounds last January to become Champion.
The 29-year-old won the bronze medal at the 2013 AIBA World Championships, and has looked virtually unbeatable in APB.
Despite holding the coveted Lightweight title, Abdrakhmanov will travel into his challengers backyard to defend his belt, but is sanguine regarding his chances.
"I have never lost in APB, and will keep my perfect record after beating Tojibaev once again," he said.
"We have both been training exceptionally hard for this title match, and it will be one of the best matches of the year. Fighting away from home only makes me more motivated to return to Kazakhstan with my title belt."
Tojibaev has won five of his six APB matches, and has been in outstanding form since his initial title defeat to Abdrakhmanov.
Cycle I victories over David Oliver Joyce (IRE) and Dmitriy Polyanskiy (RUS) have propelled the Beijing 2008 Olympian back into the title picture, much to the delight of his legion of supporters in Uzbekistan.
"The support I have received from my fans in Uzbekistan ahead of this match has been incredible. My recent form has been excellent, and I anticipate that it will continue against Abdrakhmanov," remarked the challenger.
"Yes I have lost to him before, but I learnt a great deal from that bout, and I believe fighting over 12 rounds will prove to be an advantage for me."
Although Tojibaev lost his first match with Abdrakhmanov, he impressed towards the latter stages of the bout, and will have four more rounds to press home his stamina in Tashkent.
The Champion is a supremely gifted fighter who has blistering hand speed and focused defence which is helped by rapid reflexes.
He shall have to navigate his way through the awkward style of Tojibaev however, and the challenger has carved out an impressive style in APB which involves plenty of movement.
Three further Uzbek fighters feature on the undercard, as Khakberdiev Ulugbek meets Lazar-ioan Nichita (ROU), Abdullayev Shukhrat fights Margineanu Alexandru Bibiricea (ROU) and Ulugbek Mubinov battles Milutin Stankovic (SRB).
Over 7000 fans in Turkey will experience APB Welterweight Champion Onur Sipal vs Andrey Zamkovoy
The APB World Championship Matches lands from the Erzurum Stadium Sports Center, Turkey on Saturday night, as a sold out arena of over 7000 fans will watch Welterweight (69 kg) Champion Onur Sipal (TUR) defend his title for the first time against Andrey Zamkovoy (RUS).
Boxing fans around the world can view the action from 18:00 (GMT +3) at https://www.youtube.com/user/AIBAproboxingTV while the event will also be broadcasted by NTVspor.
Sipal won his world title in impressive fashion last January against Rayton Okwiri (KEN), and was personally congratulated by Akif Çağatay Kılıç, the Turkish Minister of Youth and Sports following his impressive accolade.
The Champion has not fought competitively since that memorable night as he waited for a number one contender to emerge, but has been training hard at home with the Turkish National Squad.
"I will have the honour of protecting my Championship in my country, and for the last three months I have been undergoing extraordinary training. Zamkovoy is a good boxer, he knows how to use the ring and he's a smart boxer," said Sipal ahead of the bout.
"This coming match is a pro bout of 12 rounds, and will be in my country. I know my opponent very well, and I know how he fights. Since we can guess how he trains, we have planned accordingly. This match will definitely be mine, and he will be sorry that he came!"
Zamkovoy too has been preparing intensely for this contest, and enters the match in strong form.
The 28-year-old London 2012 Olympic Games bronze medalist and 2013 AIBA World Championships silver medalist outpointed Eimantas Stanionis (LIT) in a scintillating Cycle I Round 1 bout, before securing his title shot by defeating Gyula Kate (HUN).
"My opportunity to fight for the APB Welterweight title is very exciting, and I will become the new Champion," said a confident Zamkovoy.
"Fighting over 12 rounds is a prospect I am greatly looking forward to, and I am inspired by the success of my fellow Russian fighters in this competition. Sipal will be supported by his fans in the venue, but I am not scared, and will use the noise to my advantage."
Both boxers share similarly attacking styles in the ring, and their fight is expected to be one of the most entertaining APB World Championship Matches of the series.
Sipal is a strong fighter who consistently uses exceptional upper body movement to prevent harmful shots, while allowing him to formulate his own attacks.
His opponent loves to fight aggressively too, and the southpaw Russian has a long reach and a pulsating jab which he uses often to control the tempo of fights.
An amazing atmosphere is expected in Turkey, and both world class fighters are determined to make the action in the ring as unforgettable as the spectacle in the arena.
Onur's brother Onder Sipal (TUR) will feature on the undercard against Besir Ay (TUR), while Ali Eren Demirezen (TUR) vs Marin Mindoljevic (CRO) and Batuhan Gozgec (TUR) vs Ayrin Smetov Ismetov (BUL) also feature.