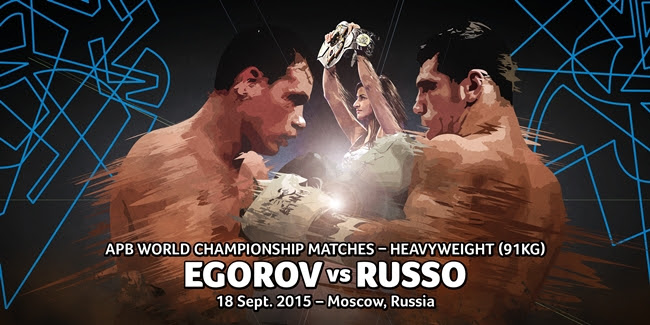 The APB Heavyweight Champion will be determined by Egorov vs Russo III
The APB World Championship Matches continues on Friday night in Moscow, Russia where Heavyweight (91 kg) Champion Aleksey Egorov defends his title for the first time against the number one contender Clemente Russo (ITA).
Boxing fans around the world can view the action from 19:00 (GMT +3) at https://www.youtube.com/user/AIBAproboxingTV while the event will also be broadcasted by TV Boetz.
Egorov established himself as the most dominant APB Heavyweight by winning all four of his matches, and he became the Inaugural Champion after a close points win over Russo last January.
That was the second time Egorov had beaten Russo in this competition, and though each bout proved to be incredibly narrow, they both took place in Italy which makes Egorov's victories over such an outstanding competitor even more impressive.
The 24-year-old Champion is proud of his current APB achievements, but is firmly focused on adding to his superb reputation.
"I'm looking forward to this fight. I have been training hard and I'll be ready to succeed. My first two matches with Russo were not easy at all. The audience was very supportive to him and I had to overcome the pressure, which I eventually did," he said.
"Fighting in Italy isn't much different than fighting anywhere else, and I got used to it. During the second fight, I even had supporters in the Italian audience. For our third match, I never pursue knockouts but it's an awesome way to end a match, I would not be against ending the fight with a knockout."
For the first time in the trilogy, Egorov will enjoy home advantage against Russo, but his decorated opponent has arrived in Moscow in tremendous form.
Cycle I victories over Anton Pinchuk (KAZ) and Roman Golovashchenko (UKR) have revitalised Russo's APB career, and after a career which has seen him earn many major honours, a pro World Championship is finally in his grap.
The Italian has won two AIBA World Boxing Championships and two Olympic Games silver medals, but believes that becoming APB Champion would be: "a great achievement for me to reach, especially because I have dedicated two years of training for it. This would be one of the most important milestones for me to accomplish."
Unlike their first two matches which took place over six and eight rounds respectively, the title match will be a 12 round battle, which the challenger is more than happy with.
"I'm not nervous about the 12 rounds. Egorov is very skillful and strong, but I'm ready to go to Russia to win," he confirmed.
The longer distance will suit the attributes of the two athletes, as they both have tremendous stamina and train intensely all year round.
Egorov uses a pressure heavy style with plenty of jabs that allows him to control matches, while Russo's elusive movement and fluid footwork should open gaps during the bout.
A boxing match between two world class Heavyweights is always met with keen interest, but with the prestigious APB belt adding even more cachet to this contest, the event has the potential to be one of the most captivating moments of the year.
Magic in Moscow anticipated as Ehsan Rouzbahani defends his APB Light Heavyweight title against Mathieu Bauderlique
Moscow, Russia will host two APB World Championship Matches on Friday night, including a first title defence for Light Heavyweight (81 kg) Champion Ehsan Rouzbahani (IRI) against Mathieu Bauderlique (FRA).
Boxing fans around the world can view the action from 19:00 (GMT +3) at https://www.youtube.com/user/AIBAproboxingTV while the event will also be broadcasted by TV Boetz.
27-year-old Rouzbahani won the Inaugural Light Heavyweight Championship earlier this year against Kennedy St. Pierre (MRI), and has excelled in APB with three impressive victories.
The Iranian star defeated Bauderlique last December over six pulsating frames, with their eagerly anticipated rematch scheduled for 12 rounds.
This fight brings together two of the biggest punchers in the Light Heavyweight division, as the powerful Rouzbahani meets a rival who has performed spectacularly in recent matches.
Bauderlique's last three opponents have all failed to hear the final bell, after the Frenchman stopped both Nikita Ivanov (RUS) and Joseph Ward (IRE) in dramatic fashion, before his truncated Cycle I Round 2 bout with Spas Genov (BUL) was halted in the second round.
"I lost to Rouzbahani narrowly in our first bout after he took advantage following a knockdown in the 4th round, but I managed to reduce the gap throughout the fight, and that's why a 12 round bout will be a serious advantage for me," remarked Bauderlique ahead of his title match.
"Rouzbahani is indeed a great boxer and he'll be ready to face me, but this bout will be different from the first because I am an instinctive boxer which everyone will see on the night. In any case, I want to win the belt, and he'll be ready to defend it."
Considering the power both men possess, many boxing fans are anticipating the contest to be an all-out war, but there is more to the boxers than just knockouts.
Bauderlique is an incredibly resilient fighter with a great chin and tremendous timing, while Rouzbahani has remarkable movement and one of the best jabs in APB.
Fireworks are expected in Moscow as the outstanding Champion and challenger battle it out for the coveted APB belt, and fans are advised to keep their eyes glued to the action at all times.