IBF super featherweight champion Argenis "The Thunderstorm" Mendez (21-2-, 10 KOs) has arrived in England and joined his trainer, Lee Beard, to prepare for his first title defense.
Mendez, a 2004 Dominican Republic Olympian now living in Miami, captured the IBF crown this past March in a rematch, destroying defending champion Juan Carlos Salgado in four rounds.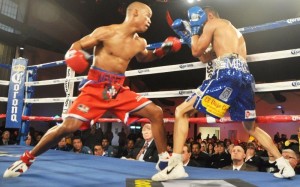 "We're going to England to begin preparation for our first title defense," Mendez said before departing Florida. "We trained there in the UK before I defeated Salgado and the result was the best. We will be in England for about 45 days with my main trainer, Lee Beard, and other members of our championship team. We will meet to establish a training and nutrition plan to have me in great physical condition right through the night of my next fight. We are dedicated to reaching our goal to retain my title. The only way we know how to achieve success is to continue working hard."
Mendez is scheduled to defend his crown in the middle of July against an opponent to be determined. "My job is to be ready to fight when my promoter tells me who, when and where," added Mendez, who is rated No. 3 in the world by The Ring Magazine.  "We had to make many sacrifices to get this world title. There are many good fighters out there at 130 pounds for me to face. If any world-class super featherweight thinks he can beat me, talk to your promoter, and let's make that fight. We only want to fight the best.
"I tell all boxing fans that I'm not an arrogant athlete. I believe in God and family, and give thanks for what I have with humility. However, I also want to tell everyone out there that we are ready to enter the ring with the any of the best 130-pounders in the world like Roman 'Rocky' Martinez, Ricky Burns, Takashi Uchiyama, or Mikey Garcia. These are the fights that boxing fans really want to see, so let's give them the very best fight."