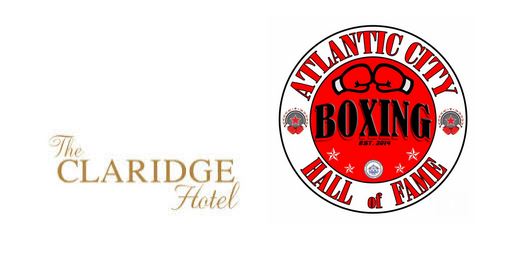 The Atlantic City Boxing Hall of Fame is proud to announce it's alliance with with the Claridge Hotel in Atlantic City, NJ that will constitute bringing 6 events to the historic hotel in 2016.
Four of the events will be fight nights promoted by Rising Promotions, in the Celebrity Theatre venue with the first event being held on Saturday March 19, 2016
Two other major events are being planned which includes the inaugural induction class set for this fall as well as signature events that will appeal to boxing fans around the world.
The Atlantic City Boxing Hall of Fame has assisted various promoters over the past two years in securing events and venues and will continue it's effort to restore the shore community to being a mecca and destination for future boxing events.
Said Atlantic City Boxing Hall of Fame President & Founder Ray McCline, "It's been a pleasure working with the entire Claridge Hotel team. Their commitment and support has been greatly appreciated. We're looking forward to great things in 2016, at this historic Hotel their 650 seat Celebrity Theatre has proven to be the perfect venue to showcase young local boxing talent"
"The Claridge Hotel is happy to have created a relationship with the Atlantic City Boxing Hall of Fame over the past year to bring boxing events to the property. A. Cem Erenler V.P. of Hotel Operations & Business Development further stated that we're very excited to announce that we have agreed to collaborate on a series of boxing events for 2016 and look forward to what this year will bring as we develop these fantastic events."
"It's such a pleasure to be in a joint venture with the Claridge Hotel and to bring boxing to Atlantic City, " Said Roy Foreman, Senior Vice-President of the Atlantic City Boxing Hall of Fame. "The Claridge has such a historic background that it almost seems a natural fit that the shows will be taking place there. The Atlantic City boxing hall of Fame is indeed grateful to partake in this venture."