For at least the last year and a half, fight fans have wondered when American heavyweight Deontay Wilder was going to take a step up. Wilder was the only medal winner from America's blighted Beijing team, capturing a bronze, and has racked up a 27-0 record since turning pro. None of those opponents has survived to see the final bell, yet none of them was better than a journeyman, and most were mere tomato cans.
In taking on Audley Harrison, Wilder is fighting a "name" opponent at last. Ostensibly, Harrison is serving as Wilder's gatekeeper, the guy who isn't quite a world class opponent himself, but is good enough to keep misfits from rising into the world rankings. The problem is that Harrison has big name recognition, at least in the UK, but isn't much of a gatekeeper.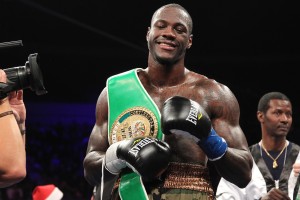 A gold medal winner at the Sydney Olympics, Audley Harrison was thought of as the successor to Lennox Lewis for a time, but his career was derailed by back-to-back losses to Danny Williams and Dominick Guinn. After a further knockout defeat at the hands of British trialhorse Michael Sprott (who was recently given a pounding by Robert Helenius), Harrison slipped off the world boxing stage.
Yet Harrison still had some fame, and was therefore a "name" opponent with a certain bankability, especially after winning the British Prizefighter television tournament in 2009 and again earlier this year, but he has never risen back into standing as even a fringe contender. That got him fights with David Haye and David Price, who demolished him.
The truth is that whatever his level of name recognition, Harrison has never won a big fight, nor has he even so much as looked good in a big fight. When I think of great heavyweight gatekeepers, I think of guys like Jesse Fergusson, Bigfoot Martin, and Smokin' Bert Cooper. If a world class fighter showed up unfocused, out of shape, or unprepared for a fight with one of those guys, he would pay a steep price for it. They weren't the stuff of world title challengers, not really, but they were clearly a dividing line between the lower tiers and the upper tiers of the division. To get past them, you had to be good.
Does anyone doubt that Sergei Liakhovich (who Bryant Jennings got past) and Alexander Dimitrenko (who Eddie Chambers and Kubrat Pulev got past) are better gatekeepers than Harrison? I doubt it, and that's why I find the prospect of Wilder vs. Harrison far more disappointing than promising.
I'm thrilled to see Deontay Wilder taking a long overdue step up, and Harrison is undeniably a step up. Yet, he is only a baby step up, and that is bitterly disappointing.