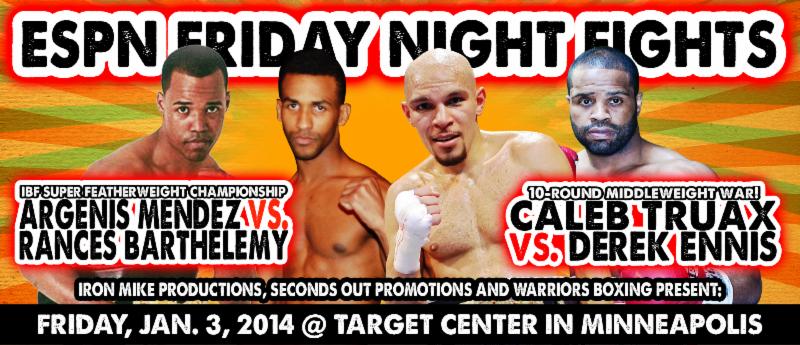 Rances Barthelemy scored a controversial Round 2 KO victory over Argenis Mendez, bringing home the IBF strap for the super featherweight division in the process. It was controversial because while it goes down as a KO2 win, the final punches came several seconds after the bell which should have ended the round.
However, the referee wasn't in proper position and didn't jump right in to halt Barthelemy, who was in the midst of a combination. Barthelemy kept on throwing, the punches kept on coming, and the last one that landed, well beyond the round's official close, sent Mendez down for the second time in about 20 seconds. Mendez had no chance to get up from this one, as he stumbled and slipped and rolled over but couldn't lift himself onto his feet before the action was called off for good.
In earlier action, Caleb Truax was held to a draw against late sub journeyman Ossie Duran. The well traveled Duran put forth a good effort and the fight was certainly close. All three judges had the fight scored 95-95.
It's a huge win for the unbeaten Barthelemy, as "Kid Blast" was best known to boxing fans at this point for being the beneficiary of a stinky decision victory over Arash Usmanee on a FNF broadcast from 2013, nearly exactly one year prior.
Mendez, who had won his title in a rematch over Juan Carlos Salgado, then chose to take on Usmanee, and the two fought to a draw. He moved onto the Barthelemy fight next, and despite the controversy over the ending, was being easily handled up through two rounds by the undefeated Cuban pro.