The final press conference was held on Wednesday to discuss the  "Friday Night Fights at Magic City Casino" to be held this Friday, January 4, 2013, at Stage 305 in the Magic City Casino. It's the 2013 debut for ESPN's Friday Night Fights. Headlining will be a 12-round IBF #2 super featherweight elimination bout between Miami's own Rances "Kid Blast" Barthelemy (17-0, 11 KOs) and fellow undefeated prospect Arash Usmanee (20-0, 10 KOs).
In the co-featured televised bout, Puerto Rican powerhouse Jonathan "Mantequilla" Gonzalez (15-0-1, 13 KOs) takes on highly regarded Philadelphian Derek "Pooh" Ennis (23-3-1, 13 KOs) in a junior middleweight 10-rounder.
Quotes from the Conference: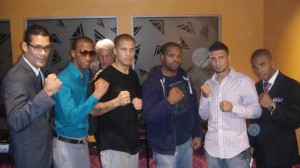 Leon Margules (Warriors Boxing) – Every fighter on this card can win and that's refreshing and exciting in today's boxing. I am very excited to have this event at the Magic City Casino; we hope we have several shows at this wonderful venue. This is the first show on ESPN of 2013 and we will not disappoint the viewers or the fans. We are starting the year strong.
Richard Dobal (Bad Dog Productions) – We are excited to be at the Magic City Casino, and to bring boxing back to Miami. This is a great show and the fans will not be disappointed.
Luis DeCubas (Blue Wave Group) – This is a great card. Blue Wave Group is excited to be working with Warriors Boxing and Bad Dog Productions. We have worked very hard to put this show together and we are looking forward to selling this place out.
Rances Barthelemy – I want to thank everyone for this fight, the casino, my management, my promoters and trainer. I am renewed with this camp. All these changes are for the best. You will see a different fighter than before on Friday night. I have trained very hard and have gone to Big Bear, California, to spar. I am ready for the bell to ring. I want to thank my opponent, Arash, for accepting this fight in front of his Cuban fans.
Arash Usmanee – I would like to thank everyone for this opportunity. I have had a great camp and I am ready to fight. I hope he is ready to fight.
Derek Ennis – I am here to put on a good show for everyone. I want to thank all the promoters. I am coming out to do my thing: hit and not get hit. I will see you at the fights and do my talking in the ring.
Jonathan Gonzalez – I want to thank God for giving me the opportunity. I have been in camp for eight weeks and I am ready to fight today. I am on weight today and I am ready to take out all my frustrations out on Ennis. He has no idea. I am ready.
Roberto J. Acevedo – I am excited and anxious to fight. I am fighting a Mexican and I am ready to bring the win back to Puerto Rico. I feel strong and this is one of the best camps I have ever had.
Hairon Socarras – We wants to thank everyone for being here today. I am ready to fight and I want to thank my promoter Blue Wave Group. Thank you for all the support.