Kirkland KO'd in Comeback:
On the Maidana-Morales undercard, the career of James Kirkland took a major hit as he was shockingly stopped in one round by unheralded Japanese fighter Nobuhiro Ishida. Looking at what is being written now about Kirkland, it is clear that the boxing world has turned on him completely. Last week he was a future can't-miss champion and now his career is fodder for insults. Everyone seems to be going extra hard on him. Very fickle is this world of boxing. Let's take a moment, however, to examine it and see if there aren't other possible conclusions.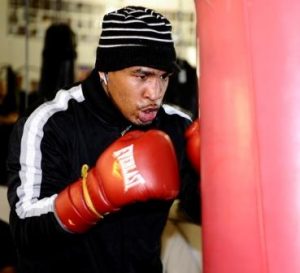 Since leaving prison recently, he embarked on a breakneck pace. You'd think the way they were moving him that the world was ending at the end of the year. He just turned 27. The urge certainly exists to make up for lost time, but how many name fighters take to the ring every two weeks nowadays? The matchmaking was from a past era, but unfortunately, the public's tendency to forgive losses is not.
It seemed more important to get Kirkland into a good rhythm. The strategy that ended up getting used was more of a crash-diet type of approach—trying to squeeze a bunch of action into a small period of time, rather than develop a more realistic and sustainable course of action. The fact that Kirkland appeared to be at least momentarily rattled in both comeback fights despite scoring early knockouts showed that easing him back into the mix would have been the smarter move. There seemed to be little reason to throw him right in there with a giant-sized 158-pounder who had lost only one split decision in the past seven years. It's easy to look at this sport with 20/20 hindsight. We didn't hear anyone questioning Kirkland's schedule before the fight
It was a disastrous outing. It's hard to sugar coat it. Kirkland was blown out by a guy who had a scant 7 knockouts in 30 fights. In reality, it didn't seem like an especially dangerous fight. Otherwise, we all would have taken Ishida at huge odds and that never occurred to us, did it? So let's not be so quick to condemn Kirkland's promoter—Golden Boy Promotions, or his trainers for that matter. Every trainer has experienced this with their fighters. Whether referee Joe Cortez stopped the fight prematurely also seems to be an innocuous point of contention.
"The Mandingo Warrior" grossly underestimated his opponent, as evidenced by the disdain he showed toward Ichida's punching power. He also seemed to be in a state of denial after the fight. He offered no praise to his opponent, but instead called out the decision of Cortez to stop the fight. He even went so far as to say Ishida had "no power"—a startling assessment of the man who had just iced him in one round. His post-fight reaction didn't resonate well.
Needless to say, Kirkland had an off-night. Apparently, this is not permissible in the sport of boxing anymore. A-Rod can go 0-4 forty times a year and no one bats an eyelash. In addition, Ishida truly had a great night. Perhaps galvanized by the disaster in Japan, he had his Rocky Balboa moment at the worst possible time for Kirkland. Ishida is obviously better than we all thought anyway, as his 14-1-1 record in his last 16 fights indicates. But is it really the end of the world for Kirkland?
Perhaps we should take note of how MMA operates for once, at least in regards to this matter. Top pound-for-pounder Georges St. Pierre has lost twice in the first round. Legend Randy Couture was defeated in the opening round 5 times. Top heavyweight Alistair Overeem has been stopped in the first round six times! All have enjoyed their best success after these setbacks. There are of course differences in this comparison, but there's no denying the extreme hard-line modern-day view of losing in boxing. Such harshness towards losing only really exists in this sport.
Is Kirkland a different fighter now that this has happened? A few days ago, he was the second coming and now he should be relegated to the scrap heap? Talk about the human urge to take a side—my god! Judging by how a lot of people look at boxers, there are now only two categories for fighters: those who are "it" and those who are not—with zero middle ground. If only life were so simple.
Kirkland is no Joe Grim, but this is the same guy who withstood the bombs of Joel Julio and Brian Vera. He has been easier to hit in his comeback, perhaps a byproduct of being even more eager to finish matters than he was before—again, in an effort to make up for lost time. It still seems far-fetched to conclude that a deuce in the joint could erode a guy's chin this badly.
Everyone is attaching so much importance to this result, as if a first-round knockout speaks loudest about a fighter's shortcomings. In reality, first-round knockouts are often times the most inaccurate gauges of a fighter's future prospects. For every first-round knockout you see that is a result of utter dominance, another is the result of a fighter being caught off-guard before he is mentally into the fight. Even the fact that Ishida entered the fight with a KO ratio of under 25% suggests that it's less about power, but more about being caught cold.
Not to take anything away from Ishida—he was fantastic. He was throwing that weird left that really caught Kirkland off-guard. It was thrown strangely, but whipped in with surprising velocity and suddenness. Kirkland didn't see it coming. Those are the shots that do the most damage. He saw the right hand, but Ishida kept lashing in with that bizarre left that just had Kirkland coming unglued. He was being arrogant; eschewing defense, not warmed up, and getting hit by shots he didn't see or fathom would be coming. These things can contribute to making any fighter a KO victim—glass jaw or not.
A lot of fighters are most vulnerable in the first round. Even top guys like Juan Manuel Lopez are easier to rattle in the early going, before the chin warms to the task. In baseball, there have been a bunch of pitchers who often get shelled in the first inning before getting into the groove. At any rate, the first-round knockout might be the most emphatic type of win on paper, but can also be the most misleading of all results.
Take a look at 70's/80's fighter Marcos Geraldo. The mercurial puncher was the kind of fighter if you didn't get out early, you probably wouldn't knock him out at all. Geraldo was stopped 8 times in the first round. At the same time, he was good enough to last the full distance with Marvin Hagler and Sugar Ray Leonard in their dead primes, even winning his share of rounds. In his previous outing before facing Hagler, he was stopped in one by Caveman Lee, a fighter the Marvelous One stopped in one round. Go figure.
There is a difference between getting stopped cold and having a lousy chin. Suffice to say Kirkland's chin isn't great, but not everyone on the list of name fighters who have been stopped in the first round had jaws of glass. Amir Khan isn't the greatest example, but compare what people were saying about him after Breidis Prescott starched him in the first round to what they're saying now. Some greats who had great success after getting iced in the first round include Mickey Walker, Jack Dempsey, Tony Zale, Israel Vazquez, and the list goes on. No one calls those guys "chinny."
Flyweight Champ Pongsaklek Wonjongkam once knocked out challenger Daisuke Naito in 34 seconds. Good thing for Naito that no one wrote him off, as he came back to take the title away from the legendary Thai 5 years later. Current IBF Middleweight Champion Sebastian Sylvester was knocked out in the first round in his pro debut. 115-pound kingpin Hugo Cazares was dumped in the opening stanza in a 1999 bout. Reigning IBF Junior Middleweight Champion Cornelius Bundrage also overcame the same fate. These guys are all doing pretty well for themselves.
After all, there is a reason why "caught cold" is an expression in the first place. If it weren't peculiar, it wouldn't be an expression.