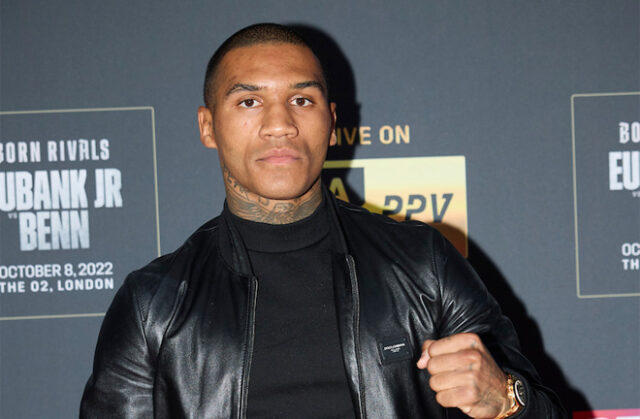 Conor Benn has vowed to clear his name after seeing his scheduled fight on Saturday with Chris Eubank Jr postponed after failing a drugs test.
News broke on Wednesday by The Daily Mail that Benn had returned an adverse finding from a Voluntary Anti-Doping Test for trace amounts of the banned substance Clomiphene.
The British Boxing Board of Control, who are governed under the United Kingdom Anti-Doping [UKAD] scheme, which Benn had passed all tests under in the lead-up to the fight, said they would not sanction the fight, claiming that it was "not in the interests of boxing."
After promoters Eddie Hearn and Kalle Sauerland made attempts to salvage the show, shortly after 16:00pm GMT on Thursday both promotional companies, Matchroom and Wasserman who represent Benn and Eubank Jr respectively, announced that the fight was officially postponed.
Hearn and Sauerland conducted a short press conference at a Canary Wharf hotel explaining their decision to postpone the show, although refused any questions from a room full of media.
"After discussions with various parties, we have taken the decision to formally postpone the bout between Chris Eubank Jr and Conor Benn," a statement read.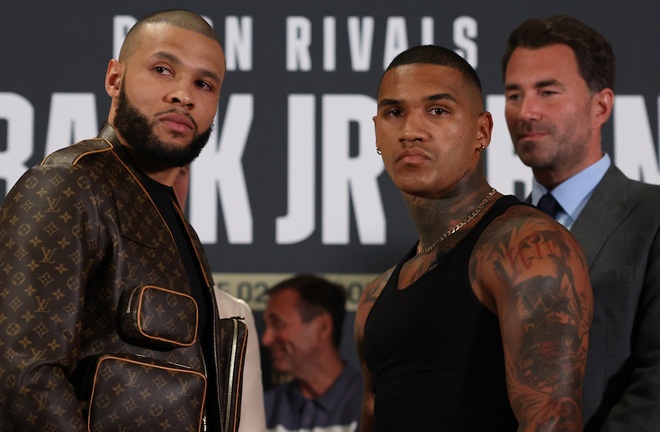 "It is undeniable that the British Boxing Board of Control's decision to withdraw their sanctioning was procedurally flawed and without due process. That remains a legal issue between the promoters and the board which we intend to pursue.
"However, whilst there are legal routes to facilitate the fight taking place as planned, we do not believe that it is in the fighters' interests for those to be pursued at such a late stage, or in the wider interests of the sport.
"As promoters, we take our obligations and duties very seriously, and a full investigation will now need to take place.
"We will be making no further comment at this time and news for ticket holder refunds will follow."
View this post on Instagram
Benn released a statement on Instagram later on Thursday, promising to clear his name and says his team is looking into options including rescheduling the fight.
"I am truly gutted that we were unable to make this fight happen on Saturday," a statement read.
"And I'm sorry to everyone who has been affected by the postponement.
"I am still completely shocked and surprised by this and it has been a tough couple of days.
View this post on Instagram
"My team and I will consider the next options including rescheduling the fight, but my immediate focus is on clearing my name because I am a clean athlete."
The pair were set to reignite a family rivalry which saw their fathers meet in two iconic British battles during the 1990's in front of a sold out O2 Arena.
Benn, who was to earn a career-highest payday was looking to jump almost two weight classes to face Eubank Jr at a catchweight of 157lbs.
According to The Daily Mail, VADA had notified all parties of the positive test on September 23, whilst Hearn claimed that Eubank Jr's team were satisfied with the medical advice they had received on the amount of Clomiphene that had been detected and were keen to proceed with the bout.
Hearn told media on Wednesday that Benn was not suspended by the BBBofC, due to them being governed by UKAD and they were exploring options to enable the fight to go ahead.
One suggestion was for the bout to be sanctioned under a different governing body, like when David Haye and Derek Chisora's 2012 grudge match was held under the Luxembourg Boxing Federation, with neither holding a licence under the BBBofC, following a prior brawl in Munich.
However, prior to the postponement, Hearn said they would not consider moving forward with the fight under a "foreign commission or alternative governing body."