WBC heavyweight titlist champion Bermane "B. Ware" Stiverne (24-1, 21 KOs) was honored this past weekend by the Nevada Boxing Hall of Fame (NBHOF) at its annual awards dinner in Las Vegas.
Stiverne was presented a Special Achievement Award by the NSBHOF for becoming the first Haitian-born Heavyweight Champion.
[Note: We do not recognize Bermane Stiverne, nor any other alphabet titlist, as a "world champion". Stiverne is ranked #4 in our heavyweight division rankings].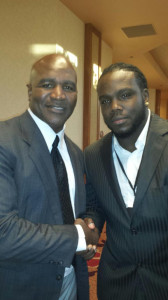 "It felt great to represent Haiti," Stiverne said, "but what really felt amazing was to receive it amongst legends like Mike Tyson, Evander Holyfield, Roberto Duran and Floyd Mayweather."
Stiverne, who knocked out Chris Arreola (35-4) this past May to claim the title belt vacated by retired Vitali Klitschko, is tentatively scheduled to defend his title for the first time later this year against mandatory challenger Deontay "The Bronze Bomber" Wilder (31-0, 31 KOs).
During the NBHOF dinner, Stiverne spent most of the time with his head trainer, Don House, along with his long-time friend and former world champion, Kevin Kelley. However, Bermane was introduced to a few people he's always wanted to meet.
"I had the honor to meet Evander Holyfield, the talented actress and host of the night, Rosie Perez, and Roberto Duran," Stiverne noted. "It's really funny how I used to watch these icons when I was a young kid."
"I'm very happy Bermane is getting the recognition he deserves," Stiverne's manager Camille Estephan (Eye of the Tiger Management) added. "We've all worked hard to get him to this point but this isn't our destination point. He's gong a lot further. He has the WBC belt, the same one held by Muhammad Ali, George Foreman and so many other great heavyweights. Someday, we want Bermane talked about in the same way. We can't wait for his next fight so he can make a major statement."