Will the crafty skills of Hopkins spell doom for new light heavyweight kingpin Jean Pascal?
The ageless executioner Bernard Hopkins will try to seize yet another opportunity to claim light heavyweight supremacy when he faces off against the new light heavyweight king Jean Pascal for Pascal's WBC light heavyweight title.  The fight will take place on December 18, 2010 in Pascal's backyard at the Pepsi Coliseum in Quebec City, Canada.  Pascal's last fight was in Canada where he shocked the world by defeating "Bad" Chad Dawson. So what type of fight can we expect from the old lion Hopkins and the young, aggressive Pascal?
Hopkins vs. Pascal Tale of the Tape
Jean Pascal is 27 years old, with a record of 26 wins and only 1 loss.  He stands at 5 feet 11 inches tall, with a 67 inch reach, fighting out of the orthodox stance.
Bernard "The Executioner" Hopkins is 45 years old, with a record of 51 wins, 5 losses, 1 draw, and 1 no contest.  He stands at 6 feet and 1 inch tall, with a 75 inch reach, also fighting out of the orthodox stance.
Hopkins vs. Pascal Fight Preview
After Jean Pascal's shocking victory over "Bad" Chad Dawson, Pascal called out his fellow Canadian boxing superstar Lucian Bute, Bernard Hopkins, and the retired, unbeaten light heavyweight Joe Calzaghe.  Bernard Hopkins was the first of the three fighters Pascal called out to step up to the plate and challenge him for the light heavyweight crown. Pascal will look to add a legend to his resume of fighters in his quest to become one of the best fighters in the world, but can Hopkins pull another rabbit out of his hat?  It is very possible.
Jean Pascal is still riding high after his upset victory over "Bad" Chad Dawson this past August.  During the fight, Pascal just basically moved away from Dawson and lunged in with occasional hooks and straight jabs, which caught Dawson and even hurt Dawson in some of the rounds. Pascal was exhausted for most of the second half of the fight and in my opinion; Dawson just did not take advantage.  The fight ended in the eleventh round following the two fighters accidently colliding heads.  The referee stopped the fight due to the bad cut over Dawson's right eye, so the fight went to the judges' scorecards and Pascal was awarded the Unanimous Technical Decision victory.
Most boxing fans thought that Pascal's next opponent would be against his fellow Canadian Lucian Bute, in a fight that would have been huge in the Canadian boxing community.  So what does Pascal feel he can gain from beating an old veteran like Hopkins?
The Executioner's last fight was against his old nemesis Roy Jones, Jr. back in April of this year, in a fight that would have been one of the most anticipated of this era because the first meeting between the two fighters was seventeen years ago back in 1993, if only it had happened five or 10 years ago.
Nevertheless, in the rematch Hopkins was less than impressive, as he held Jones, used dirty tactics, and should have received an Academy Award for all of the complaining and falling out he was doing in the ring that night.  However, Hopkins did outbox Jones and was awarded the unanimous decision victory, a decision that Hopkins sought after for most of his career after he lost the first meeting all of those years ago.
Hopkins vs. Pascal Prediction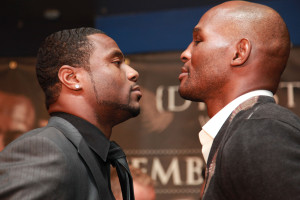 I feel that Jean Pascal was simply let off the hook by a disappointing Chad Dawson.  Pascal clearly has stamina issues that will be exploited by even a past his prime fighter like Bernard Hopkins. HBO boxing analyst and legendary trainer Emanuel Steward said that Pascal's boxing style reminded him of the great Roy Jones, Jr.  With that in mind, can Pascal's style be enough to get past the ageless Bernard Hopkins?  I say no!!
The question that we all ask ourselves time and time again is, will this fight be the one where Hopkins finally ages overnight?  The ageless wonder Hopkins has proved the experts, his critics, and boxing fans wrong over and over again regarding this issue.  I feel that in December, Hopkins will once again leave the boxing world speechless as he will do just enough to get past Pascal.
Pascal will have youth, speed, and aggressiveness on his side, but the cagey Hopkins will take advantage of the moments in the fight when Pascal will try to lunge in and attack him by tying him up and of course, there will be dirty play, in typical Hopkins fashion.  If Pascal gets tired in this fight, Hopkins will seize the moment and punish him. He probably will not knock Pascal out, but he will hurt him and rough him up over the course of the bout.  Bottom line, old lion versus young lion and I am taking experience and skill versus aggression and overhype.  Hopkins will win by unanimous decision.