Bernard Hopkins was supposed to make a mandatory defense against challenger Karo Murat this summer. Although the matched seemed unlikely from the get-go — why was Hopkins opting for this kind of bout at this stage of his career — everything was set in motion. However, the fight was eventually cancelled when Murat encountered visa issues.
Now, Hopkins vs. Murat is back on, and according to RingTV.com, the fight will take place on October 26 in Atlantic City, as the headline fight of a Showtime doubleheader or tripleheader. Other names mentioned for the card include Peter Quillin, and a match between Sakio Bika and Anthony Dirrell.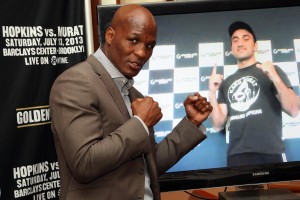 Here's what Richard Schaefer had to say about the Hopkins vs. Murat fight, and the card:
"I'm happy to say that we have locked in the Boardwalk Hall in Atlantic City for Oct. 26, and Bernard Hopkins against Karo Murat… It will be part of a doubleheader, and, potentially a tripleheader. One of the fights which we are currently discussing is Sakio Bika in his first title defense… And that would be against Anthony Dirrell, who had a sensational win a couple of weeks ago against Hanshaw. We are discussing the fight, but it is not finalized."
Hopkins vs. Murat isn't exactly Grade A material, but anytime you get to see Hopkins fight at this time, you're watching history in the making. Let's not lose sight of that. Taking on a guy half his age, who he would be favored to cruise right past, is not an easy task one way or the other.