Live Hopkins vs. Kovalev Results & Round by Round Updates
Tonight, live on HBO Boxing, Bernard Hopkins (55-6-2, 32 KOs) takes on Sergey Kovalev (25-0-1, 23 KOs), and Sadam Ali takes on Luis Carlos Abregu. We'll be on hand at Boardwalk Hall in Atlantic City, NJ, covering the bouts and the undercard action, and offering live Hopkins vs. Kovalev results and round by round updates. Follow along with the action from ringside right here.
Hopkins vs. Kovalev Scorecard
| | | | | | | | | | | | | | |
| --- | --- | --- | --- | --- | --- | --- | --- | --- | --- | --- | --- | --- | --- |
| Round | 1 | 2 | 3 | 4 | 5 | 6 | 7 | 8 | 9 | 10 | 11 | 12 | Total |
| Bernard Hopkins | 8 | 9 | 9 | 9 | 9 | 9 | 9 | 9 | 9 | 10 | 9 | 9 | 108 |
| Sergey Kovalev | 10 | 10 | 10 | 10 | 10 | 10 | 10 | 10 | 10 | 9 | 10 | 10 | 119 |
Hopkins vs. Kovalev Round by Round Results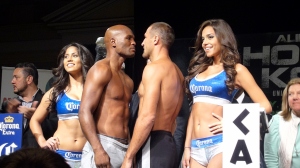 Rd 1:Very slow start to the round, which is certainly in Hopkins' favor. Kovalev gets him to the ropes and starts trying to rough him up. The size difference between the two is pretty massive, Kovalev just so much bigger. But just like that Hopkins goes down! Kovalev follows up and tries to land more big shots. Hopkins definitely hurt. 10-8 Kovalev
Rd 2: Kovalev in stalking mode right now, and Hopkins clearly just trying to recover still. He's keeping his defense tight and trying to find an opening to exploit. Kovalev smart not to waste energy, but at the same time, he's not pressing an advantage. Hopkins was just looking to pass some time in this round, and he did, largely without throwing any punches. 10-9 Kovalev, 20-17.
Rd 3: Kovalev gets Hopkinsto the ropes and really looks to unload. Kovalev ends up on the canvas but it's quickly called a push. Kovalev back into seek and destroy mode. Nbig body shot along the ropes. Big right hands upstairs. Hopkins bulls forward, making it ugly. Kovalev snaps his head back with a flush shot – something that has rarely ever been seen against Hopkins. Hopkins lands a counter right. Kovalev's round 10-9, making it 30-26 overall.
Rd 4: Kovalev stalking right now, Hopkins being coy, trying to find a perfect opening for ab ig counter. When Kovalev gets him against the ropes he does good things, but Hopkins seems to let him do it. Kovalev misses all 4 punches of a combination. Hopkins just not doing enough or throwing enough to win rounds, and Kovalev being aggressive. 10-9 for Krusher, 40-35 overall.
Rd 5: Besides a fight in the stands distracting the rest of the crowd, the action in the ring is continuing along the same lines. Krusher is in seek and destroy mode, Hopkins backpedaling, waiting for a chance, trying to counter. He's not staying busy enough though and at some point he's going to start to need to do more. Kovalev with two rights and then a flurry. He goes downstairs. Hopkins wading through, trying to swim without getting wet, lands a counter shot. Sweep for Kovalev so far, 50-44.
Rd 6: The Russian contingent is chanting for their man now. Hopkins may be able to survive like this, but he certainly won't be winning. Kovalev starting to look tired though. And of course, he's entirely unfamiliar with fighting long fights, so maybe Hopkins has just been trying to wait him out and wait him out. We'll see. Hopkins displaying some great defense and making Kovalev miss, but he's not capitalizing. 60-53.
Rd 7: Hopkins lands a nice counter shot and the crowd erupts in support of B Hop. But those clean shots come few and far between for Hopkins. Kovalev has definitely slowed down, but he's still coming forward and being the aggressor. Hopkins more effective though right now. That was the best round of the night thus far for Hopkins. Was it enough to win it? Not quite on my card, making it 70-62 Kovalev.
Rd 8: Kovalev gets Hopkins to the ropes, gets tied up and then gets rough on the inside as well. Hopkins looking more eager in search of an opportunity, but as he does, Kovalev nails him with a shot and staggers him backward. Hopkins doesn't go down somehow, but he was definitely hurt. He starts coming forward though and looks for a counter uppercut. Hopkins with a big overhand right, his best shot of the night. But not as good as the one Kovalev landed two minutes ago, making it another Kovalev round. 80-71
Rd 9: Kovalev with a big right hand, and then a 1-2. He charges in and B-Hop matadors him to the side. Kovalev still stalking and keeping up a nice work rate, so he's not slowing down. Hopkins being shut out on the scorecards is almost hard to believe, but here we are.
Rd 10: Crowd trying to encourage Hopkins to actually throw. But it's not working too much. Kovalev gets Hopkins back to the ropes again and looks for an opening for a home run. Hopkins gets him back to the center of the ring though and lands a clean counter. Now he lands another flush shot. Kovalev gets him back to the ropes though and looks to do his own damage. Kovalev with a sneaky shot at the bell. Likely the first round for Hopkins, 99-90
Rd 11: Kovalev working behind his jab now. Clearly was just told to not get himself into any trouble here and to fight smart. Kovalev swings and narrowly misses with two big shots, which encourages Hopkins to try a big shot of his own. Kovalev gets him to the ropes and almost takes his head off at the bell, but Hopkins narrowly avoids that fate. Round to Kovalev, 109-99
Rd 12: Nice left hand from Hopkins to start the round. Hopkins staggers Kovalev! Kovalev on unsteady legs. Kovalev throwing bombs back now though. Hopkins going for it. Kovalev lands a thudding right hand, Hopkins poses, then another big one. Hopkins badly hurt! Big right hands coming in! Looks ready to go! Referee almost could have jumped in there but Hopkins survives. Now he takes another big shot. Legs are shaky. He's leaning over the ropes. Taking brutal punishment. Ref watching closely. Staggering around the ring. Someway makes it to the bell in the face of a flurry. Wow, what an ending and a great round.
Our scorecard reads 119-108
Official cards: 120-107, 120-107, and 120-106 for Kovalev
Sadam Ali (20-0, 12 KOs) vs. Luis Carlos Abregu (36-1, 29 KOs) Results
Ali steps up for by far the biggest fight of his career, against hard-hitting Abregu, whose only loss came against Timothy Bradley. Since then, he's reeled off a number of wins, including over Thomas Dulorme, and has improved his game.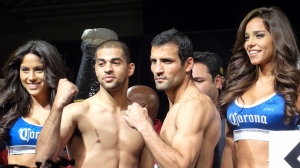 Rd 1: Very slow first round with almost no action. Ali on his bicycle and moving around, Abregu unable to catch up to him. Not many punches thrown. Crowd has been restless sitting around and waiting, so they booed about 10 seconds into the round, and then continued with the jeers from there on out.
Rd 2: Action starts to pick up a little bit, when Ali opens up though, Abregu is beginning to find a home for his left hook. He landed two or three of them towards the end of the session, potentially enough to steal the round, although Ali had been easily in control besides those shots.
Rd 3: Abregu doing a ton of chasing around right now, and throwing one punch at a time. Crowd hates it as Ali continues playing it quite cautious from the outside.
Rd 4: Both guys looking a little more lively, which isn't that hard to do. Ali starts doing good work with a 1-2, while Abregu has more of a bounce in his step and lands another flush left hook. Wasn't a ton of power on it though, and Ali wasn't bothered.
Rd 5: More of the same here with the action at this point. Ali playing keepaway, Abregu chasing. Not too much effective action from either man.
Rd 6: Ali sends Abregu down with a pinpoint short little counter right hand. Abregu gets up and Ali continues to do some damage, hurting Abregu for a second time. Fight just got interesting after much waiting.
Rd 7: Sadam Ali very confident and aggressive right now. He lands a big uppercut and then pours it all into a couple of monster right hands that hit home. Abregu hurt but doesn't go down.
Rd 8: Abregu isn't going to go down without a fight, and when you have that much power, he knows he can always change it around. He catches Ali jumping in and lands a clean shot. Later in the round he lands a few more flush shots.
Rd 9: Abregu gets Ali in the corner and gets him hurt. Tries to hold on but can't. He changes it up and lands a big shot of his own, and Abregu's hurt. Abregu lands another big shot, but now it's ALi's turn again, and Abregu has spaghetti for legs.  Ali then crushes him with a shot and Abregu falls down in slow motion, Mortal Kombat style.  Ali going in for the kill. Has him in the corner. Referee jumps in and stops it.
Round 9 could be a potential Round of the Year, and what a breakout moment for Sadam Ali after how slowly that fight started.
Undercard Results & Updates
Vyecheslav Shabransky vs. Emil Gonzalez
Shabransky easily took control of the fight from the get-go. Gonazlez didn't seem too interested in actually throwing punches or engaging. Shabransky took charge and repeatedly got his opponent to the ropes and began unleashing shots.
The crowd, already antsy, was booing heartedly. The fight was thankfully stopped after Round 2, at which point the crowd cheered, good riddance.
That's the final pre-fight before the televised action on HBO, and it's been a one-sided, awful undercard. But we knew that going in.
Nadjib Mohammedi vs. Demetrius Walker
Mohammedi wasted no time getting to work against his vastly overmatched opponent. He quickly swarmed him and sent him down to the canvas, and then sent him down a second time shortly after. Walker and the referee both clearly thought wiser of continuing at that point.
Mohammedi wins by KO in Round 1 and is now 37-3 with 22 KOs.
Vyacheslav Glazkov vs. Darnell Wilson
Vyacheslav Glazkov outclassed Darnell "Ding a ling man", easily beating him to the punch, controlling the action and getting off first throughout the bout. The referee stopped the fight after round 7.
Glazkov, who was really just staying busy with this fight, remains unbeaten and is now 19-0-1, with 11 KOs.
Eric Hunter vs. Daniel Ramirez
Eric Hunter enjoyed the backing of the Philly supporters there to cheer on Bernard Hopkins in the main event, as he scored a Round 6 TKO win over Daniel Ramirez. The fight had been pretty even until that point, with Ramirez winning some early rounds, but Hunter proved to be too strong.
Sullivan Barrera vs. Rowland Bryant
Sullivan Barrera scored a TKO victory after 4 rounds against Rowland Bryant. Barrera scored a knockdown in round 2 and continued to bring the punishment until the fight was halted.
Andrey Sirotkin vs. Michael Mitchell
Andrey Sirotkin maintained his unbeaten record with a 6 round Unanimous Decision victory. He swept every round in the fight, and also scored a knockdown in Round 3.
Ryan Martin vs. Isais Gonzales
Ryan "Blue Chip" Martin, is regarded as one of the top prospects in the sport. Nothing changed tonight with a TKO victory at 1:38 in Round 2, after scoring an earlier knockown in Round 1.
—-
Thanks for hanging out with us tonight with our live coverage, and be sure to check back with us later in the weekend for more post-fight coverage, rankings updates, and more, from the Hopkins vs. Kovalev results.