Will Khan be able to avoid the power-punching storm of Marcos Maidana?
What a treat given to the boxing fans right before Christmas, a great fight to end the year as King Khan will put his WBA junior welterweight title on the line against the power-punching Marcos Maidana in a fight that is most certainly the biggest challenge in King Khan's young boxing career. This fight will take place at the Mandalay Bay Resort & Casino in Las Vegas, NV on December 11, 2010.  Marcos Maidana surely has the firepower to win against Khan, so the question is whether or not the favored King Khan can elude that firepower to earn the biggest win of his career.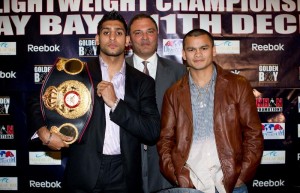 Amir "King Khan" Khan is one of the top junior welterweights in the world.  Known for his hard combinations, speed, and counter-punching skills, this up and coming British born fighter is the current WBA junior welterweight champion.  Khan has an impressive boxing record consisting of 24 wins and 1 loss. After that lone loss, against Columbian boxer Breidis Prescott, Khan changed trainers and is currently trained by the great Freddie Roach.  Since then, the marriage between Khan and Roach has been outstanding as King Khan has not lost a fight in the Freddie Roach era, with wins over notable fighters such as Andreas Kotelnik, Dmitriy Salita, and Mexican great Marco Antonio Barrera.
In Khan's last fight, he went up against the slick, elusive, and fast-talking Paulie "The Magic Man" Malignaggi. The fight took place in May of this year at Madison Square Garden, Paulie's backyard. This was Khan's first fight in the United States. During the fight, Paulie could not elude the ammunition that King Khan brought to him on that night.  Khan overwhelmed and surprised the Magic Man with his speed and power.  The fight ended in an eleventh round stoppage of Malignaggi due to Khan's aggression, which was too much for the Magic Man.
Marcos "El Chino" Maidana is one of those junior lightweights that most of the top fighters at 140 consider a risk to fight, given that El Chino is a destroyer who uses aggression and power in an attempt to break his opponent's will, and body.  Born in Argentina, Marcos is the current interim WBA super lightweight champion.  He also has an outstanding boxing record of 29 wins and 1 loss, with the one loss being a split decision loss to Ukrainian contender Andreas Kotelnik.  El Chino has used his aggression and firepower to be successful against good fighters such as "Vicious" Victor Ortiz and Victor Cayo.
In Maidana's last fight, he went up against the former WBO junior welterweight champ Demarcus "Chop Chop" Corley in Argentina.  In this fight, Corley was able to use his counter-punching and elusiveness to stay in the fight as Maidana came forward and tried to impose his will on Corley.  Maidana's pressure on Corley won the hard fought battle for Maidana as Maidana did knock down Corley in the seventh round.  Maidana was awarded the unanimous decision victory, though in this fight, Corley gave Maidana a little trouble with his movement.
Again, all I want for Christmas is a fight to remember.  The fight between King Khan and Maidana on December 11 is one of those fights that has the potential to produce fireworks from start to finish.
The fight on December 11 can be tagged as "Maidana's aggressive firepower versus Khan's speed and technical skill."  In any case, someone is about to have a second loss added to their resume. In this fight, I expect Maidana to pressure Khan with his aggression and power the whole fight, but the only problem is Maidana is going to have problems with Khan's size and speed when he comes forward and try to impose his will in the fight.
I expect Khan to be just as aggressive as Maidana, trying to get off his punches when Maidana opens up and punches.  Again, aggression and speed versus aggression and power.  Let's remember, Khan does have a questionable chin so if Maidana is able to test that by landing something big, let's see if Khan can survive and respond.  In the end, however, I feel that skill and speed will win out and unfortunately for Maidana, I just do not believe that he will be able to adapt to the quickness, counter-punching, size and hard combinations that King Khan will throw at him on that night, while Khan will be able to get out of the way of the power punches of Maidana.
This is just how I feel.  I really want Maidana and Khan to make this fight a slugfest and give boxing fans a great holiday treat.