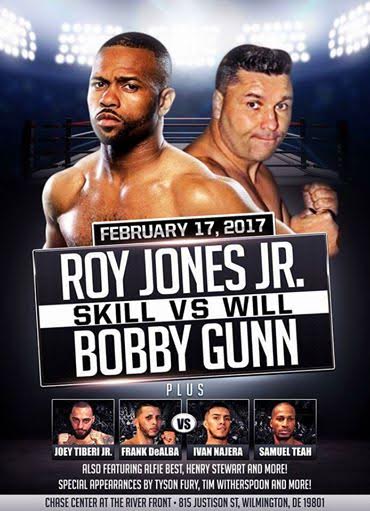 Bare Knuckle Boxing Legend Bobby Gunn is ready for his opportunity of a lifetime, when he takes on all-time great Roy Jones, Jr in a bout scheduled for 12 rounds for the WBF Cruiserweight title that will take place on Friday night, February 17th at The Chase Center in Wilmington, Delaware.
Gunn of Hackensack, New Jersey has been preparing for this fight, and is ready for the biggest fight of his career. "
I am fighting an all-time great, and styles make fights. It will be a hell of a fight," said Gunn.
Gunn wanted to raise the stakes for the fight, but he doesn't think that Jones has the confidence that he will come out victorious.
"I laid it out to him for a winner-take-all bout. I am a puncher, so I know I will win this fight."
This will be Gunn's 1st bout in 38 months, but the Bare-Knuckle Legend has been active fighting on the Bare-Knuckle circuit, and has a perfect record of 72-0 with 72 knockouts in those bouts.
"People can look, and think that I haven't been active, but a fight is a fight and I have been fighting the Bare-Knuckle fights. Fighting is Fighting. The only difference in those fights is that the gloves protect the hands. Despite what it says on my boxing record, I have always been active. But the time out of the ring plus being against Roy Jones, Jr, the fans will see a different Bobby Gunn."
Gunn, usually a mild-mannered fighter, has also been motivated by some "Trash-Talk"from Jones.
"He said that I don't deserve to be in the same ring as him. I was already motivated for this, and he will find out otherwise on February 17th. After February 17th, he will remember me for the rest of his life. I am not coming to dance. I am coming to fight, and early on, Roy will know that he has a fight on his hands."
In the 10-round junior middleweight co-feature, world ranked junior middleweight Kanat Islam (22-0, 18 KO's) of Pahokee, FL takes on Robson Assis (16-3, 9 KO's) of Sao Paulo, Brazil.