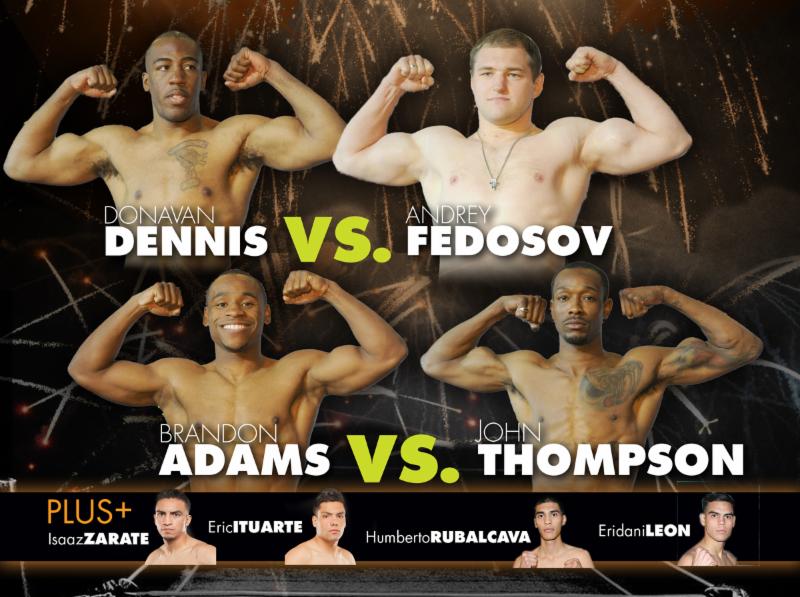 ESPN's "Friday Night Fights" final broadcast features two outstanding fights in the heavyweight and junior middleweight divisions that will decide the 2015 Boxcino Champions.
The 10-round junior middleweight final showcases Boxcino tournament veteran Brandon Adams (16-1, 12 KOs) of Los Angeles against the smooth boxing skills of John Thompson (16-1, 5 KOs) of Newark, New Jersey. The finalists will compete for the Boxcino crown on Friday, May 22, from the Omega Products Outdoor Arena in Corona, Calif.
Here, check out the match-up of Adams vs. Thompson by the numbers.
Brandon Adams– 17-1, 12 KO's                                          John Thompson– 16-1, 5 KO's
Los Angeles, CA                                                                Newark, NJ
Nickname–"The Cannon"                                                    "Apollo Kidd"
Age: 25                                                                             Age: 26
Has won 3 straight bouts (all by stoppage)                           Has won two straight bouts
66.7 KO %                                                                         29.4 KO%
Has fought 74 rounds (4.1 Rounds/Bout)                              Has fought 78 rounds (4.59 Round/Bout)
5'9″                                                                                   6'1″
70″ Reach                                                                         NA
Opp Rec: 157-99-16                                                          100-45-9