Best Boxers from the Philippines in History
Take a look at the top 5 boxers in history from the Philippines. The Philippines has one of the richest boxing traditions of any country, and that has been brought more into focus as of late due to the record-shattering career of one Manny Pacquiao. But for a century before Pacquiao's emergence, successful Filipino boxers of all kinds were making their mark on the sport.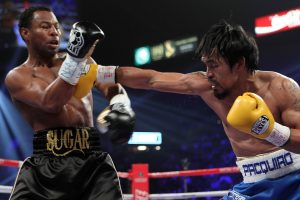 Manny Pacquiao (Career: 1995-present): Pacquiao is still active, but probably became this country's best fighter at least several years ago. For a country with as glorious a boxing history as the Philippines, that's saying a lot, especially for a fighter who can still add to his incredible resume. Beat the best there was across a mind-numbing amount of divisions, losing only one bout he twice avenged over the course of over a dozen years at the top level. Can claim titles from 112 to 154 pounds, making him boxing's most prolific multi-divisional fighter of all time.
Pancho Villa (Career: 1919-1925): A fighter who passed away at 23 must have been pretty darned special to claim the #2 spot and Villa fits the bill. Wins over Johnny Buff and Abe Goldstein paved the way to a historic knockout of 134-3-2 legend Jimmy Wilde—widely considered the greatest flyweight and hardest pound-for-pound puncher of all time. Scored wins over bantamweight great Bud Taylor and a host of other leading flyweights and bantamweights. Passed away from complication stemming from an infected tooth mere days after losing to future welterweight champion Jimmy McLarnin.
Flash Elorde (Career: 1951-1971): After a scant 4 years as a pro, he beat legendary Featherweight Champion Sandy Saddler, and even though he lost the return match, he established himself as a threat. Slashing puncher dominated the Asian scene for several years, before annexing the World Junior Lightweight Title from Harold Gomes by 7th-round stoppage in 1960. Stopped Gomes in one in the return before splitting his time defending that title, in addition to the OBPF lightweight title. Held onto his world title all the way until 1967 and beat future lightweight legend Ismael Laguna in 1966.

Be sure to check out the rest of our Boxing: The Best of a Nation series for more top 5 and 10 lists of the best boxers from different countries and locales.

Little Dado (Career: 1936-1943): After beginning his career a less-than-promising 1-4, amazingly went undefeated in his next 50 fights. 5'2" fireplug twice beat Small Montana, one of the great Filipino flyweights of which there were many. Also beat top flyweight Jackie Jurich 3 times. Fought a draw with future bantamweight legend Manuel Ortiz and defeated excellent Lou Salica, who would win the Bantamweight Championship the following year.
Ben Villaflor (Career: 1966-1976): Rode a long unbeaten streak into a 1972 bout with Alfredo Marcano and took the WBA Junior Lightweight Title with a unanimous decision. Lost title in 2nd defense to excellent Japanese Kuniaki Shibata, but emphatically snatched the title back with a 1st-round knockout. Made 5 more defenses, including a draw with Sammy Serrano, before the Puerto Rican took the belt in 1976.
Hopefully you enjoyed our list of the best boxers from the Philippines in the history of the sport. There's no question that Manny Pacquiao deserves to be at the top of the list, but it's a very strong list indeed. Before long, a certain Nonito Donaire could make his own appearance on the list as well. Feel free to chime in with your thoughts on the top 5 Filipino boxers of all-time.