Best Boxers from Russia in History
When taking a look at this list of the top 5 best Russian boxers in history, you'll see a lot of very recent names. The sport has blossomed in Russia since the fall of the Iron Curtain, and today from bantamweight up through heavyweight, there are stars emerging in the Russian boxing scene.
1. Kostya Tszyu (1992-2005): A renowned amateur star, Tszyu was soon on the fast track of success, fighting ex-champ Juan LaPorte in only his 4th pro fight. Also defeated noted fighters like Sammy Fuentes, Livingstone Bramble, Hector Lopez, Angel Hernandez, and Pedro Sanchez, before stopping IBF Junior Welterweight Jake Rodriguez for his first title. Scored defenses over Roger Mayweather, 27-0-1 Hugo Pineda, and 32-0 Jan Bergman, among others, before a strange TKO loss to mercurial Vince Phillips. Knockouts over a 52-3 Rafael Ruelas, 43-1-1 Miguel Angel Gonzalez, and a spent Julio Cesar Chavez restored some luster. Tszyu then created a run of dominance, with high-profile knockouts of 47-2 Sharmba Mitchell and an unforgettable flattening of favored and unbeaten Zab Judah. Scored 3 more defenses before running into Ricky Hatton and calling it quits.
Be sure to check out the rest of our Boxing: The Best of a Nation series for more top 5 and 10 lists of the best boxers from different countries and locales.
2. Yuri Arbachakov (1990-1997): The signature flyweight of the 90's did most of his work in Japan, where he reigned as world champion from 1992-1997. The 23-1 (16 KOs) puncher only lost his final fight–to a man he had already beaten. Won title by knocking out dangerous Thai multi-champion Muangchai Kittikasem, repeating the win the following year. Among his more impressive defenses were wins over 27-0 Yun-Un Chin, classy American contender Ysaias Zamudio, 39-1-2 Hugo Soto, and unbeaten Chatchai Sasakul.
3. Nikolai Valuev (1993-2009): Not the easiest guy to put on a "best of" list, as the "Russian Giant" wasn't really much of a fighter. Then again, a lot of 7-footers tried their hand at boxing and got nowhere, whereas Valuev does have a resume that suggests he was more than just a big lug. Among his list of wins are many name heavyweights, such as Attila Levin, Clifford Etienne, Larry Donald, John Ruiz (twice), Monte Barrett, Jameel McCline, Siarhei Liakovich, and an aged Evander Holyfield, who many felt beat Valuev.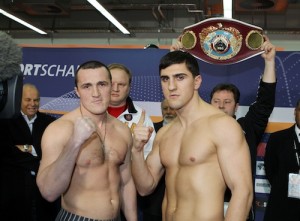 4. Denis Lebedev (2001-present): Might not have a deep resume, but should probably be considered the best cruiserweight in the world today. His pair of wins over faded legends Roy Jones Jr. and James Toney are really nothing more than window dressing, but the only fight he lost is what really distinguishes him, as he appeared to get the shaft a year ago against de-facto #1 cruiserweight Marco Huck. Series of conclusive knockouts over the likes of Enzo Maccarinelli and Alex Alexeev underscore his worth.
5. Sultan Ibragimov (2002-2008): The nifty southpaw heavyweight didn't have that great of a career, but when your country of origin has such a young history in the annals of professional boxing, it's not as difficult to make top-five lists. Wins over fringe contenders like Friday Ahunanya and Lance Whitaker set him up for a WBO title shot against Shannon Briggs, which Sultan won by unanimous decision. Scored a dominant decision over Evander Holyfield, before losing a non-competitive decision to Wladimir Klitschko and calling it a day at 22-1-1 (17 KOs).
So there you have it, the best Russian boxes in history. Who else on the rise right now can emerge and work their way into this shifting top 5 list?