History of Boxing in the 1930s
Many people thinking of boxing in the 1930s conjure images from the excellent Ron Howard film Cinderella Man. Certainly many aspects of pro boxing in the age are accurately depicted, such as the sport's great popularity, its Amerocentricism, and in particular the far-reaching repercussions of the Great Depression. Although the film is marked by a handful of historical inaccuracies (controversially so in the case of Max Baer's depiction). Also, because it is essentially a biographical movie about James Braddock, its picture of 1930s boxing is incomplete. Outside the heavyweight division, events were taking place that would change the sport forever.
[box type="shadow" align="alignleft"]

[/box]
Where Boxing Stood in the 1930s
By the 1930s, boxing as an industry was established in a form that would be recognizable to modern fans. Gone were the days when a man would claim a world title and not defend it for years, preferring to pursue entertainment opportunities instead. Boxing was a national sport, second only to baseball in terms of popularity, ensuring a steady supply of contenders for a given crown. Also, the Great Depression drove men to fight for whatever purse was on offer, even if the fight was risky or at a disadvantage. Although some boxers occupied the comfortable position of being able to refuse risky and poorly paid fights, these men were few, far between, and truly occupied the pinnacle of the sport.
The United States was the undisputed center of world boxing in the 1930s. European fighters figured less prominently than in prior decades, due in large part to the continuing echoes of the devastation of an entire generation of young men during the First World War. Another factor cementing the American hold on the sport was financing. As is the case in modern times, big fights followed the money and most of the money was in the United States. In an era when television was virtually unknown and live fight broadcasts meant listening to a commentator on the radio, seeing a fight meant attending the live event. Boxing's popularity in America meant that big fights would  routinely draw five-digit crowds, and local club fights could count on a steady audience.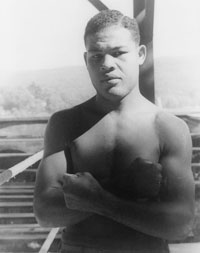 As Amerocentric as boxing was, however, the 1930s also saw the first entry of Latin American countries into the ranks of world-class boxing, thereby widening the sport. Cuba, Mexico and Puerto Rico, all countries famed today for their fight-mad populations, all saw their very first world champions during the decade. Also, African-Americans were a booming presence in boxing's elite ranks, overcoming racism in a surge that would eventually lead to the popular reign of Joe Louis.
Contrary to popular belief, boxing was not an eight-division sport in the 1930s, and the world title was not always unified. The New York State World Title and NBA (forerunner to the WBA) were the big belts, but unlike today these were often held by the same man. Other state athletic commissions issued their own "world" titles, but these were usually ignored outside of the state in question. Sometimes the California State Title achieved some recognition, but that depended on who held it. Also, some "splinter divisions" such as junior lightweight or junior welterweight existed, but only when a popular champion held the title. Without one, a splinter division title might lay vacant for years.
Best Fighters & Champions of the 30s
Joe Louis: Louis captured the world heavyweight title in June 1937, bringing to an end a period of revolving championships. Prior to even capturing the championship, Louis had already defeated everyone worth fighting in the mid-1930s. After capturing it, he went on to avenge his sole loss to Max Schmeling and knock off any rising contenders who crossed his path. Joe Louis's fearsome reputation as a long-reigning champion and as one of the deadliest finishers in boxing history was cemented in this period, and today he is routinely ranked as either the #1 or the #2 heavyweight of all-time.
Henry Armstrong: By capturing the Featherweight Title in 1937 and following that up by taking both the Lightweight and Welterweight Titles in 1938, Armstrong accomplished the enduring feat of reigning as Undisputed World Champion in three separate weight classes at the same time. Keeping the welterweight crown, he set a second enduring record of 18 title defenses, more than any other 147 lbs. champion.
John Henry Lewis: Lewis was a fast, powerful fighter who was the stand-out light heavyweight in an era that is widely considered as the Golden Age of the 175 lbs. division. He reigned as light heavyweight champion for three years, and like many light heavies of the day, he fought and beat ranked heavyweight contenders who outweighed him by as much as 25 lbs.
Alberto "Baby" Arizmendi: The first Mexican to win a world championship, Arizmendi was a fearsome presence in the featherweight and lightweight divisions, and went 2-3 with Henry Armstrong.
Kid Chocolate: This Cuban learned to box the hard way, by watching old fight films and sparring with the likes of ex-heavyweight champ Jack Johnson. He captured the Junior Lightweight Title in 1931, the first champion of Cuba's illustrious boxing legacy.
Lou Ambers: When Armstrong won the Lightweight Title, he took it from Lou Ambers, which was no mean feat. The 1930s was a talent-deep period for the 135 lbs division, and Ambers owned at least one win over every major figure of the day: Armstrong, Arizmendi, Davey Day and Tony Canzoneri (a three-division champ), plus bigger fighters like Fritzie Zivic.
Barney Ross: In a modern context, a boxer who was both a Jew and a card-carrying Marxist might seem comical, but in the 1930s a guy like Barney Ross was almost unremarkable. Ross's boxing prowess, however, was anything but. Ross captured the 135, 140 and 147 lbs titles, making him only the third man in boxing history to win championships in three separate weight classes. (unlike Armstrong, they were not all held at the same time). He was a smart, rugged fighter with the skills and stamina to outlast just about anyone.
Sixto Escobar: The first Puerto Rican to win a world championship, Escobar reigned as Bantamweight Champion from 1935 to 1937, lost the title to Harry Jeffra, and then won it back for a second year and a half-long reign in 1938 and 1939.
Biggest Fights of the 1930s
Baer vs. Schmeling: This June 1933 heavyweight match-up combined sports with politics with fierce competition. Max Schmeling was a former champion and a solid student of the sweet science, while Max Baer was a big puncher with a ferocious style. The Nazis had only come to power in January, but Schmeling was already being painted as a villain and a pawn of Hitler. Interest in this showdown, which would determine who would challenge for Primo Carnera's heavyweight crown, was high and 53,000 turned up at Yankee Stadium to see the fight. Baer savagely tore at Schmeling, who weathered the storm and boxed his way back to score through the middle rounds with a skilled body attack. Then Baer bounced back to send Schmeling to the canvas in the 8th, and then knock him out in the 10th. It was The Ring's Fight of the Year, and one of the most thrilling heavyweight fights of the decade.
Braddock vs. Baer: Baer lost his heavyweight title to James Braddock in his second defense. Braddock won what was without question the upset of the decade by out-pointing Baer, clinching his rags-to-riches comeback.
Ambers vs. Armstrong I: In their first encounter, Armstrong was attempting to add Ambers' Lightweight Title to his Featherweight and Welterweight crowns. Armstrong dominated the first third of the bout, culminating in knockdowns in the 5th and 6th Rounds. Losing badly, Ambers stormed back into the fight, but was unable to bag enough of the later rounds to win, even though Armstrong saw four rounds deducted from his tally. Henry Armstrong won a Split Decision, and with it his lasting fame as boxing's sole concurrent, three-division champ.
Louis vs. Schmeling II: One of the most famous fights in history, the rematch between Louis and Schmeling is the stuff of legend. Schmeling had knocked out Louis in their first encounter, and had stood as the #1 contender ever since Max Baer had won the title. Louis was the Brown Bomber, and overcame his crushing knockout loss to Schmeling by improving and carving a path of destruction through the heavyweight ranks. The fight transcended politics, becoming a proxy battle between American democracy and Nazi totalitarianism. By destroying Schmeling, Louis became the very first African-American sports hero embraced by white, mainstream America.
More Boxing History
1920s Boxing ← 1930s → 1940s Boxing