There's been a lot of bad boxing news as of late, from tragic accidents to ongoing controversies, but when fighters we're fond of retire and step away from the game before it's too late, that's a good thing. In this case, we have a dose of boxing retirements from three fighters, Shane Mosley, Winky Wright and Rocky Juarez. Of course, Mosley and Wright retiring at the same time is fitting, since they'll always be linked to one another after their two fights. Below, find our quick-hitting thoughts about each man, his recent performances in the ring, his decision to retire, and what we'll remember most from their good days in the ring. Take a look.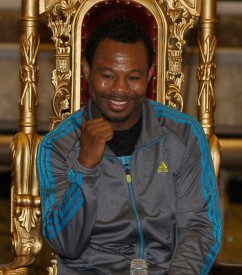 Shane Mosley Retires
Recent Performances: 0-3-1 in last 4 fights, including lopsided losses to Floyd Mayweather, Manny Pacquiao and Saul Alvarez
Quick Career Stats: 46 (39) –  8 – 1 career record; retires at age 40; three-division champion
Favorite Moment: I'll always remember the absolute beast that Shane Mosley was in his lightweight days. His combination of power and speed were otherworldly. One of the fighters to make me a dedicated fan of the sport as a young teenager. The first victory over Oscar De La Hoya was an exciting moment on the big stage, and handing Antonio "Manos de Plaster" his comeuppance was a beautiful thing.
Thumps Up or Down on Decision to Retire: Thumps up. Clearly past his best, has plenty of money, and there's no point in stringing it out below the upper tier of the sport for a guy of his stature.
Winky Wright Retires
Recent Performances: 0-3 over a 5 year span, losing to Bernard Hopkins, Paul Williams and Peter Quillin
Quick Career Stats: 51 (25) – 6 – 1 career record; retires at age 40; 11-2 in junior middleweight title fights
Favorite Moment: Finally getting his shot at the big time and taking it to Mosley, although it was sad to watch as a Mosley fan. Absolutely whitewashing Felix Trinidad. Probably deserved to beat Fernando Vargas way back in 1999.
Thumps Up or Down on Decision to Retire: Thumps up. The question is why he bothered coming back for 1 more fight after 4 years away to begin with?
Rocky Juarez Retires
Recent Performances: 0-6-1 in last 7 fights
Quick Career Stats: 28 (20) – 10 – 1 career record; retires at age 32; 2000 Olympic silver medalist at featherweight
Favorite Moment: Giving Marco Antonio Barrera all he could handle and then some in a 2006 meeting which ended in a Split Decision win for Barrera. Crushing late KO of Jorge Barrios in 2008.
Thumps Up or Down on Decision to Retire: Thumps up, especially given past problems with eye injuries and a downward trend of performances, although it's sad he never got over the hump and captured a title, despite many shots.