There's been plenty of buzz over the past few days about the fall fights being lined up for two big-name, comebacking fighters — Miguel Cotto and Nonito Donaire. Cotto is coming off his loss against Austin Trout, a second straight defeat after he also lost to Floyd Mayweather, and Donaire is coming off his loss to Guillermo Rigondeaux.
While nothing is set in stone just yet, it looks like opponents for both Cotto and Donaire are in the works, and each man will be making a fall appearance on HBO. Check out the full details here.
Miguel Cotto's Comeback Fight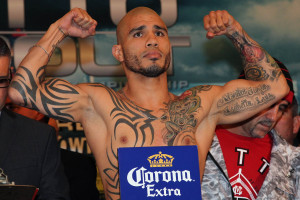 Cotto looks to be fighting on October 5th, and could be taking on Delvin Rodriguez. D-Rod has won two straight since he got whitewashed by Trout in their fight last year. The loser of this one would certainly find himself in a rough spot in the division, but the fight should promise fireworks. While it wouldn't be an easy bout, Cotto's team has to feel pretty confident that they should be able to outclass the always game Rodriguez.
Cotto's comeback fight also appears to be headed to Florida, with either Orlando or Miami landing the event.
In either case, Top Rank wants to get Terence Crawford on the show, and is seeking to line him up with Yuriorkis Gamboa, according to a report on ESPN. Adding Gamboa to the card would certainly make sense for an event in Florida, with the state's Cuban population.
Nonito Donaire's Comeback Fight
Meanwhile, Donaire is also comebacking in the fall, and will also be returning to HBO. Here, the Filipino Flash could be lined up for a rematch, but not against the man that just defeated him. Instead, the rematch would be between Donaire and Vic Darchinyan… six years and a few weight classes later, of course.
Donaire's shocking, brutal knockout of Darchinyan in 2007 brought him his first world title, and launched him onto the world stage of the sport. Meanwhile, Darchinyan has long been itching for a second go at Donaire. The fight has been talked about for some time, but certainly makes more sense with Donaire coming off a loss and looking to get back on the right track. Darchinyan has won two straight after suffering back to back defeats.