Timothy Bradley vs. Marcos Maidana Canceled Right Before Press Conference
The press conference for the big junior welterweight clash between Timothy Bradley vs. Marcos Maidana was to be held tomorrow afternoon. On the eve of that, the news has come in that the Bradley vs. Maidana fight will actually be canceled.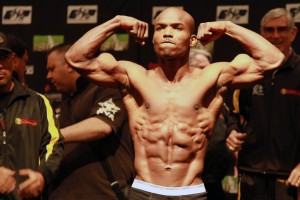 Apparently Marcos Maidana's back is still injured, and he is withdrawing from the contest. This is according to several reports, including a statement issued by Bradley promoter Gary Shaw.
Timothy Bradley will still be fighting on July 17th, and he will still be fighting a televised bout on HBO. The obvious choice for the next opponent if it is to be a big bout is Devon Alexander.
It was Bradley vs. Alexander  that was originally rumored to be made immediately following Alexander's dominant showing over Juan Urango. Alexander's camp has already publicly clamored for the bout, however as of now it's unclear what Bradley, his promoters and HBO will all agree upon for that date.
Stay tuned for more updates as they come in regarding any news for Bradley's future opponent and a potential showdown with Alexander, as well as Maidana's status for the next few months as well.
Comments
comments