Cecilia Braekhus (16-0, 4 KOs) has been voted German female boxer of the year. The First Lady edged Susi Kentikian and Jessica Balogun to finish first in a poll conducted among the readers of German "BoxSport" Magazine as well as a panel of boxing experts.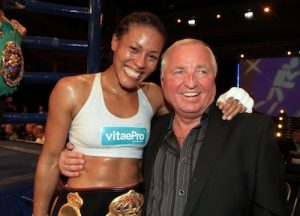 The WBA/WBC Female Welterweight Champion added the WBO belt to her ever-growing title collection with a points victory over Victoria Cisneros in May before clinching spectacular KO wins over Mikaela Lauren and Eva Halasi later this year. "I am so happy," Braekhus said. "This is a huge honor and I am so grateful for the support of the fans in Germany. This award really means a lot to me. This is one of the nicest Christmas presents I have ever received."
Braekhus´ coach Ulli Wegner also has a reason to celebrate as he was voted German coach of the year for the eighth straight time, sharing the first place with Fritz Sdunek. While Wegner received the most votes from the fans, Sdunek finished first among the expert panel. As a result, Wegner and Sdunek shared the award. "That is great news and I feel honored," Wegner said. "The support of the German boxing fans makes me very proud and I hope to pay back their confidence with many great fights in 2011." In the men´s category, Vitali Klitschko finished first ahead of Wladimir and Marco Huck.