Rios Defends his Lightweight Title in Likely Action-Filled Slugfest
Juan Manuel Marquez is the recognized World Champion at 135 pounds. But at his age, we are forced to begin searching the boxing landscape for an heir-apparent to his throne. Brandon Rios is at or near the top of the list of fighters who could eventually run this division. The WBA titleholder is coming off a belt-winning knockout win over Miguel Acosta—a win that propelled him into world-title status.
Against Urbano Antillon, Rios will be facing a solid and long-serving contender who gave WBC lightweight titleholder Humberto Soto all he could handle last year, losing by a single point on two scorecards. A point deduction cost him a draw. Rios will be looking to beat Antillon more convincingly and create a little separation from the other titlists at lightweight. Antillon, meanwhile, will be chomping at the bit in an effort to punch his ticket into the boxing big-time.
Date: Saturday, July 9, 2011
Site: Home Depot Center in Carson, California
Title: WBA Lightweight Title, 12 Rounds
Looking at each of their careers, and especially their most recent outings, it's difficult to imagine anything but a sizzling encounter. These fighters lay it all on the line and fans usually do not go home disappointed when either of these two fighters appears on a card.
Vital Stats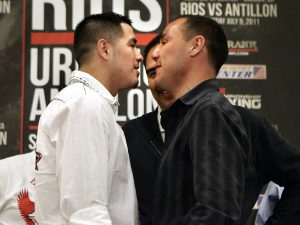 Rios: The 25-year old concluded a long amateur career of well over 200 fights—turning pro in 2004. Rios is deceivingly tall at 5'8" with a 68-inch reach. Record stands at 27-0-1 (20 KOs), his only blemish being a 10-round draw against obscure Manuel Perez in 2008.
Antillon: For a former National Golden Gloves champion who turned pro in 2000, it's a bit surprising that he is only 28 years old. Urbano is 5'7," which is average for a lightweight, but he possesses a formidable 71-inch reach. Antillon was 26-0 before losing to the man Rios beat for this belt—a 9th-round TKO loss to Miguel Acosta. Scored two wins before losing a squeaker to Soto, bringing his mark to a still-impressive 28-2 (20 KOs).
Style
Rios: Brandon is a passionate and highly self-confident brawler who overwhelms opponents with power and grit. Can be hit and even hurt, but keeps redoubling his efforts until his foes eventually fold. Rios has a good arsenal of punches, able to come up the middle or around the sides with equal velocity.
Antillon: Urbano has a forward-moving style, with all the textbook punches in his arsenal. Squared up a bit, which makes him easy to hit, but wields a wicked left hook to the head and body. He's an aggressive, hard-hitting, well-schooled and gritty contender.
Recent Form
Rios: He last fought in February—scoring an eye-opening knockout of Acosta in an emphatic coming-out party. With that win, he immediately went from being known as Antonio Margarito's mouthy gym-mate to a legit force in the game. Two fights before that, Rios dominated 30-0 Anthony Peterson to consolidate his contender status. Since a 2008 draw with Manuel Perez, none of his last 9 opponents have gone the distance with him.
Antillon: After losing to Acosta in 2009, it appeared Antillon was overcooked after a 9-year wait for a title shot. Redeemed himself and restored some luster in his gritty decision loss to Soto, but his entrance into the world-class ranks has been rocky. Scored a few wins between the Acosta and Soto losses, keeping the idea of victory fresh in his mind.
Questions and Intangibles
Rios: Will becoming a titleholder make him a better fighter or cause him to become complacent in the face of success? Will Antillon's combination of durability and power be a package that will trouble Rios? Is he a possible future lightweight kingpin or just one of many forgettable WBA lightweight titleholders?
Antillon: He's getting progressively better in title-winning attempts, almost beating Soto after falling to Acosta. Will the 3rd time be the charm? Or will Rios' ability to amp up the frenzy leave Antillon out in the cold? He did well against the more flatline-fighting Soto, but can he handle Rios' extra spark?
Rios vs. Antillon Prediction
Antillon is a capable contender who cannot be overlooked. If Rios does not approach this fight with the same mindset he had with Acosta, Antillon is the kind of guy who can exploit that. However, I look for Rios to have an easier time with Antillon than he did with Acosta. Antillon is not particularly tall, rangy, or difficult to find, and Rios will be able to punch on a level plane with maximum leverage.
Even if Antillon is able to heave himself into Rios with aplomb, the Oxnard product has shown an increasing sense of when to turn on the afterburners. Fighting close to home and enjoying some vocal support, Rios will throw himself at the task ahead of him. Antillon will do well and the exchanges will be heated and perhaps somewhat even at times. But as the rounds creep by, the imperturbable consistency of Rios will have Antillon in a fair amount of peril.
Rios will begin to pull away in the 6th or 7th round. The cumulative punishment will begin to show on a beleaguered Antillon, who will remain game in the face of his cause looking increasingly lost around the 9th round or so. Rios will unload his whole arsenal on Antillon in the 10th and force a stoppage.
Prediction: Brandon Rios wins by 10th-round knockout.