Sampson Boxing proudly announces the re-signing of a promotional agreement with Dominican super featherweight knockout artist Braulio "El Chavo" Rodriguez.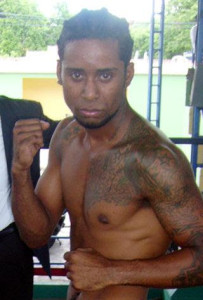 27-year-old Rodriguez (18-1, 17 KOs), from Santo Domingo, is the current WBC Latino Super Featherweight Champion after stopping Marcos Gabriel Martinez in two rounds last August. He is rated #13 in the world by the WBC.
Sampson Lewkowicz, President of Sampson Boxing, says he is currently working hard on obtaining the proper visas for his fearsome slugger to fight in the United States.
"El Chavo has a wild fighting style that the fans in the United States would love," said Lewkowicz. "He is unpredictable and very entertaining with one-punch power in either of his fists. I am finishing up the paperwork to bring him over here and help him become a star."
Rodriguez says he is happy to continue working with his long-time promoter.
"I want to work with Sampson. I trust him," he said. "When I get my visa, I am coming to the U.S. to show the fans what I can do."