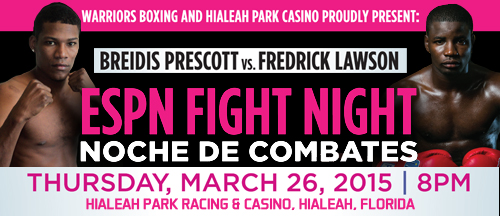 Hialeah Park hosts ESPN's Thursday Night Fights with an action-packed evening of championship professional boxing on March 26 starting at 6 PM ET.
The fight card, is expected to include the Lightweight debut of reigning IBF Super-Featherweight champion Rances "Kid Blast" Barthelemy, who is 21-0 with 12 knockouts.
Leon Margules of Warriors Boxing, co-promoters of the event with Hialeah Park, confirms that the card will feature a ten-round welterweight affair between Breidis "El Khanqueror" Prescott (27-6, 20 KOs) of Colombia and Fredrick "General Okunka" Lawson (23-0, 20 KOs) of Ghana.
"This will be a key fight for Prescott," Margules related. "He's 31, now. He's won three fights but dropped two since the start of 2012, so he's pretty much in a must-win situation if he wants to remain relevant in his division."
Prescott, now fighting out of Miami, won the first 21 fights of his professional career before losing back-to-back outings in late 2009.
Lawson is six years younger at 25. He's won three different vacant regional title bouts since December of 2012, most recently the vacant IBF International Welterweight title in July of 2013.
"Lawson didn't fight in the United States until he re-located to Chicago last year," Margules noted. "He's a solid pro who doesn't need friendly surroundings to win. He's won in Minnesota and California since coming to America."
Two undefeated Cuban heavyweight fighters will battle on the card. Yasmany "El Tiburon" Consuegra has a record of 16-0 with 14 knockouts, most in the early rounds. Consuegra has not had to wait for the scorecards to be tallied since winning a four-round bout 5 years ago in only his third lifetime fight. Robert Alfonso is 4-0 in his young career.
Tickets for ESPN's Thursday Night Fights, also billed as "Noche De Combates," are on sale now through Ticket Force (www.myticketforce.com), www.hialeahpark.com, and at the Hialeah Park Casino cage.