Most fight fans have been focused on the British Olympic boxing team over the past week or so. However, there's plenty of news in the professional fight game as well. In this edition of the British boxing beat, we'll cover George Groves and his recent fight, upcoming bouts and news such as Tony Bellew vs. Edison Miranda, and also Amir Khan's road to redemption, which is perfectly timed of course, as his own journey began back at the Olympics now 8 years ago.
Amir Khan's road to redemption begins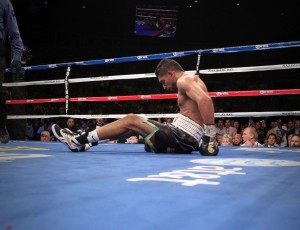 It seems strange to think that almost eight years have passed since Amir Khan won the hearts and minds of the British public with his Silver medal effort at the 2004 Athens Olympics. Time has truly flown by, however, and the charming seventeen year old boy with a hearty smile has developed into a grizzled veteran of the circus that is professional boxing.
It is cruel coincidence that at the back end of every Olympics since, Khan has found himself rebuilding following a shattering defeat, in 2008 to Brieidis Prescott and this year to Danny Garcia. There could not be a more stark reminder to the unpaid hopefuls gracing us for the next few weeks that success in the amateurs will not simply be replicated upon the removal of the vest and headgear. Blood, sweat and tears will continue to be the going rate.
The good news is that, despite the crushing defeat to Garcia, Khan appears to be maturing ever so slightly. For the first time in his absorbing career, he recently accepted his resemblance in fighting style to Manny Pacquiao – "all offense", may not be the best thing for him. Since he showed heart and a decent chin to withstand waves of punishment from Marcos Maidana, Khan has developed an Arturo Gatti complex, believing he can offer his chin to the opponent and get away with it. The stoppage loss against Garcia could be just the tonic Khan needed, a final wake up call if you like, to get back to basics and be the best he can, rather than a poor imitation of his legendary stable-mate.
Trainers have been offering up their services to guide Khan down the next winding pathway of his journey, Enzo Calzaghe and Emanuel Steward to name two. Steward could be a perfect fit for Khan. He took Wladimir Klitschko from an athlete with a suspect chin to the best heavyweight in the world today with emphasis on the simple but effective. Whatever happens next, Khan would be well served to forget the bravado and maintain that mantra – simple but effective.
George Groves excites but pays the price
On American soil for the second time in his career, George Groves returned to the ring with a credible bang, blasting out tough Mexican Francisco Sierra. Simply being back within the ropes will have been relief for Groves; he has been out of action since he violently stopped Paul Smith last November. Since then opportunities have fallen through due to injury as Groves had to pass up a world title chance as well as a widely awaited rematch with Kenny Anderson.
The win allowed Groves to shake off any ring-rust, something that did not appear necessary as he once again exhibited the power that has shone through in his professional career to date. There was a slight bump in the road for "The Saint"; it came in the form of a nasty wound above his right eye. Although not as bad as the wound he suffered in his clash with James DeGale, it is a slightly worrying sign for the fair-skinned Englishman. The resulting effects of the cut are that Groves has been forced to pull out of his planned September go-again with the aforementioned Anderson, a frustrating second withdrawal by Groves.
Groves will now be hoping to get back into the ring before the year is out in order to ensure the ground he covered last year by being named British young boxer of the year is not swallowed up by the torment of injury.
In other news…
Scott Harrison is on the verge of the greatest test of his career, or his second career at least, in the shape of a fight with fellow lightweight punisher John Murray. Murray has agreed to the fight, which would appear on the undercard of the spicy Ricky Burns-Kevin Mitchell match-up.
If Harrison were to accept the challenge, he could throw himself into world title picture once more, and victory would intensify the possibility of an all-Scottish barnburner between he and Burns down the line. One thing is for sure, if Harrison-Murray does go ahead, what looked like a tasty dish in Burns-Mitchell would become a mouth-watering British boxing feast.
Tony Bellew is also all set for a challenge when on September 8th at Alexandra Palace he will square off against Colombian banger Edison Miranda. Miranda has always had a sizeable punch but has always lost when he stepped up to face the best. Kelly Pavlik, Arthur Abraham (twice), Andre Ward and Lucian Bute will testify to that, with three of those five defeats coming inside the distance.
Miranda may have lost some sheen, but he still carries some of the reputation earned in the wake of respectable performances at the highest level and Bellew, a fierce puncher himself, has tasted the canvas before. Bellew will be expected to win though, so the real measurement of the contest will be how his performance stacks up against those of the other quality opposition Miranda fell short against.
Comments
comments