Saturday night in Sheffield, Kell Brook dealt with a surprisingly arduous task as he notched a Majority Decision against Carson Jones over twelve hard fought rounds at the Motorpoint Arena.
Jones was beforehand perhaps an exaggerated underdog in the media's eyes, but an underdog no less, as he sought to fulfil his own ambitions of stepping up his tilt for a world title challenge. Rather than be drawn into pre-fight hype, however, Jones showed confidence all the way up to the preliminaries. Upon the referee's instructions, Jones stared deep into Brook's brown eyes and proclaimed "Prepare to lose that 0!"
The opening exchanges provided no real explanation as to why Jones was so assured. Brook boxed beautifully at times while his American counterpart seemed gun-shy, walking forward in straight lines without throwing anything of note. Such was the story for the first five rounds, at least. As Brook put his fifth consecutive round in the bank utilizing a shoulder roll to slip punches on the ropes, he must have been wondering why people were making such a big deal of this world title eliminator malarkey.
Things were not to be so pronouncedly simple, however. Jones seemed flummoxed as Brook backed him to the ropes in the sixth and unloaded, but he came back firing to the body, unleashing a warning signal of the pain to come. This was about to become a tale of two separate battles within the one, same fight.
And so the attrition began. It was Brook's time to look flustered as Jones forced the fight in the seventh, coming on strong and working the Sheffield man's body as if it were his own heavy bag. Brook's toil increased in the eighth, as blood flowed from his nose, the work of several chopping right hands which Jones was now landing with greater regularity.
The next three rounds were a case of Brook attempting to bottle the proverbial genie which he had allowed Carson Jones had become. Bringing the kind of intense pressure which Kell had never seen before, Jones was the one in the ascendancy. Brook squirmed and struggled. He seemed either unsure or unable to tie up or move away as Jones bulled his way inside. Brook was now in Jones' favorite place and the exit signs seemed so far away they were barely visible.
Coming on strong in the final round, Jones manhandled his man once more. Brook was on faltering legs as Jones threw it all, no doubt buoyed by the sight of Brook's nose that was by this point gushing blood. Toughing out while backing away, Brook was surely delighted to hear the sound of the final bell.
The official scores of 116-113, 115-113 and 114-114 favored the hometown man. There were no arguments in the aftermath, with Brook praising his foe and admitting he had gained respect for him, while Jones stated his case for a rematch.
The shopworn look on both men's faces effectively told the tale; this had been a thrilling fight in which each had shown tremendous amounts of heart in enduring prolonged spells of adversity. Each man has a future at the highest level, though there are questions to ask.
Brook, along with his promoter Eddie Hearn, raised the idea of an improved diet. This is a worrying topic of conversation as, particularly at this stage of his career, Brook must have a professional attitude outside of the ring as well as in it.
Jones, meanwhile, will have regrets of his own. Had he upped the ante just one round earlier, he could be celebrating another stoppage win in an opponent's back yard. There is plenty of food for thought, but Kell Brook and Carson Jones can be proud of their respective efforts on this night.
There were some early finishes on the undercard. Gavin Rees took another step toward a world title shot of his own as he halted the brave Derry Matthews in nine back and forth rounds. Grzegorz Proksa reclaimed his European middleweight title as he stopped Kerry Hope after eight sessions in a rematch of their exciting contest back in March.
Fury vs. Maddalone: Tyson Fury meets expectations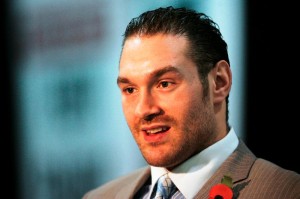 The announcement of Vinny Maddalone as the latest opponent for Tyson Fury was met with a good degree of skepticism here in the UK, with some quarters fearing for the level of punishment Vinny tends to ship nowadays. The fear was shown to be justified as Fury utterly dominated, with the fight being stopped in the fifth round.
Fury controlled the duel from the first bell. Wearing his shorts hitched high up, the in-shape gypsy of Irish stock used a long, rangy jab to good effect, making full use of the ring and ensuring Maddalone could not get set to throw his own heavy artillery.
His right hand was landing at will as Maddalone's face reddened with the punishment. Although the right cross was eye-catching, praise must go to Fury on his jab, for this was the punch that laid the foundations for his victory.
With Fury stepping up the pace and tagging Vinny at will, referee Ian John-Lewis correctly called a halt to the contest in the fifth. There was no contention from Maddalone or his corner.
For Fury, this was a decent victory taking into account the quality of his performance. Considering the level of opponent he has recently faced, however, and it is clear he must be given the opportunity to out his talents in a higher profile match-up. This is a particular bone of contention if he is to be taken seriously as a potential candidate for a meeting with either Klitschko brother at any time in the near future.
On the undercard, Chris Eubank Jr., the son of the British boxing legend of the same name, won a difficult points verdict over the tough Terry Carruthers while Lee Haskins won the European bantamweight title with a twelve round win over Stuart Hall.
Comments
comments