Frank Warren and members of his team are currently in San Juan, Puerto Rico for the WBO Convention and securing a huge fight in early 2017 for undefeated titlist Billy Joe Saunders is high on the agenda.
Discussions have been taking place and are ongoing with the representatives of two marquee names, Gennady Golovkin, the IBF, WBC, and WBA 'Super' champion and Mexican superstar Canelo Alvarez.
Whilst both options remain firmly in the frame, another big fight option for Saunders has entered the running at the WBO Convention.
Mr. Warren, who has promoted Billy Joe Saunders since he turned professional after the 2008 Beijing Olympics, has begun dialogue with Japanese Promoter Akihiko Honda regarding a potential fight between the WBO Middleweight Champion and 2012 Olympic gold medallist Ryota Murata.
A bout between Murata, a huge name in his native Japan and Saunders, would match together two former Olympians at the top of their game in a huge fight taking place in either London or Japan.
Frank Warren said: "It was disappointing for Billy suffering an injury ahead of his fight which would have seen him defending his title this weekend, but nonetheless he's in a fantastic position.
"There are three options we are working towards at the moment, all of which are massive fights. Whichever way it plays out, we'll be sure to deliver Billy a big clash that will get the pulses going in early 2017!"
Birmingham man vows to wreck Olympian's first pro title fight
Craig Cunningham has warned Anthony Ogogo he's in for a rough ride and will KO him at the Barclaycard Arena in Birmingham on Saturday night.
Cunningham has enjoyed a great build-up to the biggest night of his career, welcoming his daughter to the world last week and then following that by landing the boxer of the year gong at the Midlands Boxing awards.
Those presents mean the 28 year old couldn't be in a better place ahead of the biggest night in his career, and after asking manager and trainer Jon Pegg to get him the big fights, he is planning to flatten the 2012 Olympic bronze medallist and land the vacant WBC International title.
"I can't wait for this," said Cunningham. "I've asked Jon for these big fights and he's delivered, so I am so excited.
"This is a huge opportunity for me. They might think this is an easy night for them, that all they've got to do is turn up to win the belt. It's down to me to prove otherwise. I've had my small hall brawls, now this is something I can really sink my teeth into.
"I don't care about his record and his past achievements, to be honest, and he can't bring that into the ring with him. He'll want me to stand in front of him, he'll be sharp and fast but no one has ever knocked me out. I'm confident about my chin.
"He's got pedigree but this is the pro game now, it's totally different. It's going to be a hard, hard night for him I can promise him that. I'm going to be his toughest fight as a pro and I am a massive underdog so I have got nothing to lose
"I've got a good jab but I can't hide behind that, I'll have to take the fight to him and I'll be looking to do that in the later rounds. I'm the underdog and that suits me just fine, I fight better like that, but I'm not just here up to make the numbers.
"You are going to see a different Craig Cunningham – I'm going to take it to him, get in there and look for the KO. I think I can knock him out because he hasn't been hit by anybody like me. The belt is coming home with me, I've had a great camp and I just want to get my hands on him and show everyone what I can do."
Ogogo and Cunningham's clash is part of a huge night of action in Birmingham topped by a fierce local derby between Frankie Gavin and Sam Eggington for the vacant WBC Internatioal Welterweight title.
Ahmet Patterson: There are 5 Versions of Me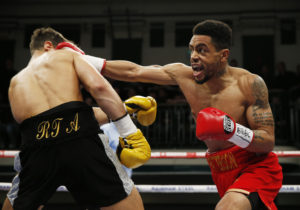 Dancing destroyer Ahmet Patterson is refusing to allow location or lack of action to interrupt his vision of collecting the British super-welter title this month, writes Glynn Evans.
On October 22nd, after nine months on the sidelines, the uber quick and super-skilled south Londoner ventures west to face Welsh warlord Liam Williams at Cardiff's Motorpoint Arena.
Though unbeaten in 17, bookmakers have listed the 28 year old from East Dulwich as a prohibitive 11/4 outsider.
'This is nothing new. I've won 'Big' away from home before. The crowd can't get in the ring to help 'em,' claims the man they call 'Pattycake' who cites his English welterweight title win over home hero Chad Gaynor (rsc5) in September 2014 as hard evidence.
'If I'm honest, I don't even hear the crowd. I'm tunnel vision. To me, it makes no difference if a fight is round the back of a pub or before tens of thousands.
'And though I've not fought since January (a mightily impressive six round destruction of Birmingham southpaw Ryan Aston), I'm constantly in the gym training.
'For me, boxing is a lifestyle. I'm totally dedicated to my craft, no time to sit down. I like being around my people and I love my sport. If you just restrict yourself to eight week training camps, you're probably in the wrong game.'
Trained and managed by Martin Bowers at the Peacock Gym in the capital city's East End, Patterson has been bubbling beneath the surface for a couple of years now. However, the division's leading lights have been swerving him as though he were a leper.
A pro since October 2010, the part Turkish, part-Jamaican descendant has racked up 17 straight wins (seven stopped, seven shut out) but has predominately operated away from the TV glare. Nevertheless, the industry is awash with whispers of his wizardry.
'It gives me great pride knowing that I did it the hard way, took no short cuts to get to my (mandatory) position. It's been earned,' says the one-time national junior champion and ex England amateur rep.
'I'm conscious of not coming across as arrogant but I've always had huge confidence in my ability. I just know what I can bring when I'm 100% 'on it'. Listen, I've sparred a lot of rated boys – champions, including world champions – yet I hardly ever lose any rounds.
'Everybody rates Liam Williams as a top, top fighter so it's another top scalp I can claim. But the titles are equally as important because it opens doors, moves you to the next level.
'I've been inactive, I'm away from home…..but all these hardships will just make the elation extra special when I win.'
Patterson's awayday assignment is certainly magnified by the man who'll be smouldering across from the opposite corner. Champion Williams, himself undefeated in 16 (one draw), is widely touted as the next 'Big Thing' to emerge from the Principality with promoter Frank Warren appearing keen to build a Welsh renaissance around the rumbler from the Rhondda.
'I don't know Liam personally but on fight night its business and I'm ruthless. I'm not here to be his friend,' says Ahmet whose feted technical tools are garnished by a steely mindset.
'I respect every single opponent – all fighters know what we put ourselves through – but this one is British and Commonwealth champion. He's a very good fighter who I've great respect for.
'That said, I've not looked at him on tape. People don't seem to believe me but I NEVER study opponents. They won't shape up against a different opponent, like they're going to shape up against me so it's pretty pointless. It's not as if Williams will be the best I've been in a ring with. I routinely spar world class.
'All opponents have two arms, two legs and I'll adapt to whatever they bring. The story will be written after that!'
The common consensus appears to be anticipating a fistic foxhunt with the bull strong champion chasing the one time street dancer around 24 square feet for 36 minutes or less. Don't bank on it, warns Patterson!
'We'll see how I feel on the night. Whichever way Liam wants to play it, he can have it. There's between five and ten versions of me and no one's ever sure which one will turn up!' he teases.
'I've no reservations about receiving an honest verdict from the judges in Wales because I don't go in for close decisions. I always win clean, no room for doubts. Next day, the headline will read: 'Patterson wins in style!' Believe.'
'I'll claim the titles because my name is Ahmet Patterson and I'm a winner!'
Harley Benn Signs With Queensberry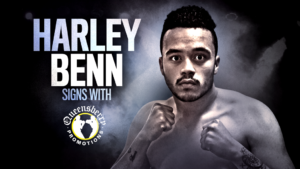 Harley Benn is delighted to have signed a three year promotional deal with Queensberry Promotions and will make his highly-anticipated debut on the WAM Boxing promotion taking place at the Brentwood Centre on November 25, live and exclusive on BoxNation.
The 20 year-old son of former two-weight World Champion and British boxing legend Nigel kicks off life in the paid ranks at Middleweight under the guidance of training duo Dominic Negus and Lenny Butcher at the Five Star ABC in Romford, Essex. Harley, from Hornchurch, will be managed by Hall of Fame promoter Frank Warren and is aiming to achieve big things in the fight game.
"This is my journey," said Benn. "I'm not trying to follow in the footsteps of my dad; I'm doing this my way. However, I can definitely see similarities in the way we fight. I'm a come forward type of fighter and pack a big punch. I don't like fighting on the back foot, I love a fight.
"I can't wait to get in the ring and show people what I'm all about. I'm definitely more excited than nervous. Training has been going really well and I'm fitter than I've ever been. I've got just over a month til I fight and I'm going to be in the best shape of my life.
"BoxNation viewers should be expecting entertainment and plenty of bombs! They should be looking forward to some big knockout wins in the coming years and I know they will love my exciting brand of boxing.
"My trainer Domininc is like an older brother to me. I have such a good relationship with Dom and Lenny. I'm training alongside top Super-Featherweight Boy Jones Jnr and Sanjeev Sahota and we all get on really well. I spend more time with Dom and Lenny than I do with my own family; I'm always in the gym!
"It's a brilliant show to be making my professional debut on. I'm a massive fan of Bradley Skeete; he's one of my favourite boxers to watch. You've also got my gym mate Lee Markham on the bill defending his English Middleweight title and Boy Jones Jnr going for his first title so it should be a cracking night. I know a lot of people in Essex and they'll all be there showing their support.
"Frank Warren and Queensberry Promotions were always my first choice. He's developed so many World champions over the years so I know I'm in safe hands with him. Some of my favourite boxers have gone on to big things under the guidance of Frank and I know I can create my own success."
Frank Warren added: "Harley has boxing in his blood but as he says; this is his career and he's going to do things his way. His knockout power makes for an exciting fighting style that fans will love and he's more than capable of mixing it up. Under the guidance of our team Harley can achieve big things but he won't be rushed."