Cardle out of Buckland clash – Dodd steps in
Sean 'Masher' Dodd will now face Gary Buckland at the Liverpool Olympia on Saturday night, live on Sky Sports, after injury ruled Scotty Cardle was forced out of the clash through injury.
Popular Birkenhead Lightweight Dodd already had a place on the bill but now takes centre-stage against the Welshman with the winner set to face Cardle for the Lonsdale belt in Liverpool on November 7.
Cardle was ruled out of defending the title he won in May for the first time after sustaining a tear in his quadriceps in his final spar the fight this week.
Along with a golden chance for Dodd, hard-hitting unbeaten Light Heavyweight Hosea Burton now faces unbeaten Trinidadian Nigel Edwards in a final eliminator for the Commonwealth title on the bill, a great chance for the Manchester man to edge into pole position to land his first major title.
"It's poor luck for Scotty who was looking forward to the first defence of his British title but what a golden opportunity for Sean," said Hearn. "I am looking forward to making the winner against Scotty for the British title on our bumper 'Who's Fooling Who?' bill at the Echo Arena in Liverpool on November 7."
Those big fights for Dodd and Burton come on a key night of action on Merseyside as Stephen Smith faces Devis Boschiero in a final eliminator for the IBF World Super Featherweight title.
Unbeaten Super Lightweight star Bradley Saunders returns to the ring against Renald Garrido and there's action for Liverpool's Tom Farrell and unbeaten Manchester duo Marcus Morrison and Zelfa Barrett.
Bradley Saunders gets eight round test against Renald Garrido on September 19
Former Beijing 2008 Olympian Bradley Saunders (12-0) gets a tough test against Frenchman Renald Garrido (14-11-1) over eight three-minute rounds on September 19th at the Liverpool Olympia on the undercard of Stephen Smith's World title eliminator, live on Sky Sports.
The 32-year-old travelling opponent from Marseille has never been stopped even after sharing the ring with big-punching WBO Inter-Continental light-welterweight champion Jack Catterall (12-0), who has halted eight of his 12 opponents to date.
"I know he's never been stopped," remarked Saunders, speaking from his Marbella home. "He comes forward, comes for a fight and doesn't allow anyone to put him on the back foot."
The 29-year-old added, "He went the distance with [Serhiy] Fedchenko who beat DeMarcus Corley to become European champ and he floored Robbie Davis Junior in their fight."
The Frenchman, nicknamed 'Le Lion', recently took former WBO European light-welterweight champion Serhiy Fedchenko (33-3) into the trenches with a mixed decision in New York in May this year, losing by just two points on two of the judges' scorecards, the third official ruling as a draw.
Four of Garrido's last five fights have been eight-round contests whereas Saunders has only completed eight rounds once, back in November 2012 against Irish champion and MGM stablemate Peter McDonagh (24-28-1).
"I'm good to go the distance, been doing eight rounds with Derry Mathews here at the MGM so I'm doing them easy enough so should be good to go with anyone," said the 12-time national amateur champion now signed to Matchroom.
The light-welterweight ace from County Durham has been out of action since injuring his right hand ahead of a scheduled Commonwealth title fight with former champion Dave Ryan who handed over his Commonwealth and WBC International belts to challenger John Wayne Hibbert on September 12th at the O2 Arena in London after developing a back injury in the 10th round of their third fight in the series, now scored at 2-1 to Ryan.
Now training with MGM's top trainer Danny Vaughan, the undefeated 140-pounder lives and trains in Marbella and has not fought for six months, the last performance resulting in a fifth round stoppage over another tough Frenchman in Stephane Benito (22-18-3) at the Ice Arena in Hull on March 7th.
Benito from Var hadn't been stopped in nine fights and nine years until he met the hard-hitting Sedgefield boxing star in the ring that night, leaving with two broken ribs.
Saunders said of his return to the ring, "I'm in a good place now with my boxing, everything's good. I've been out for obvious reasons but I'll just listen to Danny Vaughan in the corner, I'd be happy to go the distance, I'm not bothered.
"I don't need to be proving anything to anyone, as long as I do the right things for my coach and for me, then I'll be happy."
Of his future plans, he hoped, "I'd like to fight twice more this year but it's down to whatever Eddie Hearn and my manager Daniel Kinahan have in store for me, I've already said I'll fight anybody."
Chudinov says he'll hammer Buglioni
WBA World Super-Middleweight Champion Fedor Chudinov says he bring more heartache to British fans when he destroys Frank Buglioni on Saturday 26th September at the SSE Arena, Wembley.
Chudinov watched George Groves slump to a third world title defeat when he lost to WBC World Champion Badou Jack at the weekend and says he will do the same to London star Buglioni.
The 27-year-old from Serpukhov stunned the boxing world when he defeated German great Felix Sturm in his backyard in May and wants to demolish Buglioni in front of his home crowd.
And the Russian hitman has targeted more Brits once he's finished off Buglioni with IBF Champion James DeGale on his hitlist as well as aiming to lure former four-time world champion Carl Froch out of retirement.
Chudinov, who's annihilated 10 of his 13 opponents with seven coming inside five rounds, says he'll have too much firepower for Buglioni and with boxing legend Roy Jones Jr. now training him he'll be unbeatable.
"It is coming close to fight time now and Buglioni will be starting to realise what he has got himself into," Said Chudinov.
"He must have seen Groves' weak challenge for the world title at the weekend and must be questioning his own credential to be challenging for a world title, he is out of his depth and he won't be able to swim fast enough from the shark who will rip into him,"
"I have fought in front of thousands of German fans and beat their hero in his own country so coming to England and doing the same to Buglioni is no problem for me, no problem at all,"
"The great Roy Jones is now in my corner and we are now an unbeatable team. At his peak he was an unbeatable force in the super-middleweight division and I'm honoured that he's in my corner. We have Buglioni figured out."
"When you look at Buglioni fight he is far too easy to hit, Sergey Khomitsky smashed him inside six rounds, I have a far higher knockout percentage and I deliver much much harder punches, he'll be knocked out,"
"I have trained like a machine for this fight, I will set an incredible pace for Buglioni that he cannot match. I have the strength and power to remove him when I'm ready,"
"Groves is finished and Buglioni will be finished, then I want to conquer Britain. What British fighters are left? James DeGale? I would destroy him and if Carl Froch wants to recapture his old belt then I will fight him, no question."
Tommy Langford gets Argentinian champion in maiden title defence on October 3rd
Latest opponent announced three weeks ahead of fight night will provide Langford with his toughest test yet.
WBO Inter-Continental middleweight champion Tommy Langford (13-0) will defend his newly-attained title against Argentinian champion Christian Fabian Rios (20-6-3) on October 3rd at the Wolverhampton Civic Hall in the main event of the co-promoted Frank Warren and P.J Rowson show, live and exclusive on BoxNation (Sky 437/HD 490, Virgin 546 and Talk Talk 525).
The unbeaten Birmingham-based ace headlines the show for the first time in his three year professional career that has seen him race to 13 fights unbeaten without ever losing a single round.
Of his forthcoming 32-year-old opponent, the 26-year-old stated, "He's a good southpaw, good mover, clever boxer, he sneaks through fights and picks up the rounds and wins most on points.
"He's very durable and never been stopped so he'll be a good test for me at this point in my career but I think I'll break him down and stop him."
Five of Rios' losses came within his first 12 contests in what was a very patchy start to his pro career between 2008 and 2010. He has only suffered one more defeat in the last 17 fights when stepping up to challenge for the Argentina (FAB) middleweight title in 2012, which he won on his second attempt in August last year.
Langford added, "He's on a run at the moment, he's undefeated in the last three years and had a good draw against Jorge Sebastian Heiland who KO'd [Matthew] Macklin in his last fight.
"He's definitely up there but he's never fought outside of his country and he'll be coming to me in a hostile environment."
Bideford-born Langford is currently experiencing a coming-of-age period in his career, finishing four of his last fights early.
"Looking at his record, he's not been stopped and been in with some good operators, but I've always been comfortable with the southpaw stance and always been able to hit well with good punches," said the six foot tall student of Hall Green Boxing Club, run by trainer Tom Chaney.
"He's a bit of a mover so I'll have to break him down but I'll stop him in the second half of the fight, but it all depends on how tough he is, if he doesn't get out of the way then he'll get hit a lot so it's whether he can weather the storm for long, really."
Full of confidence following a good training camp, Langford discussed his current state of fitness, "Feeling great and I can't wait to fight. I had good sparring last week with 'Jimmy' Kilrain Kelly, who's 15-0.
"I'm on a roll now, really, in the gym and at the business end of the camp now so just fine-tuning and getting ready to do the job on the night."
The fourteenth fight of the 26-year-old's career will be his fourth at the Wolves Civic, previously enjoying an emphatic performance against former Central Area super-middleweight champion Wayne Reed (11-9) on Valentine's Day this year, providing chief support for the first time, which pundits at ringside called the display, "a perfect all-round performance."
The 160-pounder systematically dismantled the Seffield boxer by hurting the 28-year-old southpaw with devastating body shots, dropping him twice in round four and causing referee Robert Chalmers to rightfully intervene in the fifth round.
Next, Langford when one better when fighting outside of England for the first time as a pro by stopping a tough Mexican in Julio Cesar Avalos (15-4) on American Independence Day at The National Stadium in Dublin, picking up his maiden title in the WBO IC strap, on the undercard of Jamie Conlan's WBO European title defence against Junior Granados (13-3-1).
"There's a lot more to come from me," Langford claimed. "I'm happy with the last two performances and all the things I've been working on in the gym, I've managed to show in the ring, such as my strength.
"I'm a lot stronger now and there's a lot more to come from me. The better the fighter in front of me, the more it will bring from me."
Patterson wants Liam Smith
South London talent Ahmet Patterson intends to prove he's ready to compete at world level when he fights in a British Super-Welterweight championship eliminator at the SSE Arena, Wembley, on Saturday 26th September.
A former national junior champion and England amateur rep, the 27-year-old from East Dulwich has raced to 15-0 and is one of the hot talents to watch out for this season.
But 'Pattycake' intends to alert the trade of his considerable talent when he features in a riveting support contest on the undercard to Frank Buglioni's WBA Super-Middleweight challenge to the Russian champion Fedor Chudinov.
Original opponent Danny Butler withdrew due to a viral infection and he awaits news of his new opponent shortly, but one man in his sights is Liverpool rival Liam Smith, who himself fights in a WBO World Super-Welterweight title challenge on Saturday 10th October in Manchester.
'Of course I'm ready for the step up. I've been ready for a British title shot for more than a year. I'm in the game for big fights,' says the Turkish-Cypriot descendant who is trained by Martin Bowers at the Peacock Gym in Canning Town.
'Hopefully, victory on the 26th will lead to British and Commonwealth opportunities before the end of this year. Liam Smith is challenging for a world title next month but I'm ready for him right now, 100%.'
'Fighting in London isn't an issue either way. I went up to Sheffield to fight Chad Gaynor and I won well (fifth round stoppage); went into the ring smiling, left the ring smiling. It really doesn't bother me. I enjoy boxing anywhere.
'Size won't be an issue either. I routinely spar far bigger guys and far smaller guys and I can adapt to anything because I like to think that I'm a good fighter.
Thomas Stalker bringing out nasty side
At the age of 31, Team GB 2012 Olympic skipper Tom Stalker knows nothing other than a comprehensive victory will suffice when he squares off with ex international team mate Craig Evans for the vacant WBO European lightweight title on Frank Warren's 'World War III' event at the Manchester Arena on October 10th.
'The Captain', formerly ranked number one amateur in the world after medalling at the European Seniors (twice), the Commonwealth Games and the World Seniors, has already stumbled twice in 12 pro gigs and knows he simply can't afford another hiccup.
'This is sink or swim and a must win,' disclosed the chirpy Liverpudlian who is frequently accused of being simply too pleasant to prosper in the austere world of pro prizefighting.
He confided: 'Lately, I've started seeing a sports psychologist because basically I'm too nice a guy. He's helping to bring out the grit, the nasty side that I'll need to succeed in the professional game.
'In the past, I've been guilty of always giving everybody my time. I'd answer every phone, reply to every message. Lately, I've come off all the social media sites so I've no distractions. I want to put all my energy into my training, my tactics.'
Last time out, Stalker profligated a healthy early lead to draw with fellow Scouse southpaw Tommy Carus over eight rounds.
'It was my own fault. I found it easy early on, thought I had it in the bag but Tommy kept pushing. I started to tire and I can't explain that because I always train very hard,' said Stalker.
'I definitely thought I won it but he had a lot of fans screaming at ringside and I think that influenced the ref, who scored it.'
Nevertheless, the reformed joy rider from Huyton insists that, right now, his life couldn't be more dandy since hooking up with Irish manager Daniel Kinahan at the MGM Gym Marbella 17 months ago.
Tom says: 'My life has really changed for the better. We instantly developed a great energy together and I've had fabulous career opportunities.
'Spain is where my long-term future lies. My two girls are in Spanish schools here and I've another baby due in November. Once I retire, I'd love to become involved in the coaching set up at the MGM Marbella. It's becoming a real big force. If not that, I'd consider the GB set-up. I still love amateur boxing.'
The manner in which he was ragged about the ring in the later rounds with Carus has persuaded the 5ft 10in Stalker to strim down to 135lbs where he believes he'll start to profit from physical advantages.
'My mate Bradley Saunders makes 10 stone but enters the ring above 11stone whereas for my last three I've weighed around 9.12 and come into the ring around 10.4, 10.5. Realistically, I've the body of a lightweight, albeit a big one,' disclosed Stalker
'I was making light-welter without really dieting. 'The Taff-inator' (in house strength and conditioning coach at the MGM) has sorted out my nutrition. I'm on a stricter diet. Obviously lightweight is harder to make but I still expect to be in the ring about 10.5.'
The WBO European collision with Evans might ultimately lead to a world title challenge with Manchester's Terry Flanagan.
'I'm happy to pursue the WBO route. A win will not only bring the WBO European belt but also a top 15 world ranking. It's a big carrot which will allow me to really push on," He added.
The bang up with ex British title challenger Evans (14-1) has certainly split the trade and could prove the show stealer on a bill littered with quality 50-50 match-ups.
'It's another tough one and I'm really looking forward to it,' says Stalker who didn't start competing until he was 19 and therefore still has low mileage.
'This is the level of fight I want to be in, fights where the fans genuinely aren't sure who'll win. Either way, no one will be able to say the winner hasn't beaten anyone.
'This is the first time as a pro I'll have entered as the underdog. There's less pressure and I get a chance to prove a lot of people wrong.
'I know what Craig's about from our time together on the GB squad. I was lightweight, he was down at feather so we didn't spar. He's a very good southpaw who gave Scotty Cardle a close fight for the British title. Our styles should gel to produce a top fight but I'm confident of winning.
'Craig likes to wait a lot and he can be pretty cagey. He's got a good jab and back hand but against Cardle he sat off too much. I intend to do the things that made me such a good amateur; slow it down, out box him, make my natural size advantage pay. I believe I'm better all round; bigger, stronger, more skilled.'
Anthony Joshua renews deal with StubHub
The UK's leading boxing promoter Matchroom Boxing and London Olympic heavyweight champion Anthony Joshua, have both extended their partnerships with the world's largest ticket marketplace, StubHub, part of the eBay Inc group of companies.
The agreements mean Matchroom Boxing & Anthony Joshua will continue to use StubHub.co.uk as an official ticket distribution channel, all of which will be listed at face value. StubHub will also operate the official ticket resale channel, alongside having a package of brand marketing and activation rights linked with all their forthcoming fights.
The debut fight for the new partnership will be 'Heavy Duty' on Saturday September 12 at London's The O2, where StubHub also operates as the venue's Official Ticket Resale Marketplace. Anthony Joshua is headlining and faces Gary Cornish in his first major title bout with the vacant Commonwealth Heavyweight title on the line. Joshua has raced to 13-0 with 13 devastating KO wins since turning pro and now looks to add major belts to his Olympic gold medal and WBC International Heavyweight Title, starting with the Commonwealth strap. Tickets are still available on StubHub.co.uk.
At the core of both partnerships is providing the best possible experience to boxing fans. The dynamic offering of primary listed directly by Matchroom Boxing and Anthony Joshua, alongside resale ticket listings will provide fans with a greater breadth of choice of tickets on a safe, secure and transparent platform.
Nick Harford, Interim General Manager, StubHub International said: "Establishing long-term partnerships is an important part of evolving the StubHub business, so we are delighted to be extending our agreements with Matchroom Boxing and Anthony Joshua. It's unquestionably an exciting period for UK boxing and we look forward to seeing how the calendar shapes up, which includes our support for Anthony Joshua as he continues to make both an impressive ascendency in his division and profile."
Eddie Hearn, Group Managing Director, Matchroom Sport said: "We are pleased to be renewing our StubHub partnership, it's a perfect partnership – enabling us to sell face value tickets safely and securely to fight fans. We want to ensure that boxing fans across the UK are able to purchase tickets to see the biggest and best boxers in the UK live and StubHub allows us to do this. Enjoy the show!"
Anthony Joshua said: "I am really excited to be renewing my partnership with StubHub. We have forged a great working relationship and I am excited to be moving in to the next stage of my career with such a committed partner. With two huge fights coming up, I am pleased that my fans will continue to have a great platform to access face value tickets."
Jimmy Kelly: I'm the darkhorse in the division
Rising Manchester light-middleweight contender Jimmy 'Kilrain' Kelly is a fighting man, from a fighting family and gets to show his skills on Saturday 10th October at the Manchester Arena when he has his first fight under new promoter Frank Warren for the Vacant WBO Intercontinental Championship.
'I was in the boxing gym since the age of about four. Dad had over a hundred amateur fights and was on the brink of turning pro but then my sister came along and he needed to get a proper job,' revealed the 23 year old from Wythenshawe who has romped to 15 straight wins and the WBC Youth title since debuting as a teenager back in March 2012.
'Dad was boxing daft and Kilrain is my given middle name after Jake Kilrain, the legendary bareknuckle fighter from the nineteenth century who fought John L. Sullivan.'
A product of the fabled Champ's Camp gym in Moss Side, now run by ex British champions Ensley Bingham and Maurice Core, young Jimmy started to compete as soon as he was legally able, representing the Jimmy Egan ABC on Royalthorn Road.
He recalls: 'I had 69 amateur fights and won more than 60, over 40 by stoppage. I won the national schoolboys twice, the Junior ABAs three times and won 15 Young England vests. I once got to the quarter-finals of the senior ABAs but broke my hand and had to withdraw.
'But once my mother died of cancer a few years back, I decided that I needed a clean slate, a fresh chapter so I turned professional.'
Just 19 when he began to punch for pay, only two of the stylish all rounder's first 13 opponents brought winning records, as he learnt his craft in the northern small halls.
But a brace of brutal third round stoppage wins for versions of the WBC Youth title this year against Georgia's Nodar Robakidze and Ghana's Isaac Aryee significantly elevated Kelly's standing. In both instances, rib bending body shots were at the core of the carnage.
'I feel adequate in every area and quite versatile,' states Kelly, who is managed by Lee Beard.
'I've a high boxing IQ and read a fight well. I've sparred the likes of Frankie Gavin and Tommy Langford and I've never felt outclassed.
'Marvin Hagler was always my hero. He got to the very top despite very little exposure early in his career. He got no gifts, no favours, simply put his head down and kept winning. He's an excellent role model I'd like to emulate.'
Away from the ring and gym, Kelly is far from your stereotypical pug; boasting 12 GCSEs (including seven A*, and two A gardes) plus a BTech (distinction) in Sport Science. He made quite an impression when debuting on 'Bunce's Boxing Hour' last month, resplendent in thick rimmed specs and a tweed three piece!
'I've always enjoyed a nice bit of clothing. The family always got dressed up on Sundays to go to church,' he explains.
'It was a fantastic experience being on Steve's show. Being around older people at boxing gyms since I was four or five, I've always been pretty mature. I felt quite relaxed. Several people commented that I came across well.
'After a fight, myself and my missus – who has a couple of businesses – like to treat ourselves to a nice break. In March we went to Cairo and after this fight, we've booked to see the Northern Lights in Rekjavik.'
Apprenticeship served, Kilrain is ready to toss his hat into the domestic 11 stone ring presently inhabited by talents such as Liam Smith, Liam Williams, Ahmet Patterson, Danny Butler and Gary Corcoran.
'No one really stands out. They've all got their own qualities,' he assesses.
'Liam Williams beat me in the amateurs when we were about 11 or 12 so I've always had big respect for him. Gary Corcoran has a good work rate and Danny Butler appears to have found a new gear of late. But I could be the dark horse. I've had a quiet but quality apprenticeship like Hagler. Now it's my time to break out.'
The Man United diehard gets to showcase his wares before sizeable live and TV audiences at the Manchester Arena and is thrilled.
'This is such a massive bill for my city. There's so many great fights. It's a privilege to be part. Like everyone, I hope I can be on early so I can enjoy all the action,' said Kelly.
'Terry's got real momentum and I think he'll come through against (Diego) Magdaleno. I expect Liam to be miles ahead of John Thompson and to win comfortably.
'I've had a lot of good performances in small halls, off TV. I always train hard and arrive in shape. Last time I took out this Ghanaian who'd stopped 18. Now I've an opportunity to show what I'm about to a bigger audience. I don't intend wasting it.
'If Liam can win and retain the world title and I can win this WBO InterContinental, our paths could cross in 12-18 months time, say five fights from now. That'd be a huge fight for both Liverpool and Manchester.'
Stephen Smith: This is my only shot at World glory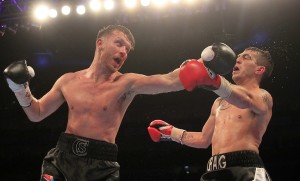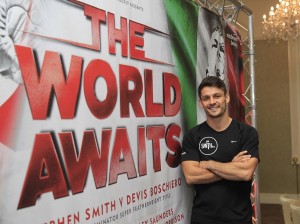 Stephen Smith says his IBF World Super-Featherweight final eliminator with Devis Boschiero is his final chance at World title glory as they meet for the mandatory spot at the Liverpool Olympia on Saturday night (September 19) live on Sky Sports.
Smith has been on the World title trail in the 130lbs division after impressive wins over Sergio Medina and Mauricio Munoz in the last year, and the hometown clash with the Italian can take him into pole position for a crack at the belt currently in the possession of the Puerto Rican Jose Pedraza who defends the strap in Ohio on October 3 against American Edner Cherry.
'Swifty' knows he has his hands full against the former European champion who was edged out in a WBC World title challenge in Japan in 2011 via a controversial split decision against Takahiro Ao – and believes Saturday night is make-or-break for his World title dreams.
"I believe it is my only chance at a World title shot," said Smith. "That is how I am looking at it. I have been waiting for a while and this is the only chance I will get and I have to capitalise; it is now or never for me.
"It is the World title and a chance I have been craving. Whether it be Jose Pedraza or Edner Cherry I don't really mind, I am not looking ahead of this fight because I have to win this tonight.
"If I win this fight then I am fighting for the World title; no politics, no negotiations, I am next in line and will fight for the World title. Wherever that be I don't mind, I just want my chance. Given that I have home advantage in the final eliminator I can't complain.
"I agree with the people who say Boschiero should have won that fight in Japan against Ao for the WBC title. It was a split decision over there and he was very unlucky not to get it in my opinion.
"I cannot look past him. I can't see it as I have a shot at the title – I have to go and beat him for it and that is what I fully intend to do. I think he is a good fighter, an aggressive fighter and he comes looking or the big shots but on the night it will hopefully play into my hands. Stylistically it makes for a good fight but it is one where I believe I will be better than him in every department.
"I have watched a lot of him. Joe Gallagher is a big believer in watching them and studying the shots. Joe has watched a hell of a lot of him and he has been on to me to watch this, watch this and watch that. He picks out rounds for me to watch. I have done enough studying for this fight where I am now confident going in that I will be able to get the shots off that Joe wants me to."
Vijender Singh Makes Pro Debut October 10th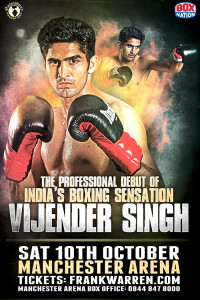 Francis Warren of Queensberry Promotions and I.O.S Boxing Promotions are delighted to announce that India's boxing sensation Vijender Singh will make his exciting and long-awaited professional debut on Saturday 10th October at the Manchester Arena, England.
The 29-year-old from Bhiwani, Haryana, who won Bronze at the 2008 Beijing Olympics, begins his pro career on the huge double world title show headlined by Terry Flanagan's WBO World Lightweight title defence against Diego Magdaleno and Liam Smith's challenge for the Vacant WBO World Super-Welterweight title against John Thompson.
Singh had a highly decorated amateur career that also includes Silver at the 2006 and 2014 Commonwealth Games; Bronze at the 2006 Asian Games, 2009 World Amateur Championships and 2010 Commonwealth Games; Gold at the 2010 Asian Games, and was rated the world's number one middleweight in 2009.
To make the transition from the amateur code to the professionals, Singh has set up his UK training base for the fight in Manchester at the gym of top trainer Lee Beard, who trains current hot talents Jack Catterall and Adrian Gonzalez, as aims to make history and become India's first ever world professional boxing champion.
All-action Singh's first fight will be over four rounds in the middleweight division, against an opponent to be confirmed shortly. Singh will be competing in one of the hottest weight classes in world boxing with elite fighters Gennady Golovkin, Miguel Cotto, Andy Lee and Billy Joe Saunders all campaigning at 160lbs and he aims to be in their position one day.
Singh can't wait to get into the ring at the Manchester Arena and show the boxing world just what he can do and aims to make an immediate impression for the fans' in attendance and the viewers watching on The Channel Of Champions BoxNation, who will televise the fight live, with a powerful performance.
"I'm so excited to be making my professional debut at the Manchester Arena on Saturday 10th October and to show that India is the new force in professional boxing. Thanks to Francis and everybody at Queensberry Promotions for the very warm welcome and I can't wait for my fight to be televised on BoxNation. This means so much to me personally and to all my fans back home in India who have supported me all this way and will now follow me on my journey to become the first boxer in India to win a world professional title. Training now as a professional is totally different to my amateur regime and I'm loving the training with Lee Beard who has taught me so much in a short space of time. We are working great together and now I want to put into practice what I have learnt. I'm still learning all the time and there will be plenty to come from me. I believe that this is going to be a very exciting time." Said Singh.
Francis Warren from Queensberry Promotions said, "We've all worked very hard to get Vijender here and I'm delighted that his professional debut is now confirmed. The Manchester Arena show is a fantastic event for Vijender to make his debut on and it's headlined with two big world title fights on BoxNation and one day that can be him. I've seen how hard he is working with his trainer Lee in the gym and I can't wait for him to produce the goods on the night to show what I and the team have believed all along, that he has the potential to be a world class boxer."
Neerav Tomar, MD & CEO, I.O.S Boxing Promotions, said, "I am thrilled to see Vijender make his professional boxing debut here in Manchester. It has been an amazing journey for Vijender from Bhiwani to Manchester and I.O.S has been proud to have been a part of the same journey. Vijender has worked hard to reach this stage in his career and his share dedication and commitment to the sport will make him winner. Here in Manchester he has been training very hard and diligently and I am sure Vijender shall put up a great fight and win the debut fight to make all Indian's back home feel happy and proud."