Frank Buglioni insists he has learned from his shock defeat to Sergey Khomitsky as he looks to bounce back in style tonight. The highly touted super-middleweight takes on the sturdy Sam Couzens at The York Hall in Bethnal Green with the aim of getting back to winning ways following his unscripted sixth round stoppage to Khomitsky last April.
However, the former WBO European champion is adamant that the setback will only make him a better fighter in the long run as he looks to push forward in his career, having racked up 12 straight wins prior to his first defeat to Khomitsky.
"Long term, this will have done me the world of good. I learnt big time from it and found out what still needs addressing to elevate me to the next level," said Buglioni.
"For a start, it's completely changed my mind set. I had two choices. I could bury my head in the sand and feel sorry for myself or comeback bigger, stronger, more powerful. I was back training at the gym just two or three days later.
"I was soon back running six miles a day and running far faster than before. I've been training exceptionally hard and my body has reacted well to that.
"Trust me, the Khomitsky fight has made me more confident. I now know I can take a hard shot. I learnt that, when clipped, I need to hold not fire back," he said.
The 25-year-old has watched the fight back and knows where he made mistakes, believing he should have put his foot on the accelerator earlier into the fight and not worried so much about what his opponent had in his armoury.
"I got my tactics terribly wrong," said Buglioni. "I should've 'put it on him' a lot earlier. In the build up, we knew my defence needed working on but it got to a stage in the fight where, because of that, I was neglecting my own strengths; coming forwards, being aggressive, throwing my own hard shots whilst maintaining a calm head.
"I became pre-occupied with getting the defensive side right, to the detriment of imposing my natural game," he said.
Before the loss, Buglioni was often avoided by domestic rivals in the 168-pound division.
Now, though, after seeing a supposed chink in his armour, the possibilities have opened up for some exciting challenges in the near future.
"Domestic rivals who had previously been ducking me prior to the Khomitsky fight, guys like Lee Markham and Kelvin Young, are suddenly getting confident and starting to show a bit of interest, calling me out," said Buglioni.
"Guys like Callum Smith and Rocky Fielding probably feel a bit more confident about meeting me now. They're fights I'd still jump at with both hands, sooner rather than later," he said.
The Londoner must first, however, come through the impending challenge of Titchfield's Couzens when they battle for the Southern Area title live tonight on BoxNation.
The 'Wise Guy' is not overlooking Couzens as he looks to end 2014 on a high.
"He's tall and a tough, strong boy but I think it'll only be a matter of time. If he tries to box me at range, it'll be a very short night's work. If he comes in close and attempts to smother and spoil, he might last a little bit longer but it'll be far more painful for him," said Buglioni.
"I just want to shake off the rust and send out a message that Frank Buglioni is back," he added.
The night's action also sees unbeaten rivals Mitchell Smith and Peter Cope battle for the vacant super-featherweight English title, plus Bradley Skeete takes on Steven Pearce.
Terry Flanagan Ready to Step Up & Defeat Martin Gethin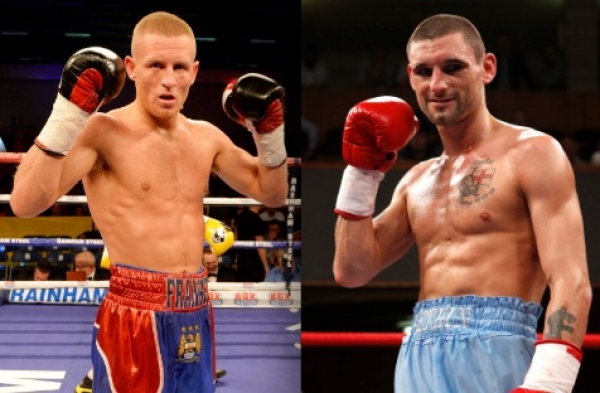 After a five and a half year pro apprenticeship, boxing fans should finally discover whether Manchester lightweight Terry Flanagan has the tools and fortitude to cut it in major title class next weekend.
The 25 year old southpaw has already bagged Prizefighter and English titles whilst running up a perfect 24 fight slate (eight stoppages).
On Saturday 26th July on the mega promotion at Manchester's Phones 4u Arena, 'Turbo Terry' faces off with Walsall's battle hardened Martin Gethin in what could evolve into a mini boxer vs scrapper classic.
Glynn Evans caught up with Flanagan ahead of his big night.
Why does nobody want to fight Terry Flanagan?
Because he's a tricky, strong, awkward southpaw who always comes to fight.
You won and retained the English title back in 2012. You beat good men such as Derry Mathews and Gary Sykes to win a Prizefighter competition also in 2012, and stopped ex world champion Nate Campbell in 2013. How long have you been ready for a major title fight?
For a good while. I was ready a year ago probably, but I'm even more ready now. I'm more of a man strength wise than I was this time last year and I've had more 12 round spars with quality people, guys like Kevin Mitchell, Ricky Burns and Gary Sykes. Anyone and everyone.
(Did they bash you up?!) Did they heck. I do the bashing!
It's been frustrating but I'm here now, fighting for the British title on a huge show in my home town so I don't want to dwell negatively on the past.
Ex amateur opponent Paul Butler won the IBF World Bantamweight world title last month. Were you surprised that he went on to achieve that?
I think we fought three times in total. I beat him and was robbed twice (laughs!). It was a long, long time ago. We were only about 11 or 12 and have both gone on to do well. I certainly knew he was a good kid; a neat, tidy boxer.
I wasn't surprised that Paul beat Stuey Hall that night. He's a quality fighter.
Initially you were primed to challenge Liverpool's Derry Mathews – an able and established champion – for the British title. From your part, was it a good thing or a bad thing when he withdrew and left you to contest the vacant title?
I'd rather have won the title off Derry. He's a bigger name than Martin and beating him in style would really have put me up there.
Derry says he was injured but I heard that he might be lined up for a European title shot. I think he knew if he defended against me, it'd be the end for him. If I come through this, who knows, we might still do it. I'm not too fussed.
In what ways have you needed to modify your training schedule to accommodate replacement Martin Gethin at short notice?
Well, I think Derry would've tried to box me whereas Martin will come for a fight. So it's been a case of getting my sparring partners to be aggressive and have a war. I prefer it when the opponent comes to have a 'tear-up'. It's far easier for me to get my boxing off.
You're yet to travel past round ten and Martin notoriously finishes strongly over the 12 round course. Is that a worry? What precautions have you taken to prepare yourself for a hard distance fight?
I know everyone says that sparring is different but I've been training for 12 round fights for years now. I'm confident in my condition to do the distance easily. I've done it in the gym many times. I'm a young, strong, fit lad, aren't I?
I don't think Martin increases his work rate. He just maintains his output while some of his opposition has tired. I won't.
What's your assessment of Gethin? Have you fought anyone similar? What have you identified as his qualities and shortcomings?
Martin's definitely a fit lad who always comes to fight but he doesn't have the best boxing ability and can't change much. I've sparred plenty similar. You always know what you are getting. He's pretty basic.
He just walks forward and tries to swarm the opposition but I'll walk him onto big shots. He probably thinks that he'll start to get to me in the later rounds. He's got another thing coming!
You're debuting at 12 round championship level, against arguably your toughest opponent, before your home fans. A lot of pressure!
Nah, fighting at home, having loads rooting for me, will be a big advantage. I've sold about 250 tickets. When that bell goes there's only me and him in the ring.
I'm excited, not daunted. Can't wait. Almost there!
How do you anticipate the fight unfolding and why are you confident that you win?
I'd prefer to finally do the 12 rounds and I've definitely prepared for that but I think I'm going to knock him out. Don't get me wrong, I'm expecting it to be very hard but I'll walk him onto shots and I punch harder than he does.
I know he's got more stoppages but that's cos he wears 'em down, then gets to 'em. My power has improved a lot over the last 12 months. Either way, dance or fight, I beat Gethin.
Domestically, lightweight is a fabulous division with top quality fighters with some potentially great defences ahead if you can triumph on Saturday week!
Definitely but I'm not about to start shouting people out. They're all great fighters. I'd say that lightweight is the best division in Britain at the moment and it'd be easy to get up for fights against any of those that you've mentioned.
Ultimately, how far can you go?
You know, when I started out as a kid, all I ever wanted was a British title. But as you progress and develop, your ambitions and goals change. Hopefully, one day, I'll get to fight for a world title. I definitely think I'm good enough.
Mitchell Smith Out to Impress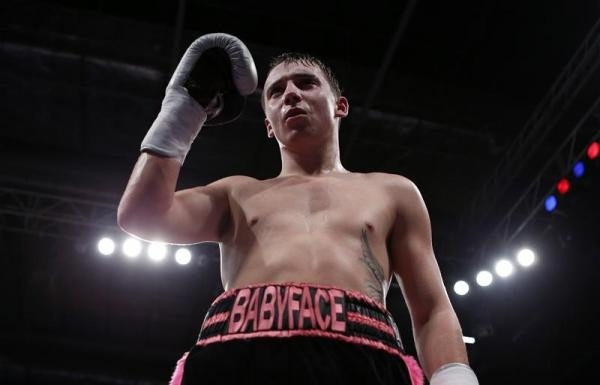 At the age of 21 and with just 34 pro rounds on his perfect 8-0 (4) slate, Harrow Weald super-featherweight Mitchell Smith is already honing in on the major titles.
If the former ABA champion's talent is incontestable, his application has been rather less so. But following a wake-up call in his first 10 rounder against Scott Moises last September, 'the Baby Faced Assassin' began to get his act together.
The improvements were patently evident in his last gig when he emphatically re-established his standing among the most gifted and most exciting prospects in Britain by destroying Welshman Mark Evans (unbeaten in ten) inside two rounds at The York Hall.
Already tenant of the Southern Area belt, mighty Mitchell looks to upgrade his status to English champion on Wednesday evening, when he returns to Bethnal Green to confront undefeated Hartlepool southpaw Peter Cope over ten rounds. True to type, Smith predicts the fight will last significantly less!
Glynn Evans renewed acquaintance with the frighteningly assured north Londoner to discuss recent developments.
Last September you laboured to squeeze past Norfolk's Scott Moises whilst winning the Southern Area title by a point over ten rounds at the Copper Box.
How do you account for that performance? What did you correct that enabled you to destroy Holyhead's previously unbeaten Mark Evans in two rounds at the York Hall in your last start?
I've just grown up in general. I've always trained hard at the gym but I wasn't living right away from boxing. After fights, I'd be going out all the time and eating what I wanted. I wasn't 100% a professional athlete. I was doing the weight poorly because, at a lower level, I'd been getting away with it.
Going into the fight with Scott Moises, it was on my mind that I'd done the weight wrong, and I thought I'd have to just edge the rounds. For my first 10 rounder, I should've been really strong but I had nothing in the tank, no gears.
Subsequently, I really dedicated my life to boxing in every aspect and I'm getting it right. I did the weight perfectly against Evans and you saw how strong and powerful I was. He was unbeaten with a good reputation but couldn't live with me.
That was five months ago. In what areas have you focussed on improving in the gym with coach Jason Rowlands since we last saw you?
I've been working on becoming an even more heavy handed Mitchell Smith. I've been sparring good quality, bigger lads and, without embarrassing anybody, let's just say I've been doing very, very well. Replace those 14 oz (sparring) gloves with eight ouncers and there's a massive difference in the damage I can do.
Trust me, I'm gonna smash this kid Cope. Don't blink Wednesday night because, when I land clean, the kid'll be sparked on the floor!
When I first interviewed you before your pro debut in June 2012, you boldly informed me that you already felt capable of fighting for a British title. What qualities do you feel you possess that distinguish you as such an exceptional prospect?
It's not really for me to blow my own trumpet. I'm happy to let the fans decide that. I just tell people to examine my performances. So far, I've had eight pro fights and I believe that I've given seven very good performances. And when I played back the tape of the fight with Moises, I felt I looked exceptional in parts of that one, as well.
Clearly, the crowds and the TV people like what I do. I suppose I'm perceived as a bit cocksure and I'm definitely exciting to watch. I deliver what the people want to see.
The likes of Liam Walsh, Gary Sykes and Stephen Smith make the 130lb division one of our strongest domestically. In your opinion, who is the best in the division and, stylistically, which one would be the best fit for Mitchell Smith down the line?
I'd say Stephen Smith is way out in front of the others. The others are all at domestic level and I feel that I'm ready to step into that, right now.
Stylistically, it makes no difference. I can outbox the boxers, out fight the scrappers. Gary Sykes just comes forward and slaps and it was a flick of a coin who got the better of it when Liam Walsh and I sparred two years ago. I've developed a lot since that.
It's all about stepping through doors. I've stepped through the ABA door, stepped through the Southern Area door and on Wednesday night, I'll step through the English title door and knock on the one that says British title. I believe I'm ready for that.
You've been embroiled in an amusing public spat with flamboyant fledgling pro Romeo Romaeo on the social media outlets. What is it about him that you dislike?
He's just a young boy trying to build a name for himself off the reputations of others rather than through performances in the ring. He's running before he can walk. He's on Wednesday's undercard, right? In a four rounder?! Says it all.
I find him very rude and ignorant. Spar him? I'd not give the boy the time of day but if and when we ever do get in the ring together, I guarantee I'll properly smash him!
Part of your preparation took place over at Matt Macklin's MGM Grand gym in Marbella, Spain. How has that benefitted you?
I spent eight days over there, trained three times a day, and got some quality southpaw sparring with Tom Stalker and an Irish lad called Declan Geraghty. Both are red hot. Marbella and the MGM complex there are lovely places to be. I'll definitely be going there again it the future.
What emphasis do you place on the English belt which you contest on Wednesday evening?
It's a natural stepping stone after the Southern Area but, for me, it's more about winning, winning, winning than the belts. You train hard and live the life so that you can win. I'm not in the game to lose. I don't do it. It's not nice!
Opponent Peter Cope from Hartlepool is a young unbeaten southpaw who'll come to the East End with plenty of ambition. What have you seen of him? What do you need to be mindful of and what flaws have you identified?
I understand Cope's from a big boxing family. His dad is a coach and he also has a brother who boxes. I've bundles of respect for that. After we're done, I'll happily buy him a beer but, right now, we're enemies! Unfortunately for him, I'm going to have to knock him out.
I've seen a few clips of Cope on the net. He's quite game and comes to win so it should be a good fight for the fans while it lasts. I'm certainly not looking past him and I'm 100% focussed on this fight.
But I strongly believe that I'm a level above him, that I belong in the top five domestically and he doesn't. He's just a stage that I need to go through.
I'm not going to comment on his strengths and weaknesses before the fight cos I'm not going to give anything away. That'd be silly. All I'll say is that he's neither a better boxer nor a better fighter than me and I intend to beat him in style.
How do you expect the fight to evolve and why are you confident that Mitchell Smith will emerge as the new English champion?
I don't know and don't care how the fight pans out. If he tries to outbox me, I'll make him look silly. If he comes for a tear up I'll clip his chin and bid him: 'Good night!' I'm good enough to deal with whatever he brings to me.
2012 English ABA champion Louis Adolphe finally makes his pro debut at the York Hall this Wednesday in a four rounder.
The 22 year old Wimbledon welter graduated from the highly regarded Earlsfield ABC academy with several national honors and England vests and now hopes his slick skills can take him to the big titles and big money as a pro.
Recently boxing writer Glynn Evans interviewed the 'no nonsense' South Londoner to gather some background information.
Name: Louis Adolphe
Weight: Welterweight
Born: Tooting, south London
Age: 22
Family background: I'm the only child. Well, I've got a sister from another mum. There's no other boxers in my family. Today, I live in Wimbledon with my mum. I've no kids.
Trade: None. I'm a full-time boxer.
Nickname: 'Cute'
What age did you become interested in boxing and why? From as young as four, I'd watch Tyson and Prince Naseem (Hamed) fights on TV with my dad. There was always one of those cheap punch balls on a stand around our house.
What do you recall of your amateur career? I first went to the Earlsfield gym when I was 10 or 11 and I stayed there throughout my entire amateur career. No wavering.
The club is not for everyone. It was extremely disciplined and the coach Sid Khan ran a very strict regime. Fitness was always the key. You weren't allowed to leave one minute before the session was finished. No prima donnas. But Sid was a great man who really helped me both in and out of boxing.
I had 80 bouts and I lost about 12. Most of those losses came from the very early days. As a senior, not many could get through me.
I got to three national schoolboy finals and lost the lot but, in my last year eligible, I won both the junior ABAs and the NABCs. In 2012 I won the senior ABAs after losing to Danny Phillips from South Bank, Middlesbrough, in the final the year before. When I won I beat Robbie Davies from Liverpool whose Dad went to the (1976 Montreal) Olympics. That would've been my amateur highlight and it was made extra special because my club mates Kirk Garvey and Joe Joyce also won senior titles that night.
I must've boxed for England about ten times and I also fought for Great Britain. I won the Three Nations as both a junior and a senior but, though I was on the Development set-up in Sheffield for a while, I didn't get any overseas trips.
The GB squad wasn't for me. I beat a lot of good kids such as Martin Stead (three time senior ABA champion), Josh Taylor, who represented GB at the London Olympics, and Sam McNess. I should've been on the Development Squad years before they put me on it. Then they insisted I went on a probationary period. I'm not the type of guy that you can do that to. I left GB off my own back.
I underachieved in the amateurs, mainly due to lack of opportunities, but I enjoyed my time in the amateurs. I was at a great club with guys like Bradley Skeete, Ricky Boylan, Kirk Garvey and his brother Rob, plus big Joe Joyce.
Why did you decide to turn pro when you did? Twenty-two was a good age to go. I really didn't want any part of the GB set up so all I could do was win the ABAs and I'd already achieved that. I could go no further.
Tell us about your back up team: I'm managed and promoted by Frank Warren. I spoke to a few people and they all advised me that Frank was the best option. From a youngster, Frank was boxing in Britain. Lots of great fighters have passed through his hands. Now he has the chance to build up another!
I'm coached by Jimmy Mac (McDonnell, the ex two time world super feather challenger). He just has no limits. When he explains our session we think it's unreal but after you get through it, you feel a million dollars. He trains you like no other – strength, fitness or skill wise – and I'm having a great time.
My mum does my nutrition. There's nothing quite like Mum's cooking! She knows what fuels me and I always arrive big and strong at the weight. Jimmy Mac conditions me.
What's your training schedule? Which parts do you most and least enjoy? I train six mornings a week at Jimmy's boxing gym over in Essex. Sometimes he doubles up and we do two sessions a day. Evenings, I go for a long, one and a half hour run at a nice pace. If I've had more of a technical session with Jim, I'll do some hill sprints around Wimbledon where there's plenty of hills. I'm very self-motivated.
Every now and then, I'll pop down Earlsfield so Sid Khan can beast me with a circuit, bring me down a peg or two and get me on 'point'.
At Jimmy's, I'll start with a little shake out, then we're straight on it. Everything is so different to every other gym. It's very different to my amateur schedule and nothing is run by time.
I've done sparring with Richard Commey, Aaron Morgan, a light-middle from Islington and Kay Prosper. I also move around with 'Chunky' (James DeGale).
I most enjoy sparring and the track sessions. I least like Jimmy's strength and conditioning circuits. They're unreal; take your mind to a different place!
Describe your style? What are your best qualities? I'm a quick orthodox fighter who can box and fight. I'm not afraid to have a war with my hands up but I fight with my head not my heart. I can be elusive. Fans will have to watch and make their own judgements as to what my best qualities are.
What specifically do you need to work on to fully optimise your potential as a fighter? Not getting overly gee-ed up by the crowd. I've sold 200 tickets for Wednesday. I also need to develop a bit of patience.
What have you found to be the biggest difference between the pro and amateur codes? As amateurs we trained hard right up to the day before the fight. In the pros you have a peaking down time the week before. Technically, you need to plant your feet more, and incorporate more hip movement to transfer weight. As an amateur, I didn't have many stoppages. I was in and out, an arm puncher.
Who is the best opponent that you've shared a ring with? It would have to be 'Chunky' (DeGale) because of his experience and ring craft. He's got a great defence and movement plus he's southpaw. Being heavier, he never goes full out and takes the piss. He uses my speed to sharpen himself up.
All time favourite fighter: There's two. I love Bernard Hopkins because of his mind frame and attitude and I love Guillermo Rigondeaux. He's got great judgement of distance, is very relaxed and chucks shots from all angles.
All time favourite fight: Gatti-Ward I. So much heart and want. That was about more than just boxing.
Which current match would you most like to see made? It'd probably still be Mayweather and Pacquiao. There's a chance Pacquiao might nick it. I want to see how Mayweather would deal with him because Zab Judah, another quick southpaw, gave Floyd big problems early on, nipping in and out. Pacquiao is quicker and better than Judah. It'd be very interesting.
What is your routine on fight day? I try hard to treat it just as a training day. I can train and spar great when I have that relaxed mentality so why change? I focus on myself so don't watch tapes of opponents but I might watch footage of legends like Roy Jones Jnr, Hopkins, Sugar Ray Leonard and Thomas Hearns just to buzz me up. After that, I'll try to cut off from the fight but it's never easy. We're fighters!
Mum makes me her secret pre fight meal then it's off to the venue. In the changing rooms, I like to sit and think. I know no (gym)session has broken me. I know my opponent hasn't put themself through what I've put myself through in the gym. That gives me confidence. I like to go to the ring hot and with a good sweat on.
Entrance music: It's going to be 'You've Got The Love' by Florence and the Machine.
What are your ambitions as a boxer? I set no timescales but my ultimate goal is a world title and anything else is just a stepping stone towards that.
How do you relax? I don't drink but I do most stuff other young guys do. I play some pool and enjoy long walks with my dogs. I'm a fan of dogs; rottweilers, dobermen, pitballs, American staffs….anything that can guard a house!
Football team: I'm not a fan. I don't really have one. It used to be Chelsea as a kid. Put down them and AFC Wimbledon cos they're the most local.
Read: I'm lazy. I'd rather download the audios. I want to read 'The 48 Powers of Law' and 'The Secret'.
Music: I like hip-hop and UK rap which doesn't receive the credibility it deserves. I also listen to old school garage.
Films/TV: My favourite film is 'Kickboxer by Jean Claude Van Damme but at the cinema I choose comedies. I don't watch a lot of TV cos I'm usually out but I quite like the reality shows.
Aspiration in life: To succeed in whatever I put myself into. For my future family not to want for anything, but to appreciate the need for hard work. To help less fortunate people; impact on someone who's unable to help them self.
Motto: It is, what it is.