Brook lands Boxer of the Year at BBBofC Awards
Kell Brook was named the Boxer of the Year by the British Boxing Board of Control in an awards ceremony in London.
Brook landed the honor after a stellar 12 months of action where he won the IBF Welterweight title in California last August and then after sustaining a horrific leg injury from a stabbing attack, returned to action this spring with successful stoppage defenses over mandatory challenger Jo Jo Dan and Birmingham technician Frankie Gavin. Brook was unable to collect the award as he is deep in training camp in Spain for his third deference where he welcomes Argentine danger man Diego Chaves to Sheffield on October 24.
It was yet another emotional night for courageous Manchester man Anthony Crolla, who was given the Outstanding Achievement award. Crolla's life was in jeopardy before the turn of the year when his heroism in apprehending would-be burglars from his neighbors' home left him with a fractured skull and broken ankle. 'Million Dollar' missed out on a January challenge for the WBA World Lightweight title but his tireless work in the gym meant he landed his shot in July and gave champion Darleys Perez everything he could handle in their controversial draw – and Crolla gets a second crack at glory against the Colombian on November 21 at the Manchester Arena.
Crolla was quick to thank trainer Joe Gallagher for getting him into great shape following the attack, and Gallagher became the first recipient of Trainer of the Year – thanks in no short measure to his work with Crolla's stablemates Scott Quigg, Paul, Stephen and Callum Smith and Scotty Cardle amongst others.
Dave Ryan's brilliant win over John Wayne Hibbert at The O2 in May was named as Fight of the Year – the second instalment of their now-trilogy of great fights, where Ryan survived knockdowns in the third and fifth rounds to stop Hibbert in the ninth. Kevin Mitchell and Jorge Linares were also nominated in that category after they thrilled fight fans with their own ding-dong battle for the visitors WBC Lightweight crown that same night; and Linares picked up the Overseas Fighter of the Year award as a result.
The O2 was a huge night for Welshman Lee Selby as he ripped the IBF Featherweight title from Evgeny Gradovich and his long-time mentor Chris Sanigar was a worthy recipient Sir Henry Cooper Services to Boxing Award.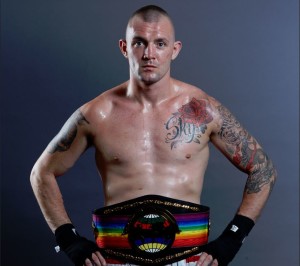 Luke Blackledge: This is no 50-50 fight
Accrington action man Luke Blackledge intends to be the name on everybody's lips after he defends his Commonwealth super-middle title against Grays' Lee Markham on the huge Manchester Arena card on October 10th.
The world championship card is littered with tasty-tear ups but this bang-up between two certified bruisers can't help but be a thriller.
'Everyone says it's going to be a good fight. We're both pressure fighters who push forward and go for it,' says the 25 year old Lancastrian who claimed the vacant title with a unanimous points win over Sheffield model Liam Cameron last April.
'Lee's a tough, gritty campaigner with a good team around him. He's got that 'fight anyone, anywhere' mentality that I had starting out. I thought he deserved the win against Frank Buglioni so I'm glad he's getting his shot. He'll want my title so I'm sure he'll be at his best. I expect a war for 12 rounds.'
It comes as no surprise to discover that Blackledge's 'rock 'em, sock 'em' ring manner was fashioned on the northern unlicensed circuit.
The Alex Matvienko coached champion explains: 'I'd got into a lot of bovver on the street so walked into a boxing gym to try to sort myself out when I was about 18.
'I didn't really understand at the time but the gym was linked to the unlicensed circuit. I actually lost my first fight – later avenged that in a rematch – but was then beaten just twice in my next 60 odd fights. I was pretty much fighting once a week, often against ex pros, so I picked up loads of invaluable experience.'
After debuting on a BBB of C licence in October 2010, the Clitheroe born hardman tamed 10-1 Phill Fury (cousin of Tyson) in his sixth start, then outhustled ex British champ Matthew Barney over six rounds in fight nine. However, it was a brace of impressive displays over in Scandinavia that really forced fans to pay attention.
'Basically, they paid me a lot of money to go to Denmark and get beat by (ex European champion) Mads Larsen but we knew he was past his best and I stopped him in the fourth,' recalls Blackledge.
'Second time, I was basically stitched up. I was due to fight (ex European super-middle champ) Rudy Markussen but he pulled out and they chucked me in against Erik Skoglund, a 6ft 1in Swedish light-heavy when I'm a natural super-middle. Even still, a lot of people thought I won.'
The other reverse on Luke's 19-2-2 CV came in November 2013 when he was stopped in a short notice Commonwealth title tilt at Liverpool's Rocky Fielding.
Since then the Mohawk has redeemed himself with five wins since and a sixth over Markham would make the Commonwealth king a credible voluntary challenger for whoever prevails in this month's WBA world title spat between Fedor Chudinov and Frank Buglioni. But sensibly, Blackledge focuses on the job at hand.
'I refuse to look past Lee Markham,' he says.
'That's possibly what Frank did when he fought Lee and he almost came unstuck. Right now, this is my world title fight. All I'll say is that I'd happily fight either of them. I think Chudinov beats Buglioni easily.'
The odds are sure to be narrow when north meets south on October 10th but Blackledge anticipates that home court and greater seasoning shall be instrumental in him retaining his belt.
"It'll be like fighting in my hometown. Both myself and my gym mate Jack Flatley are bringing a lot of support but I can't get carried away. I have to focus on doing the business,' he concludes.
'A lot of people are saying it's 50-50 but I really don't see it that way. I've fought miles better kids than Lee has. I'll have too much of everything; whether I choose to stand and fight with him for 12 rounds or whether I opt to box his head off!'
Lloyd Ellet to oppose Ryan Toms in Brighton on October 2
Light-middleweight prospect Lloyd Ellett (17-0) has received confirmation of his next opponent as former English title challenger Ryan Toms (13-11-2).
The Brighton-based boxer will be looking to extend his unbeaten run on October 2nd at the Metropole Hotel in his hometown in East Sussex on a Crusader Events show promoted by former world heavyweight title challenger Scott Welch.
28-year-old Ellett, now signed to Queensberry Promotions, is respectful of the challenge in front of him on the first weekend of October; he said of his forthcoming opponent, "He's been a Southern Area champ and mixed with some good names, he's probably the best I've faced as a pro."
33-year-old southpaw Toms, hailing from Middlesex, is a two-time Southern Area champion and an English title challenger.
An encouraging stat for Ellett is that Toms has not managed to win against any of the previous seven unbeaten opponents faced, and not one of their perfect records reached into double figures at the time, unlike Ellett's impressive 17 fight unbeaten streak.
He continued to say, "I've seen a fair bit of him, he's a southpaw so that's different but I've fought a load of southpaws in the past and can deal with them quite well.
"I sparred Iain Weaver a few weeks ago to get some southpaw experience and you can't get much better than him – he's absolute class!
Iain Weaver (6-1) has not quite managed to get going with his pro career, despite being regarded as an incredibly bright talent, due to the British Boxing Board of Control not permitting a pro licence on medical grounds. Instead, he has had to fight abroad in the States and Spain, losing only once to an unbeaten American prospect.
On reaching 17 fights unbeaten on the small hall circuit, Ellett discussed his current position after signing contracts with one of Britain's top promoters – Frank Warren.
"I feel I'm ready to go up through the levels now," he enthused. "I've been doing well in sparring in the gym for long enough against boxers with English and British titles, such as Bradley Skeete, Darryl Williams, Johnny Garton, and Chris Eubank Jr.
"I did a lot with Eubank in the summer, about 20 rounds or so. I spent a good two or three weeks sparring with him."
Ellett's extended stint in the gym, opting out of a possible run-out at the end of the previous season, has proven effective, he explained, "June fight was cancelled and then July, then there was the option of a small hall fight but it was out of my hands in the end, really, and it wasn't something I needed so I just trained all the way through from my last fight in March.
"That extended time in the gym has really brought me on, hopefully we'll see it next week."
He elucidated further, "I'm hoping for everyone to see some more power, better defense, and just a general all-round improvement. I want to come out and show everyone what I can do."
The 154-pounder is looking to push on and begin to challenge for major honours within the light-middleweight division, currently topped by British champion Liam Smith.
"I'd love to fight for the English title if it got presented to me, or an International title, hopefully we'll sit down and discuss it after this next fight.
"I want to work my way towards the British title. Whatever fights I have now, that's the direction in which I want to be heading and hopefully I'll be knocking on the door early to mid-next year."
Of plans for the remainder of the year, Ellett predicted, "No definite plans yet but I'll be back in the gym straightaway, looking to get out before the end of the year."
An avid Brighton and Hove Albion FC fan, Ellett will be supported by the club on the night when first team goalkeeper David Stockdale walks him to the ring when he headlines the Crusader Events show.
This will be the fourth time that the 154lbs prospect has topped the bill in his coastal hometown in East Sussex and will provide the 'Lightning Bolt' with just his second fight of 2015 after competing 16 times in his first three years in the paid ranks.
The Crusader Events show, headed by former World title challenger Scott Welch, is already looking likely to be a sold-out event.
"Most of the boxers on the show know each other so the support will be massive," enthused Ellett. "We're expecting a sell-out event, I think the capacity in The Metropole is around 1500 fans."