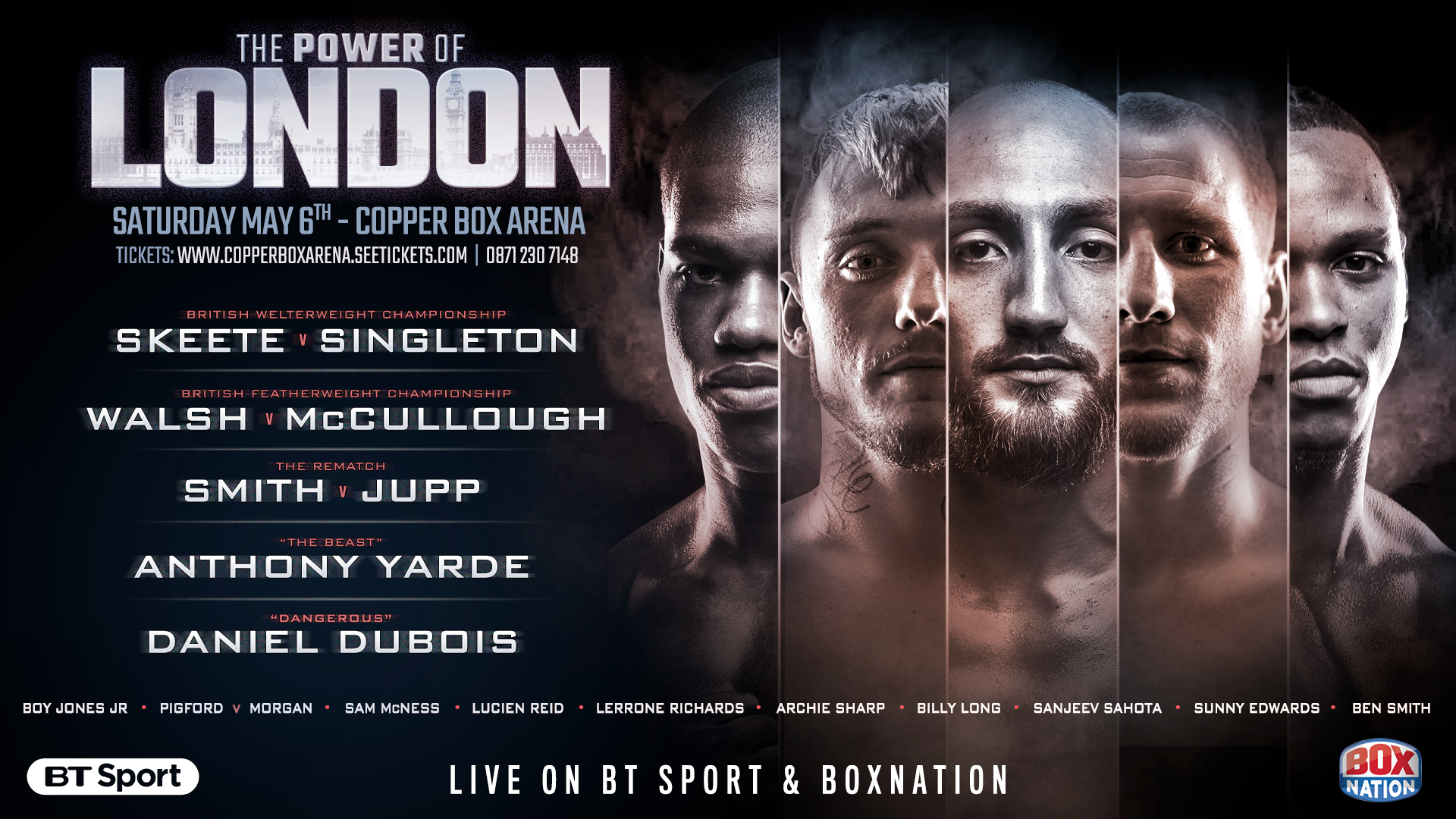 Gavin McDonnell has vowed to seize his moment of history as he takes on Rey Vargas for the WBC World Super Bantamweight title at the Hull Ice Arena on Saturday.
McDonnell has fond memories of the venue he faces his destiny on Saturday as three years ago today McDonnell stopped Leigh Wood there to land the British title – the first step on his remarkable journey to Saturday's World title shot.
The Doncaster ace can create British boxing history by joining his twin brother Jamie as a World ruler, and the 30 year old wants to repay all his supporters and team for their faith.
"It is real now," said McDonnell. "It seems to have taken forever to come but all of a sudden it is here. It is a nice feeling that after all the hard work we have put in, now is show time.
"I have put a lot of years hard work in, made a lot of sacrifices – and not just me, my family have all gone through it just for me. Everything has been put on hold for me to go out there and achieve my dream. We have trained so hard and it is here now, it is the dream and I plan on grabbing it with both hands and moving on and going from where I am to the very top.
"The fight is here because Eddie and Matchroom have backed me for this fight. I do want to go abroad and fight but for my first World title, and such a tough fight, we wanted it here. My team has backed me more than his has backed him so they can say what they want – they can say it is cowardly or whatever they want.
"We know if we went over there we would have to knock them out so we want it in my favour over here and Eddie and Matchroom have given me the platform to go out there and achieve my dream. It isn't cowardly – my team have backed me, they have supported me and they have given me this opportunity to win this World title.
"It means everything, this is what we all want and when you are World champion you are on the scene then, the big fights will be there. You will be one of the World champions, a wanted man. It means everything; the bigger fights, the bigger pay, it is why we are in the business. I intend to do everything required to win and I have no doubt I will win."
Campbell: I'm ready to top the World
Luke Campbell MBE says he'll show the Lightweight champions he's ready to take their titles when he faces Jairo Lopez at the Hull Ice Arena on Saturday night.
Campbell has not boxed on his home patch since seeing off local rival Tommy Coyle at Craven Park in August 2015, and Campbell comes into the clash with the Mexican on the back of his best performance to date, folding Derry Mathews with crunching body shots inside four rounds in Liverpool in October.
The WBC crown was won in empathic fashion by Mikey Garcia last month in Las Vegas, pummelling Dejan Zlaticanin inside three rounds to become a three-weight World king. Campbell knows the 135lbs division is one of the hottest in the sport, with Anthony Crolla and Jorge Linares rematching for the WBA, WBC Diamond and Ring magazine belts in Manchester next month and the city then hosts Terry Flanagan's WBO defence the following month – and Campbell is open to take on any of the title holders.
"I have a great team around me and whatever route they plan for me, then that is what I will do," said Campbell. "I want to build up and maybe by the end of the year fight for a World title. This is the biggest year of my career and I am working hard, making sacrifices and putting everything I have got into it so hopefully by the end of the year I can be World champion.
"The green belt is the best belt. To have any belt would be awesome but I think the green belt is a little bit more special.
"It is a tough division to be in, it is a very exciting division to be in and there are some big fights to be made for sure," said Campbell.
"Every single champion out there is a possibility and Garcia is definitely one of them. I watched his fight in Vegas, he was very impressive. He is a great boxer, three-time champion, he is a special fighter who carries a lot of power and he is a great champion but that doesn't faze me one bit.
"He performed brilliantly that night and got an absolutely brutal knockout against a very strong opponent. I do believe that Zlaticanin was made for him. He was walking on to everything – it's not the best game-plan to walk in in straight lines and show no head movement in front of a big puncher who can box, and has speed and power.
"It has been a while since I have boxed in Hull and there is nothing better than fighting in front of your home fans. Last year I was on the road all year so I am looking forward to being back in front of my home crowd and putting on a good show."
SKEETE VS. SINGLETON TOPS HUGE MAY 6 COPPER BOX ARENA FIGHT NIGHT
Welterweight supremo Bradley Skeete tops an unmissable evening of action when he makes the second defence of his prestigious Lord Lonsdale Belt against Shayne Singleton at the Copper Box Arena on Saturday May 6th, live on BT Sport and BoxNation.
British, Commonwealth and WBO European Champion Skeete has climbed to the very top of the domestic Welterweight scene and is determined to win the Lonsdale strap outright before setting his sights on World honours later in the year.
"Psychologically I'm right 'on it' with my British title at stake," said Skeete. "I desperately want the Lonsdale Belt outright so the title defences mean everything. I know every challenger will desperately try to take what's mine so I'll be training really hard.
"Shayne's got a good record and some good wins like Curtis Woodhouse and Adil Anwar. He's got fast hands, good movement and, given the notice he's had, we expect he'll bring his A game.
"I've seen it all before; those that come to rough me up, those that come to run away. I'm ready for anything. If Shayne gives me the charge, I'll box his ears off. If he picks and pokes, happy days. No domestic welter can outbox me. I should definitely be stopping him."
Since debuting in August 2009, Karl Ince coached Singleton has picked up the English Super-Lightweight and WBC International Silver Welterweight titles and plans on adding Skeete's British belt to his collection on May 6th.
"They don't give British and Commonwealth titles away," said Singleton. "Bradley is quality. The lad's got everything; fantastic range and he rarely gets hit. But I also see a way of beating him and that's why I took the fight. Others are expecting a cautious, cagey affair but they'll be in for a shock. Expect the unexpected!
"I believe my speed, accuracy and movement will trouble him, big time. I'll make him answer questions and just believe I'll be too much for him on the night. Just like Adil Anwar, Skeete's very awkward and bounces around….but the outcome is gonna be exactly the same.
"Winning a British title would mean everything to me. After winning the Masters, the English and WBC International Silver, this is my world title. I couldn't give two monkeys about anything that happens thereafter."
Chief support on the card sees Cromer hero Ryan Walsh defend his British Featherweight belt against Belfast's Marco McCullough. All action Walsh etched his name into the boxing records books when he won the title in September 2015 to join twin brother Liam as the first ever set of twins to hold the prized Lonsdale belt simultaneously and is aiming to get back to winning ways after losing to Dennis Ceylan in Denmark last time out.
WBO Inter-Continental Featherweight Champion McCullough ended 2016 in sensational style with a highly-entertaining stoppage victory over Luis Lugo at the Titanic Exhibition Centre and the former WBO European Featherweight Champion will head into the fight brimming with confidence.
'DESTINY' ASSESSES TERRY 'TURBO' FLANAGAN'S LATEST CHALLENGER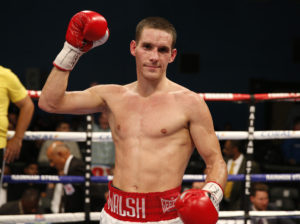 Mandatory IBF Super-Featherweight contender Liam Walsh says Frank Warren stablemate Terry 'Turbo' Flanagan will have his work cut out when he makes the fifth defence of his WBO World Lightweight crown against chiseled Russian Petr Petrov.
All-action Flanagan locks horns with former World Title challenger Petrov at the Manchester Arena on Saturday 8th April, live on BT Sport and BoxNation.
Walsh is edging closer to a World Title shot of his own against IBF Champion Gervonta Davis after talks between Warren and the Money Team banner, spearheaded by Floyd Mayweather, gathered pace this week.
'I was due to fight Petrov in a lightweight eliminator a while back so I studied him at length. Let me tell you, he's a very good fighter. From my base here in Tenerife, I speak to all the main Spanish boxing bods and they all rate him very highly, speak about his exceptional strength.
He's a typical Russian, very well schooled, very methodical, solid, effective, good formation. He's built to last, grinds opponents down and I'd be very surprised if he didn't last the course.
In the Maidana fight, he showed massive balls, continually getting up and fighting back hard, even though he was taking a belting. Besides, he was pretty inexperienced back then and never a light-welter.
Petrov's got a big, broad back and jabs his way in, staying quite low and hunched over. He then gets to work. He'll definitely be competitive and give Terry problems. The champ will need to use his brain and box the right fight, if he's to get past him.'
BODYSNATCHING BOYO JAY HARRIS: "THERE'S NOT MUCH MEAT FOR PROTECTION ON THE FLYWEIGHTS!"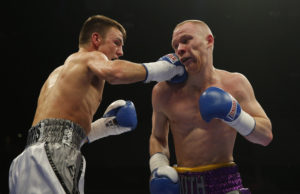 Mighty Welsh atom Jay Harris is banking on his brutal body attack bulldozing him to the Commonwealth flyweight title at the York Hall tonight, writes Glynn Evans.
After kick starting his pro career with three four round points wins in 2013-14, the 26 year old Swansea slayer has rubbed out his last six rivals in 18 rounds combined, with lung popping left hooks to the liver the key cause behind the carnage.
The former British amateur champion shall be required to boil beneath 112lbs for the first time in his nine fight, three and a half year pro career when he confronts Cameroon hard case Thomas Essomba live on BoxNation. Nevertheless, the 5ft 5in Gary Lockett-managed West Walian is adamant that this shall not diminish his fabled firepower.
'My shots seem to carry the same weight in sparring but, with me, it's always been more about picking the right shots and the placement; those hooks just behind the elbow,' says Harris who is coached by his father Peter, a former British featherweight champion who fought five world champions in the 1980s.
'Not many Europeans throw the body shots at the lighter weights which is strange given there's not much meat there for protection on us flyweights!'
Hooker Harris's advance to championship contention is all the more meritworthy given his isolation in west Wales plus preparation that is routinely compromised from working full-time night shifts as a forklift truck driver.
'I can't risk giving up my job yet so I worked nights on Thursday and Friday of last week but had this week off. Most of my prep has taken place with my Dad in Swansea but twice a week I come up to Gary (Lockett)'s gym in Cardiff,' says the Swansea City fan who has fought as high as super-bantam, four divisions north of tonight's cut-off.
'I've had six weeks' notice and only weighed a pound over for each of my last two fights so making eight stone really won't be a problem.
'When I turned pro my diet was wrong but I've since sorted it and the weight just dropped off, nice and gradual, without starving myself. I still eat three good meals a day but the right foods at the right times; chicken breasts, potatoes and salads, all of which I enjoy.'
Remarkably, Harris enters the 12 round championship arena for the first time with just 30 rounds on his pro CV and without having ventured beyond round four.
'I have prepared for longer fights,' assures Jay.
'Five of my last six where scheduled for six rounds and my fight with Ramesh Ahmadi was billed for eight but I won them all by stoppage inside four rounds. Still, I've been getting the rounds in, in the gym, against good boys.
'I've had some decent sparring at the Everton Red Triangle gym in Liverpool, with (Midland Area flyweight king) Jamie Williams in Birmingham and with a local lad called Josh John, who's the current British amateur champion at 56 kilos. I've sparred 10 rounds no problem. It's about mindset as much as physical.'
Conversely, the African champion, three years his senior, passed through round ten for both his title win over Sheffield's Waleed Din (rsc11) and his most recent gig against Scotland's ex British and Commonwealth challenger Iain Butcher (lpts10). In nine starts (seven wins), Essomba is yet to be stopped. For once, it could be a long shift for Harris. No problem, he says.
'We've only been able to locate one video of Essomba, his last fight against Butcher in Edinburgh. He looked decent; a strong, come forward fighter who likes to fight on the inside.
'But we know his background. Apparently he went to two Olympic Games for Cameroon. We expect he'll be very fit and looking to put the pressure on. He can be a bit wild and dangerous with the right hand so we'll definitely need to be mindful of that. We expect that he'll be there for the full 12 rounds so we'll be looking to be sharp and (out) box him from range, just like Butcher did.'
And this quiet, gentle, unimposing soul – who morphs into a feared assassin once the gloves are laced – is confident that he shall be coronated provided he executes the strategy devised by his experienced back-up staff.
'I expect a good tough fight for the fans,' he concludes.
'Essomba will probably come out firing but that should suit me. I'll feel him out early rounds and take it from there. I certainly won't be disappointed if I don't stop him. I'll just do my best and hopefully win the title in impressive style.'