Liverpool hot-shot Liam Smith will face Argentina's David Ezequiel Romero on Saturday April 18th at the Echo Arena as he closes in a world title shot.
Unbeaten Smith features as chief support on a huge night of fight action on Merseyside with Derry Mathews challenging for the WBA World Lightweight title against champion Richar Abril, live and exclusive on BoxNation.
The 26-year-old, a former Commonwealth Champion and the current British Champion, is rated at number seven in the WBO world rankings – and also at number five in the IBF – knows a win could elevate him into the top three as he targets American WBO ruler Demetrius Andrade.
At 22, Romero, from Buenos Aires, is a young and ambitious challenger who will be looking to cause a big upset by defeating Smith in his home city.  He halted Luis Alejandro Tejerina in seven rounds to claim the Vacant WBO Latino title last month and will be looking to do a repeat job on Smith.
However, Smith, who has destroyed his last four opponents in row – says he'll be too sharp for the Argie on the night and aims to cut him down inside the distance to remain on course for his world title dream.
"This is another step closer towards my world title shot and Romero is in my way.

"I've come too far and achieved too much to let it come to an end on Saturday 18th April at the Echo Arena and Romero is going to have to be knocked out.

"Every single fight in my career is important, but now as I'm getting closer to the top of the mountain and Andrade is getting more into my sights, these fights are absolutely crucial to win or I'll come crashing down the mountain, but I won't let that happen.

"The WBO Intercontinental title is an important one and winning it will push me into at least the top three of the 154lb division, that's a big motivation for me to make sure I beat Romero.

"I've seen some of Romero fights, he's a good, strong, game kid, pretty wild with some punches, who will come over here looking for the upset.  He's just won the WBO Latino title and he's got his own aspirations of fighting for a world title but there is no way I'll let him get any ground in the fight, I'll be all over him."
Andrew Cain Makes Pro Debut on April 18th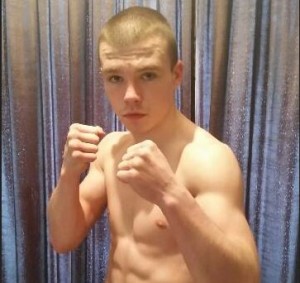 Liverpool amateur star Andrew Cain aims to make a big impact when he makes his long-awaited pro-debut at the Echo Arena on Saturday April.
England representative Cain leaves the amateur code with 44 wins from 51 fights and four national titles to now embark on a pro career that he hopes will ultimately lead to a world title.
The 19-year-old will face the Czech Republic's Patrick Bartos over four round at flyweight on the undercard of Derry Mathews' challenge for the WBA World Lightweight title against champion Richar Abril.
Cain trains at the champions packed Everton Red Triangle gym alongside European and Commonwealth Flyweight Champion Kevin Satchell, British Bantamweight Champion Jazza Dickens and English Bantamweight Champion Ryan Farrag.
"I can't believe I'm finally making my pro debut at the Echo Arena when just a few years ago I was fighting there as an amateur," Said Cain.
"It's going to be a special night as I start out in the professional sport and I'm looking to make a big impact. My family, friends and fans know all about me, but now it's about spreading the word out there with some exciting performances, getting the media to know me and increase my fan base,"
"The amateurs were fantastic and I had a great time, but it was stepping stones to the professional sport and I've always known that I was going to turn over as soon as I could. I felt that I was losing motivation in the amateur game and I wasn't going to the Olympics in Rio, so I knew then it was time to turn over,"
"I believe that I can do really well in the pros. I've got the attacking style, I can box and fight when I need to, it's going to be a lot of hard work but it will pay off in the end,"
"I'm at the right age as well, I'm still only 19 and in three years time I'll still only be 21, and by then I reckon I could be British champion or thereabouts ready to challenge for it and my dream is to become a world champion,"
"Being in the gym day-in and day-out with Kevin Satchell, Jazza Dickens and Ryan Farrag can do nothing but good for me. They are all top quality fighters and I know that some day I'll be up where they are. I've got a great team around me with my manager Neil Marsh and my promoter Frank Warren, so I couldn't get off to a better start."
Cardle vs. Evans Added to May 30th Card at O2
Unbeaten pair Scotty Cardle and Craig Evans clash for the vacant British Lightweight crown on Matchroom Boxing's bumper May 30 bill at The O2 in London
Cardle has been biding his time for a crack at the Lonsdale belt since landing the English title in September with a stunning first round stoppage of Kirk Goodings in Manchester and he will have to see off ambitious Welshman Evans if he wants to join his fellow Joe Gallagher-trained British title winners.
Kevin Mitchell challenges Jorge Linares for the WBC Lightweight title and Lee Selby is looking to rip the IBF World Featherweight title from Evgeny Gradovich while Joshua meets former World Heavyweight title challenger Kevin 'Kingpin' Johnson on a bumper night for fight fans.
Promoter Eddie Hearn announced another great domestic dust-up yesterday as Dave Ryan defends his Commonwealth Light Welterweight title in a rematch against John Wayne Hibbert, and he's delighted
"This show gets bigger and bigger," said Hearn. "I'm delighted that Scotty will finally get his shot at the British title and he is a tough fight ahead on May 30. Scott has had the perfect education but now its crunch time with everything on the line. Craig will have plenty of support also via Lee Selby's travelling Welsh fans – it sets up for a great domestic 50-50."
Simmons & Dickinson Both Predicting Stoppage Wins
Stephen Simmons and Jon-Lewis Dickinson both say their clash on Saturday night will not go the distance as they meet at the Metro Radio Arena in Newcastle, live on Sky Sports.
Simmons defends his WBC International Silver title against local man Dickinson and the unbeaten Scotsman expects to have too much power for his host.
"Jon-Lewis Dickinson is alright at what he does but I find him very once paced," said Simmons. "I don't think he will be able to bring the same work rate that I bring to the table. He has my utmost respect and I have a job to do and that is what I am looking forward to doing.
"His strength is probably his movement and his weakness is probably his work rate and he isn't able to take a decent shot, as we have seen in his last couple of fights. But we will see how he takes my power.
"I think my work-rate and my power will tell and a stoppage is probably what will happen. But if it goes the distance and I win on points, fair enough. The main thing for me is winning and I don't really care how I win.
"I see myself at the top of the tree in terms of the division. I am somebody people who hold the titles don't want to fight. I am definitely up there but I have my mind firmly on doing a job, and then moving on from there."
Dickinson sees this clash as the perfect opportunity to bounce back from a tough 2014 with a second round stoppage loss to Ovill McKenzie in June losing him his British title and then hitting the deck in the opening round of a British Masters title clash against Courtney Fry in November, which proved crucial as he lost out by a solitary point.
The 28 year old sees Saturday's clash as the perfect chance for him to line-up a rematch with McKenzie, who successfully defended the British belt against Matty Askin last weekend.
"Simmons is a tough guy," said Dickinson. "He is a good lad with a pedigree behind him and he is a fighter I have always watched and wanted to fight myself at some point. When I found out Matchroom were going to be doing a show in Newcastle I said to my coach I would like to fight Stephen on that bill and as it happens they offered us the fight.
"Simmons is a strong, come-forward fighter. He has a good pedigree and he was on the GB squad as an amateur. I have watched him and he isn't too hard to hit. He has the type of style I like to go up against.
"I have trained for a hard ten-round fight and whatever happens on the night I have put everything in to be prepared. He will come and put a lot of pressure on but I feel great, everything has gone well in training and sparring has gone well. I am ready for whatever he brings to the table."
"Mentally I couldn't get myself up for the Ovill fight," said Dickinson. "I was having to force myself to go to the gym, I was having for force myself to do it and it didn't work. I was being told the game plan in the gym but I didn't carry it out. It wasn't me who was in there that night, I know I am a lot better than that.
"I went in frustrated. I had put a lot of weight on, I was 16 and a half stone when I started the eight week camp, which wasn't good. I have a nutritionist on board now and I have made weight easily this time, whereas when I fought Courtney Fry I didn't get to under 15 stone until the last week and I had to take it all off on fluid. It wasn't the right way to do it.
"I saw McKenzie vs. Askin last week for the British title. It wasn't a nice fight to watch but I suppose, is anybody really going to look good against McKenzie? There was too much holding for my liking but that is another thing and I have had Simmons to concentrate on.
"I would 100 per cent like to fight Ovill again. I have complete confidence in myself that I can beat Ovill. When we fought I stood in front of him and made it an easy fight for him. I basically gave him the fight. I wasn't myself. Looking back I should have hit him and moved, boxed clever, but I didn't do that. I stood in front of him and gave him an easy target, so giving somebody like McKenzie and easy target is a stupid thing to do because of the power he carries. But you learn from your mistakes and it is definitely a fight I want in the future to get the win back over him."