Anthony Crolla will make an emotional return to the ring when he challenges WBA Lightweight titlist Darleys Perez at the Manchester Arena on July 18.
The Manchester man has been given the all-clear to box again by doctors following the horrific attack he suffered when bravely tackling burglars that attempted to break into his neighbour's house in December. Crolla suffered a fractured skull when he was struck over the head by a concrete slab and broke his ankle in the attack that cruelly robbed him of the chance to face Richar Abril for the World title in January.
Crolla's road to rehabilitation has been a gruelling one but the reward for his hard work is a shot at Perez, the Columbian champion who landed the interim crown in June against Argenis Lopez in the Dominican Republic and successfully defended it in October by stopping Jaider Parra in Columbia and in January with a wide points triumph over Jonathan Maicelo in California, and he was then elevated to full champion.
Crolla will be eager to return to the run of form that saw him land a shot at Abril, with a trio of impressive wins at the Manchester Arena over domestic foes Gavin Rees, Stephen Foster Jr. and John Murray – and the 28 year old is thrilled to be straight back into action in the biggest fight of his life.
"It's amazing to be back in the ring and fighting for my first World title," said Crolla. "Lying in my hospital bed after the attack, I didn't know what the future held, I was just lucky to be alive, but I have worked so hard and had so much support that I have to win that World title on July 18.
"Perez is a great fighter and I know I am going to have to be at my very best to beat him, but with everything that has happened, it feels like I am destined to win the belt and I will be busting a gut in the gym to be in the best shape I have even been in on the night to get that belt."
"Anthony Crolla is a tough boxer, but I know I have what it takes to beat him in style," said Perez. "I've been staying busy since my last win in January. My plan is to travel to England and gain new fans with a devastating victory over their hometown favourite."
"This has been a rollercoaster six months for Anthony," said Hearn. "First he received the dream news that he would challenge Richard Abril for the WBA World title and then just weeks later his World came crashing down when he suffered life-threatening injuries after trying to apprehend burglars from his neighbour's property. When we got the news of Anthony's injuries it was touch and go whether he would fight again.
"He has shown remarkable strength and bravery and I promised him I would deliver him a shot at the World title in his return. On July 18 Anthony will face the talented Darleys Perez for the WBA World title in front of his own people; people that should be so proud to call him their own. I hope the city gets behind this hero and we can get him over the line to become champion of the world."
James DeGale Ready to Make History
Here, take an inside look at James DeGale and his training camp, as he readies to make history this weekend with his fight against Andre Dirrell.
Catterall confident after sparring with Mayweather & Canelo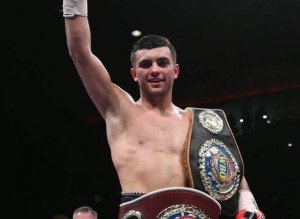 British prospect Jack Catterall says his confidence is sky high after sparring with greats Floyd Mayweather Jr. and Saul Alvarez ahead of his WBO Intercontinental Light-Welterweight tile defence on Saturday June 20th at the Liverpool Olympia.
The undefeated Chorley ace has just returned from a six-week training stint in Las Vegas and California sparring with the world's best fighter in Mayweather Jnr., before his super-fight against Manny Pacquiao, plus top pound-for-pounder Alvarez who destroyed James Kirkland last Saturday night.
Hard-hitting southpaw Catterall has thrilled in his eleven fights to date and in his last three outings has put in knockout performances against unbeaten fighters Nathan Brough, Thomas Stalker and in his last fight Cesar David Inalef in five rounds to claim the WBO Intercontinental crown.
Now the 21-year-old talent can't wait to return to action and put into practice what he's learnt Stateside as he continues on his own meteoric rise.
"Sparring against the world's top fighters was the best experience that I could have had at this stage of my career," Said Catterall.
"It was like a university degree crammed into six weeks, but what I got back is experience that for a young fighter you just can't buy. It's a massive boost to my confidence that will show in my performance at the Olympia,"
"Floyd is the greatest fighter of the modern era and it was an honour to share a ring with him. He's a wizard in terms of defence and to get near him was very hard, but I learnt plenty from him,"
"I ended up sparring with him twice a week as he was building towards the Pacquiao fight and I had to copy Pacquiao's southpaw style in the ring,"
"He was very accurate and precise and if you made a mistake you'd end up paying so I had to be sharp at all times. I believe that I go the Floyd's respect and also from his team,"
"It was totally different sparring with Alvarez and I ended up spending two weeks with him,"
"He's a really top guy and very respectful, but inside the ring he's a powerful fighter with a great offence and and defence,"
"Against Alvarez I could retain my own style which suited my more and we had some great spars,"
"He looked sensational against Kirkland at the weekend and he'll be the main to take over from Mayweather as the best pound-for-pound in the world,"
"It was great preparation ahead of my title defence at the Olympia and I'm looking forward to showing the improvements in my game as I move towards world class."
Catterall's trainer Lee Beard, who escorted his charge to Las Vegas, added, "Jack's been in with the best pound-for-pound fighter in the world in Floyd and arguably the soon to be best in the world in Alvarez. What hungry, young, up-and-coming fighter would say no to that?"
"He did great against Floyd and Canelo over the six weeks and did countless rounds with both of them, it's certainly improved his all round game, especially his timing and defence,"
"Jack's a great talent and a keen learner, he picks certain techniques up very quickly and adapts it into his own style. Mayweather is a master boxer and knows every trick in the book so for Jack he was an encyclopedia,"
"He also got some rounds in with Mickey Bey, the IBF World Lightweight Champion, and another top welterweight in Said Ouali,"
"Now we're back home we're getting ready for Jack's WBO Intercontinental title defence with more sparring lined up, but I'm very excited to see how he performs on June 20th."
Flanagan to Face Zepeda in UK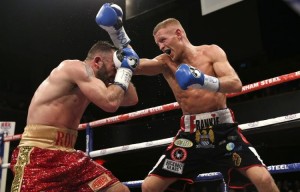 Manchester star Terry Flanagan will get home advantage for his shot at the WBO title against Mexican knockout artist Jose Zepeda.
Flanagan's promoter Frank Warren and Zepeda's promoter Top Rank have avoided a purse bid scheduled for today at the WBO headquarters in Puerto Rico after reaching an agreement last night.
Undefeated Flanagan was originally due to meet the winner out of Ray Beltran and Takahiro Ao who clashed earlier this month, but the title was declared vacant when Beltran failed to make the official weight at the weigh-in.
Subsequently, Beltran won the fight with a devastating second round knockout of Ao, but the title remained vacant with WBO mandatory challenger Flanagan then ordered to face Zepeda.
A date and venue will be announced shortly for when the Flanagan-Zepeda clash will take place.
Stalker Returns June 20th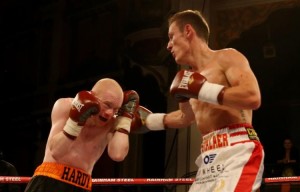 Liverpool light-welterweight Tom Stalker is targeting a return to championship level after he sees off Tommy Carus in their derby clash at the Liverpool Olympia on Saturday June 20th.
Stalker takes on Carus over eight-rounds on the undercard of former IBF World Bantamweight Champion Paul Butler's comeback and Jack Catterall's WBO European Light-Welterweight title defence, but has his eyes on a first championship title.
The 30-year-old has only lost once in 11 fights – a thriller to rival Jack Catterall in eight-rounds last October in his first title challenge for the Vacant WBO European crown – and made a successful return to winning ways in March with a points win over Michael Mooney.
He has the amateur pedigree after captaining Great Britain's record-breaking Olympic medal winning boxing squad at London 2012, but is hungry for success in the pro-ranks.
"Football derbies are always exciting in Liverpool, but boxing ones are even spicier and I can't wait for this one against Carus," Said Stalker.
"I know that if I do a good job on Carus and get him out of the way then there could be a title fight lined up for me next for me which is what I really want,"
"The loss to Catterall for the WBO European title was hard, but I've got it out of my system now. It was a cracking fight between two unbeaten fighters, he won on the day and that's boxing. I'm just looking to get on in my career and work towards a second crack at a title,"
"Carus is a tough kid, he's only lost twice in nine fights and both were points losses, if I can stop him it will make good statement."
Selby Ready for Big Shot against Gradovich
Lee Selby challenges Evgeny Gradovich for the IBF World Featherweight title at The O2 in London on May 30 – and his father Lee Selby Sr. opens up ahead of the biggest night of his son's career in Matchroom Boxing's exclusive promo video, available at the top of this page.
The Welshman has been in imperious form leading up to his big night, and ominously for Gradovich, the 28 year old believes that fight fans have yet to see the best of him.
"This is a massive stage and the perfect one for me to perform at my very best," said Selby. "I haven't been able to showcase my very best on TV yet, but my very best makes me a World champion and one that will defend the title again and again. If I produce my best you are going to see a devastating win. I want to win this, defend it in Wales and then crack America.
"He's got a high work rate, he's aggressive and he comes forward with constant pressure. I am used to that though, since I have won my titles domestically, every fighter has tried to be like that with me and I have dealt with them, and I will deal with Gradovich."
Matchroom & Sauerland Donating to Hillsbourough Family Support Group
Matchroom Boxing and Team Sauerland will donate 96p of every ticket sold for the June 26 show at the Echo Arena in Liverpool to the Hillsborough Family Support Group.
A host of the city's boxing stars line-up on the night, with Heavyweight favourite and Liverpool fan David Price back in action along with Cruiserweight star and Everton supporter Tony Bellew, and the pair announced the donation at a press conference in Liverpool today (May 15).
On April 15 1989, 96 football fans lost their lives at Hillsborough Stadium in Sheffield at an FA Cup semi-final tie between Liverpool and Nottingham Forest, and as the fight for justice for the family continues at inquests in Warrington, Price and Bellew showed that the sport of boxing is right behind the justice for the 96 campaign.
"It's a great gesture and it's something close to everyone's heart in the city," said Price. "It's the first time Tony and I have boxed on a bill together, Tony's a big blue and I'm a big red, but we get behind each other and I hope the money goes some way to helping the families who are currently going through the trauma of the inquests into the tragedy."
"We're reds and blues but we wanted to do this for the amazing families and show our support for their fight for justice," said Bellew. "When it comes to football in the city we're very divided but the city unites in boxing and we are united over justice for the 96 – we're just doing a small part to help as much as we can."
Price and Bellew are joined on the bill by two World-rated Super Middleweights Callum Smith and Rocky Fielding who face Christopher Rebrasse and Brian Vera respectively, while Welsh Prizefighter Middleweight champion Tom Doran fights for the first time since winning the trophy in February.
Raza Hamza Out to Fulfill Promise to Mother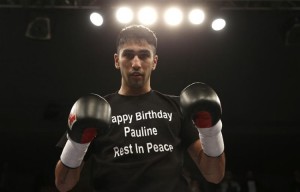 Top super-bantamweight prospect Raza Hamza aims to fulfil a promise to his late mother and become a champion.
In a moving interview with Boxing Monthly online, the young Birmingham talent tells how his mother encouraged him to start boxing after watching Amir Khan.
But sadly she didn't get to see her son's first fight after passing away on the morning of his amateur debut following a seven-year battle with cancer.
Despite the heartbreak of losing his mother, the 12-year-old Hamza won that night and went on to win another 53 out of 64 fights and also collecting three Junior ABA titles.
Hamza told Boxing Monthly, "My mother died in the morning then I fought in the evening. It was really, really hard. When I spoke to her in the morning before I left for school she told me; 'Make sure you win today'. To make sure I went on to do what she wanted me to do. While I was in school, that's when she died. It was a very hard decision for me to make but I did it for her, it was just my mum's dream for me to box and to do well in my life through boxing."
Hamza left the amateur code having become disillusioned with the sport and turned over to the professional side, joining top Midlands trainer John Costello – father of top unbeaten talent Joe – and manager Lee Beard.
The 22-year-old made an explosive pro debut in February at the Wolverhampton Civic Hall, putting on a devastating performance to halt Jack Heath in 63 seconds and dropping him twice.
Exciting talent Hamza will have his next date announced shortly as he sets his sets on becoming a world champion in honour of his mother.
"All that matters to me is becoming a champion now or giving it my best go at becoming a champion. I don't care about anything else. All I think about is becoming a champion," said Hamza.
"Believe me, you will see me walk people down and destroy them. In this game, it's the hurt business. If I don't finish you off, you will finish me off. I'm in the ring to destroy you. You've come to take away something my mum wanted and I'm not letting you take it. I will destroy you."