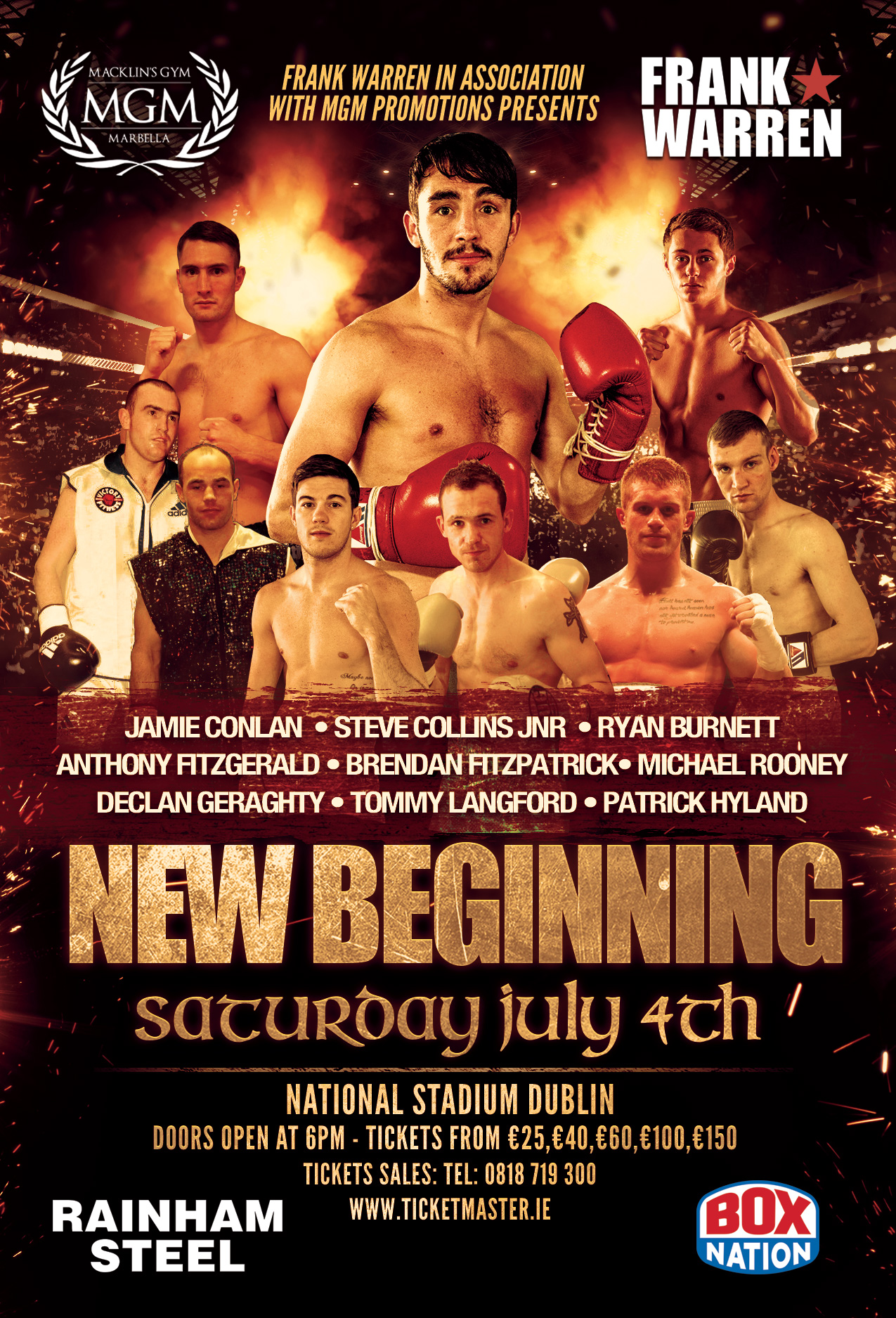 JAMIE CONLAN: "I'M BELT HUNGRY!"
Belfast battler Jamie Conlan is a little man with a big plan. The super-flyweight is intent on  the British and Commonwealth 115lb belts before the year is through and if that sees him cross paths with Paul Butler, so much the better.
Older brother of Olympic flyweight medallist Michael Conlan, the 28 year old aircraft fitter gets to showcase his wares live on BoxNation this Saturday when he headlines at Dublin's National Stadium with a maiden defence of his WBO Inter-Continental title against Mexico's very able Junior Granados.
You joined the profession five and a half years ago. Though you're still unbeaten, did you expect to be a bit further ahead in your career by now, given your stellar amateur pedigree?
It's been frustrating at times. There have been a few periods of inactivity when boxing went a bit stale in Ireland and I was forced to go back to work as a tiler and ground paver. I actually enjoy that kind of work.
But now everything appears to be moving in the right direction. Hopefully I can fit in three fights between now and Christmas and finally start to hunt down the top boys.
Is winning the British title important to you?
Things have changed in recent years but as a wee boy watching boxing on Saturday nights, you didn't get many British or Irish boys fighting for world titles. Back then, British and Commonwealth titles were the big thing and every young boxer aspired to winning that beautiful Lonsdale Belt. It really captured the imagination.
It sort of represents the first rung on the ladder and, of course, I'd jump at an opportunity to fight for that…..especially if Paul Butler was still the champion!
The Commonwealth title is the same. I don't know too much about the champion Anthony Nelson other than he comes from the north-east of England but I'd jump at the fight. I'm belt hungry!'
With opportunities restricted and still no European title at 115lbs, have you ever contemplated moving up or down in weight?
I definitely couldn't do fly because I'm very big for a super-fly. I dare say that at some stage of my career I'll do bantam but it's certainly not a necessity at the moment. I don't struggle for weight and I want to do as much as I possibly can at 115lbs before moving on.
You recently joined the MGM Gym in Marbella. Why?
So that, with a suntan, I finally look like a proper Mexican!
Previously, I've always trained for fights from my house in west Belfast and there's far too many 'everyday life' distractions going on around you.
So this has been brilliant. This has been my first full scale training camp. I've been away for nine weeks and I can feel the improvement daily.
It's not been without its difficulties. I'm very much a home bird. The missus comes over the odd weekend but missing everybody provides a reality check, reminds me what I'm doing all the grafting for.
And the physical and mental benefits have been enormous. I just can't wait to show how I've been developing on Saturday. Fans will see a completely different fighter.
After five years being coached by John Breen and Eamonn Magee in Belfast, you've recently switched to Danny Vaughan in Spain. What are you hoping he can add?
First I must stress that John and Eamonn are brilliant men and the parting was amicable. John's been as much a mentor as a trainer to me. But when the Marbella opportunity arose, I had to grab it with both hands.
Within a week I knew that Danny and I were made for each other. We clicked straight away. Initially, I studied how he worked with Derry Mathews. I knew we'd be a good fit.
Danny's made me a more measured fighter. He's got me thinking a lot more, boxing behind the jab and developing new combinations. He studies my opponents meticulously. Expect a very calculated performance on Saturday.
What's your overriding emotion topping the bill at Dublin's National Stadium; nervous or excited?
Definitely excited. It'll be a 2,100 sell out on Saturday.
As an amateur, the National Stadium became my home from home. The All-Ireland finals were held there every year right through the age groups and, as kids, those were our world title fights, a huge thing. As I got older many of my international fights took place at The Stadium. I've already won a lot of medals and titles in that ring.
My dad's from Dublin anyway and I spent many summers with my grandma in the city. There's always plenty from Dublin who travel to support me when I fight in the north and there'll be a good few buses coming down from west Belfast. The Irish love a drink, and love a fight. It's gonna get very noisy.
Your known as 'The Mexican' and list your ring heroes as Alexis Arguello and Erik Morales. What is it about Latin fighters that you admire?
The great Latin champions possessed all the skills to make fights easy but possess this machismo, this craving to excite their crowd. They always seem to be fighting for the love of their people rather than titles or money….and they all seem such decent, humble guys outside the ring.
Given you've been out of the ring for 10 months, what will represent a productive night's work for Jamie Conlan on Saturday evening?
From what I've seen, Granados is an aggressive fighter, a decent, neat operator. I believe the majority of his fights came at flyweight so I should have size advantage.
Stylewise, he's short and comes in low behind a tight guard. He possesses a good left hook to the body so I'll need to be mindful but when he unloads, he looks wide open.
There'll be times I'll box and times I'll trade. It should be exciting and I believe I can not only win but look good doing it.
Eggington promising entertainment against Foot
Sam Eggington has predicted his British and Commonwealth Welterweight clash with Glenn Foot will be an all-out war at the Manchester Arena on July 18.
Eggington puts his Commonwealth strap on the line for the first time with the vacant British belt also up for grabs, and with the attacking styles of both fighters likely to gel – a classic is on the cards in Manchester.
The 21 year old Stourbridge smasher has stopped his last five opponents, picking up the scalp of Denton Vassell and landing the WBC International Silver title against Shayne Singleton and the Commonwealth belt against Joseph Lamptey in the process – along with a growing reputation for must-see fights.
Foot has been relatively inactive in comparison, with just a pair of six-rounders and a four-round contest in the last year, and although Eggington expects the 27 year old to provide a stiff test, he believes his growing power will prove to be the difference.
"Glenn is strong, he comes forward and he likes a fight so it should be a real tear-up – I can't wait," said Eggington. "I've put all the work in so I can go 12 rounds – whether he's chasing me and or I'm chasing him, it's going to catch fire at some point.
"Something we've been working on in particular with this camp is to keep my power throughout the fight. Unlike most punchers – who go for the kill early, I've stopped my last few mid-to-late. Denton Vassell was round eight, Singleton was the fifth and Lamptey was in the seventh, so the proof is there.
"I've incorporated some swimming in this camp, wanted to mix it up with my training. As hard as swimming is – it's really good for your stamina and conditioning, definitely noticed an improvement there in sparring. This camp has consisted mainly of that, running and my usual strength and conditioning."
Lloyd Ellett looking for big fights in the new season
Undefeated light-middleweight prospect, Lloyd Ellett (17-0) is looking ahead to the new season in September for the big fights.
The three times Masters champion signed to Frank Warren was due to fight in his hometown of Brighton in a title fight on July 24th but the show fell through due to so many scheduled boxers withdrawing with injuries.
Ellett then secured another date on July 18th at the home of boxing, London's York Hall but was advised against it, he explained, "The plan is just to wait now until I'm back on Box Nation in September rather than fight a journeyman in a six rounder that I won't learn anything from."
Ellett is well noted for his love of sparring and counts it as a big part of his training, more so than most professional boxers. He often takes a road trip in the summer heading out to Barcelona previously in 2014 to spar with Isaac Real in advance of his WBA Inter-Continental light-middleweight challenge against Jack Culcay. He has also enjoyed an education sparring with former British champ, Ashley Theophane and former world champion, DeMarcus Corley at Floyd Mayweather's Gym in Las Vegas.
"Basically, I've decided to replace this fight with quality sparring as I'll get more out of that and September will be here in no time," clarified the Lightning Bolt.
"Hopefully, I'll do a week away sparring in the summer, I just want to keep learning and moving forward," he continued.
Ellett joined the pro ranks in November 2011 signed to Mickey Helliet's Hellraiser Promotions and enjoyed a busy campaign competing 16 times in three years. This year, however, the unbeaten product of the iBox Gym in Bromley has only fought once against Raimonds Sniedze at the York Hall in March.
"I was worried about being out of the ring for six months as it's the longest I've ever been out but I've been in the gym the whole time, there's not even been a full week that I've had off since the last fight in March," he said.
Ellett shares the Sussex coastal town with another top domestic Box Nation member in Chris Eubank Jr. and the pair have trained and sparred together for many years as they've both made their rise through the ranks.
"I've been sparring Eubank Jr. every week for the past five or six weeks and I'm sparring him next week as well.
"It's tough sparring but it's good for me as I know that when I'm competitive with him then I'll be alright in the ring I feel that I'm the best I've ever felt right now; I'm improving nicely."
Ellett shared his plans for the remainder of the year, stating, "Hopefully, I'll fight on a Box Nation show in September in Brighton then I will be fighting for a title in October for some kind of international belt."
DECLAN GERAGHTY "YOU'LL SEE SEVERAL IRISH WORLD CHAMPIONS DEVELOPED OVER THE NEXT FIVE YEARS."
Gifted Irish super-feather Declan 'Pretty Boy' Geraghty might be based at the MGM gym in Marbella, Spain but he's a Dublin man to the core.
Boxing writer Glynn Evans could think of no one better to discuss the Irish fight scene ahead of Saturday's mega promotion at the National Stadium that the 25 year old southpaw who clearly swallowed the Blarney Stone.
What are your memories of growing up in the Irish capital?
I was raised in a very rough suburb in the East End. There was little to do other than get in trouble; take drugs or fist fight on the streets. I never touched the drugs but, even though I was very small as a nipper, I could always scrap. I took up the boxing because that way, if people wanted to get smart with ya, you could handle yourself. Unfortunately lots of my childhood friends are now locked away for either drugs or robbin'.
How did you become involved in boxing?
I've been around it since I was a baby because my father Declan Snr coached at the Dublin Docklands club. Starting at the age of about 11, I had nearly 300 amateur contests, often fighting twice in one night. That's how the amateur game is in Dublin.
I won every All-Ireland title – a dozen in total – and only lost to four or five Irishmen in my whole life. I must have at least 50 international vests and I boxed at most of the big tournaments bar the Olympics. I went to the European Juniors and Seniors – both in Russia – plus the World Seniors in Milan. I also fought at the pre-Olympic tournament in London.
The best kid I fought was the American Rau'shee Warren who was reigning world champion when he outpointed me at The Stadium in 2009.
Growing up, which Irish fighters inspired you?
Steve Collins was a big star around my dad's time but Bernard Dunne was always the main one for me. I always wanted to be him. My father took me to several of his big fights at The Stadium and The Point and it was always packed. He single handedly rejuvenated professional boxing in Dublin.
How would you assess the state of Irish boxing, presently?
Healthy. Carl Frampton and Andy Lee winning world titles last year gave the sport a major boost over here.
Let's be honest, apart from rugby, boxing is the only major sport that Ireland is any good at. But historically, the trouble with Dublin and the South of Ireland is that there were no promoters and no financial backing.
Previously, our top amateurs stayed amateur or turned pro in the US or on the (UK) mainland. Initially, I was at the Wild Card Gym in LA, coached by Freddie Roach and his assistant Marvin, and sparring the likes of Zou Shiming and Ray Beltran. I was in talks with Top Rank but got cold feet. I had a girlfriend at home and didn't want to move that far away.
However, things are gradually starting to change. Now the fabulous amateurs we produce are having an opportunity to train and perform in Ireland. Packie Collins' Celtic Warriors pro gym in Dublin city centre is thriving and the MGM here in Marbella has big Irish connections and is taking on a lot of Irish lads.
Our current crop of amateurs is doing brilliantly, picking up medals at all the major meets. I guarantee you'll see a few more Irish professional world champions developed over the next five years.
So why base yourself in Spain?
You have to see the set-up here. It's unbelievable. There's a very positive vibe, everyone is focussed and pushing in the right direction. I've got a great routine.
Bizarrely, despite all the bars and clubs here, there's far more distractions in Dublin. Besides, I'm far too tired to party.
The sole blemish on your eight fight pro slate came when you were red carded – whilst well ahead – in the fourth and final round of a civil war with fellow Dublin southpaw Jono Carroll at the city's 3Arena last November. Come on, let's hear it!
It's all part of my learning curve. We really went to war and it was later voted Irish Fight of the Year. Proper feisty. In round three, Jono deliberately gave me a back handed elbow which riled me and he was repeatedly hitting the back of my head.
In round four, I clipped him with a right hook which buckled his legs. As I tried to finish him off, he grabbed me and my head accidently went in as I tried to force him off. I swear it wasn't deliberate, a very bad call. I'd won every round.
We've called for a rematch but they won't have it. Trust me, I know how to deal with him.
Tomorrow you make your pro bow at The National Stadium, home for so many of your amateur triumphs. Why will that be special?
The Stadium was purpose built for boxing. The All-Ireland championships were always held there plus most of our home internationals so, for me personally, it was a second home. The hall was always ram packed for the national seniors and the crowd were right on top of you, creating a brilliant atmosphere. I've sold an awful lot of tickets.
What can BoxNation viewers look forward to seeing from you on Saturday night?
They'll see a skilful cocky Irish lad doing the business. I always leave everything in the ring and provide value-for-money. A win is a must, everything else is a bonus.
I proved recently I can make super-feather but this kid is coming down from light-welter so, with the added weight, he's going to be very hard to shift and I'll need to keep my discipline. But that's good. After training so hard for weeks, you want to display your moves, put on a show. The last thing you want is some bum falling on the floor after 30 seconds.
Finally, what are your immediate goals?
From here to this time next year, I've set myself a goal of winning two titles; Irish, Celtic, Inter-Continental, possibly even European.
I'm a very confident person. Ability wise, I'm already as good as anyone. It's just a matter of gaining experience and racking up the rounds. I strongly believe I've got what it takes to go all the way to the very top.