Bellew: Makabu cannot beat me
Tony Bellew has told Ilunga Makabu that he will not deny him his dream title win when they clash for the vacant WBC Cruiserweight strap at Goodison Park in Liverpool on Sunday May 29.
Bellew welcomes Makabu into the Lion's den on Sunday night when the pitch where his beloved Everton play on becomes the stage for his third crack at landing a World title.
Typically for Bellew he's chosen the hardest way possible to achieve his dream. Since losing by KO on his debut in 2008, Makabu has KO'd 18 of 19 opponents and is the most avoided fighter in the division.
Makabu concedes a considerable height advantage to Bellew, and with the Merseyside man believing he'll be heavier as well as taller than the visitor, Bellew says it's 'Junior' who has the real problem on his hands on Sunday.
"There's nothing he can do to beat me," said Bellew. "Boxing is a brutal sport and he has to make it as brutal as possible but I don't believe he has the size and structure to do it. He's going to come in light which will be a bad mistake. The advantages he usually has in fights are through speed and power – he's normally faster than his opponents and punches harder than them too.
"In this fight, I don't think he'll have those against me. I've carried my speed from Light Heavyweight to Cruiserweight, and I don't think he's got more power than me. I'll be the bigger man, I'll make it show and I am the real Cruiserweight. Look at when I am stood next to Johnny Nelson – we're the same size, and Johnny Nelson was known as one of the monster Cruiserweight, well so am I.
"He's been put on the floor. I don't care if it was in his first fight or last fight. Who's he beaten that's a World class fighter? If Glen Johnson is his best win then that says a lot to me. I'm his biggest test and he's mine. We both have records that suggest we both have vulnerable tendencies so anything can happen.
"I believe I am going to hit him early, really nail him, and he's going to feel it. Then it's going to go one of two ways, he's going to use his southpaw stance to be cute and defensive, or he's going to say, come on then, let's fight. If he does the latter, I'll happily go for that, because no smaller man is going to outfight me. He can't outpunch me, he can't outwork me, the only way I can lose this fight is if I walk onto something huge, but I think I might be a bigger puncher than him. My record might not reflect it but look at his face when I catch him clean, he's going to know he's been hit."
Limond: Burns fight would be huge for Scotland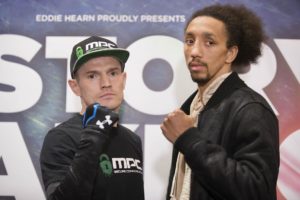 Willie Limond is hoping for double-delight on Saturday night at the SSE Hydro in Glasgow – claiming his British Super-Lightweight title back from Tyrone Nurse and then watching Ricky Burns become a three-weight World champion, so they can clash in an all-Scotland World title blockbuster.
Limond vacated the title that he won against Curtis Woodhouse in June 2014 after a shoulder injury ruled him out of a clash with Chris Jenkins.
Limond was told that he would get a shot at the winner as Jenkins and Nurse met for the belt, but with their first meeting in July ending in a draw, they boxed for the title once more in November, with Nurse prevailing on points.
Nurse won the title by a handy distance despite hitting the deck hard in the fifth round, and Limond knows he's up against a real talent in the Huddersfield man this weekend.
"I rate Tyrone highly," said Limond. "He's a big boy at the weight and he's very skilful, but I am very good at adapting to different styles. Tyrone is the champion so I have to fight him to get the title back, it's pretty simple.
"I've watched a few of his fights and on some of them I wasn't that impressed with him to be honest, but in some fights when he pts it all together he's a very good fighter. Is he in the class of the guys that have beaten me? I don't think so. It should be a good fight though and one way or the other, I don't think that it's going to go the distance."
Burns takes on Michele Di Rocco for the vacant WBA World Super-Lightweight title on the top of the bill, and Limond believes that Burns will make history and then they can make a huge domestic World title fight down the line.
"Me versus Ricky – that's a massive fight and a no-brainer," said Limond. "It's easy to make, I'd be up for it, Ricky would be up for it, Sky Sports would be up for it, Eddie Hearn would be up for it, Glasgow would be up for it, the who of Scotland would be up for it. I believe Ricky will get the job done and I am confident I will too.
"It's so big, we live three miles from each other, we've known each other for years and I respect Ricky as a boxer and as a man, but if it's a fight that makes sense then let's get it sorted."
Limond's clash with Nurse and Burns' shot at three-weight World title glory is part of a huge night of action in Glasgow as Newcastle's Jon Lewis Dickinson meets Belfast's Tommy McCarthy in an eliminator for the British Cruiserweight Title.
Buffer ready for electric weekend for British boxing
Michael Buffer is in Britain to introduce Ricky Burns and Tony Bellew into the ring as they look to land World titles on an historic weekend of boxing live on Sky Sports.
The Hall of Fame MC will be doing plenty of travelling as he hits Glasgow first on Friday to do the weigh-in for Burns' clash with Michele Di Rocco for the vacant WBA World Super-Lightweight title as 'The Rickster' aims to become Scotland's first ever three-weight World champion.
Buffer will then head to Liverpool on Saturday for the weigh-in for Bellew's WBC World Cruiserweight title clash with Congo KO star Ilunga Makabu – before making a mad dash to Glasgow to call Burns into the ring.
Buffer's weekend concludes under the floodlights at Goodison Park in Liverpool as Bellew aims to land a World title at the third attempt at the home of his beloved Everton FC, and the man on the mic cannot wait for the mad weekend of brilliant boxing to commence.
"There's such a run of great matches out there in the UK," said Buffer. "I'm flying to Scotland for the Ricky Burns fight and the very next day will be in Liverpool for Tony Bellew's Cruiserweight title challenge – and I am at both weigh-ins too! It's going to be crazy and I can't wait.
"The UK fans are outstanding in their passion and knowledge for the sport and I've developed a good relationship with Eddie Hearn and Frank Smith (Head of Boxing Operations).
"Bellew gets his chance for life to imitate art. Tony and I are good friends. I first met Tony in Montreal when he was starving himself at Light-Heavyweight for his fight with Adonis Stevenson. It's a difficult fight for Tony, but if he continues the form he's shown recently he can become champion."
Burns' shot at history against Di Rocco is part of a huge night of action in Glasgow as Tyrone Nurse heads into the Lion's den to defend his British Super-Lightweight title against local favourite Willie Limond and Newcastle's Jon Lewis Dickinson meets Belfast's Tommy McCarthy in an eliminator for the British Cruiserweight Title.
Olympic Bronze medallist Anthony Ogogo returns from injury, Conor Benn fights for the second time in the paid ranks, Islington Middleweight John Ryder is in action and there's a host of young Scots on display, including Commonwealth gold medal winner Charlie Flynn, Joe Ham and Lewis Paulin.
Benn: Dad says Glasgow fans are ON ANOTHER LEVEL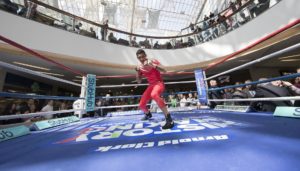 Conor Benn says his legendary father has told him to prepare for one of the best atmospheres in boxing when he laces his gloves up for the second time in the paid ranks at the SSE Hydro in Glasgow on Saturday night, live on Sky Sports.
Benn made his pro bow at The O2 in London in April on the undercard of Anthony Joshua's IBF World Heavyweight title win, landing a first round KO in front of a sold-out crowd in Greenwich and displaying the swashbuckling style that made his father Nigel such a popular fighter in the 1990s.
Nigel Benn boxed twice in Glasgow, once in 1989 and then defended his WBC World Super-Middleweight crown at the SECC in October 1992. 'The Dark Destroyer' has regaled Conor with tales of those crazy nights north of the border, and the 19 year old cannot wait to sample another huge crowd expecting a Wold title win for a hometown favourite and stablemate Ricky Burns.
"Dad has told me stories about Glasgow – he says the fans here are amongst the best in the sport," said Benn. "He said they're mad and they love their boxing so much. He's coming on Saturday but he didn't intend to be here for. He doesn't want to come to many more fights. Dad is keen for me to make my own path, go my own way and that's why he has every confidence in Tony Sims and Eddie Hearn in guiding me while he's at home in Australia.
"He will come to some fights, but it's a testament to the belief that he has in the team around me. That gives me even more confidence that I'm in the right place with the best people – who will help me achieve my goals in the sport.
"I believe that Ricky Burns will make history on Saturday and become World champion again. He's been thrown in to sparring with myself and Ohara Davies – we've been both trying to take his head off! Fair play to Ricky, he keeps up with us and gives as good as he gets in sparring."
Benn's progression in the paid ranks will be played out in front of more huge crowds on massive bills, with the 19 year old set to appear at The O2 on June 25 as Joshua defends his World title. Benn understands that his surname will increase the profile and the pressure on him to succeed, but with just 20 amateur bouts behind him he's ready to do his learning in rings all over Britain, just like Joshua.
"I want to fight as much as I can, once or twice a month," said Benn. "I'm looking forward to boxing all over the country. I want the whole of Britain to see me and be part of the journey – I want to show everyone where I'm at. Tony Sims and Eddie Hearn are adopting a similar model they used for Anthony Joshua when he first turned pro – build my profile round the country. I want them to see what scene I'm from.
"When I walked out at The O2 I thought: 'This is it, and this is it for the rest of my life.' I've got to learn to work with it and embrace it instead of being scared and letting my nerves get the better of me. The British public made me feel at home. For them to back me the way they have is another good feeling. I just can't wait for more nights like that and there are plenty more to come."
Tete Ready for June 4th Ring Return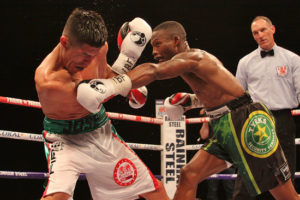 South African Zolani Tete makes an eagerly-anticipated return to his adopted city of Liverpool on Saturday June 4th to defend his IBF International Bantamweight against Mexico's Victor Ruiz at the Echo Arena.
All-action Tete is widely regarded as one of the most explosive punchers in the division, boasting an incredible 19 knockouts in 23 wins – 12 of them coming inside the first round! The clinical southpaw is delighted to be fighting on UK soil again and is promising to put on another show-stopping performance for his adoring Liverpudlian fans.
"I can't wait to fight again Liverpool. It feels like home every time I'm there. I've been preparing for the fight for almost eight weeks now and I'm ready to deliver another explosive performance for my loyal fans," said Tete.
He added: "Liverpool fight fans have been so good to me ever since I beat Paul Butler and I'm looking to repay their support with another exciting victory. I've heard they call me the Scouse African now! The Echo Arena holds happy memories for me and I plan on sending my fans home happy on June 4th."
28 year-old Tete unforgettably announced himself on the world stage back in March last year with a devastating eighth round knockout win over then unbeaten Ellesmere Port star Paul Butler. His world-class performance left UK fans mesmerised and demanding to see more.
'Last Born' delivered another punch perfect performance on his return to UK soil last March when he systematically dismantled Mexico's Jose Santos Gonzalez to claim another stoppage win. Tete is determined to dispatch Ruiz before setting his sights on huge showdowns with IBF titleholder Lee Haskins and WBA Champion Jamie McDonnell.
Tete said: "I believe Victor Ruiz is a typically tough Mexican who will come out all guns blazing. Unfortunately for him he is standing in the way of bigger and better opportunities for me. I'm going to break him into pieces,"
"Haskins and McDonnell are holding my titles. I'm coming to the UK and they can't hide from me any longer. I have the upmost respect for both fighters but they hold the belts I want around my waist; they must bring them to me."