Cyclone Promotions, in association with Team Sauerland, are delighted to announce that George Groves will defend his WBA International super middleweight title against Germany's  Eduard Gutknecht at the SSE Arena, Wembley on Friday November 18, live and exclusively on Channel 5.
Hammersmith's 'Saint' George Groves is currently on an impressive win streak having swept aside Manchester's former world title challenger Martin Murray in his last bout. Groves now takes on Germany's respected former two-time world title challenger Eduard Gutknecht, in what is surely a make-or-break contest for both men. The winner of Groves v Gutknecht can look forward to a world title shot in 2017 while the loser will almost certainly have to contemplate a life beyond the ropes.
This intriguing cross-roads fight will be screened live and exclusively in the UK on Channel 5 and represents the first fight on terrestrial television for the popular Groves.
'Saint' George Groves is a former three-time world title challenger who has been involved in some of the biggest fights in British boxing history. Since linking up with 2016 BBBofC Trainer of the Year Shane McGuigan, Groves has looked like a man on a mission. His current three-fight win streak has catapulted the twenty-eight year old back into world title contention.
With the super middleweight division currently being one of the hottest in world boxing, Groves can look forward to a plethora of potential exciting title shots in 2017, if he can defeat Gutknecht on November 18 at the SSE Arena, Wembley.
Berlin-based Eduard Gutknecht is a former amateur star and one of only four men to have defeated current pound-for-pound king Gennady 'GGG' Golovkin in the amateurs. Gutknecht, 30 – 4 – 1, has twice fought for the world title against Robert Stieglitz, for the WBO super middleweight crown in 2012, and earlier this year when he pushed former WBA light heavyweight champ Juergen Braehmer all the way in an enthralling battle. Former European (EBU) and WBA Inter Continental champion Gutknecht is known as 'Energy Eddy' on account of his relentless work rate, meaning Hammersmith's Groves will have to be at his very best on November 18 at the SSE Arena, Wembley if he is to keep his world title aspirations intact.
GEORGE GROVES QUOTE: "I'm extremely happy to announce this fight and am excited to be headlining on Channel 5. I have been fortunate in my boxing career so far to experience almost everything the sport has to offer but to be fighting live on terrestrial TV is something that has always been very high up on my bucket list.
Working with Shane and the McGuigan team in the gym has been fantastic and has shown me the difference that working with a winning team can make. I believe that my performances this year, in particular the win over Martin Murray, has shown everyone that I continue to be a serious force on the super middleweight scene.
It goes without saying that I am now determined to challenge again, and this time succeed, in becoming a World Champion. I feel that working alongside Cyclone Promotions for this fight, as well as with my promoters Team Sauerland, with the opportunity to be back headlining in front of a home crowd close to West London, is the perfect move for me – especially with the chance to showcase myself to a larger audience.
Cyclone have promoted terrific events across Britain and some of the Belfast shows I've attended have been some of the best I've ever experienced. I hope to replicate the amazing atmosphere and buzz of my previous fights at Wembley Arena and am looking forward to another big win."
EDUARD GUTKNECHT QUOTE: "I will come to London on November 18 full of Energy and conquer with my Viking Box team. I only want to fight winners and make them lose!
"George Groves is a winner and a world class fighter but so am I. The fans in London are in for a hell of a fight on November 18."
SHANE McGUIGAN QUOTE: "This is a must win fight for George. We've worked extremely hard this year and November 18 is a chance for George to make another important step towards becoming a world champion.
"Eduard Gutknecht is a proven operator who we cannot afford to take lightly. Eddy has a high punch output and is extremely durable so we are preparing for twelve hard rounds.
"George is improving with each camp and I believe that he will be crowned world champion in the near future, but first and foremost he has to perform well against Eduard Gutknecht on November 18."
NISSE SAUERLAND QUOTE: ''We're delighted to be working with the McGuigan's and Cyclone Promotions to deliver George this fantastic opportunity to fight on terrestrial television.
''Having sold out Wembley Stadium and been involved in a number of high profile championship fights, George is one the most recognisable figures in British boxing and will be a great addition to Channel 5's boxing content.
''He looked back to his very best with an impressive performance against Martin Murray earlier this year, and we expect him to look even better when he steps into the ring on November 18 to build towards another world title challenge.
''We know Eduard Gutknecht well, and we know he is an opponent you cannot afford to overlook, but we trust in George and his trainer Shane McGuigan to prepare the perfect game plan, and to deliver an exciting fight for the fans.''
BARRY McGUIGAN QUOTE: "This is going to be a cracking fight and I'm delighted that it will be live and exclusive on Channel 5. Styles make fights and this one has all the ingredients needed for a fantastic contest.
"It's George's power and skill against Gutknecht's relentless work-rate and granite chin, the fans will not be disappointed on November 18 at Wembley Arena.
"This is also going to be great telegenic fight and it's important for our sport that top-level fights such as this are given a platform like Channel 5."
Doors will open at 5.30pm at the SSE Arena, Wembley on Friday November 18, with boxing starting at 6.30pm. More information on the undercard will be announced shortly.
Olympian Ogogo faces local favorite for first pro title on October 22
Anthony Ogogo will fight for his first pro title when he clashes with Craig Cunningham for the vacant WBC International Middleweight title at the Barclaycard Arena in Birmingham on October 22, live on Sky Sports.
Ogogo's first shot at professional hardware comes after returning to action with three successive wins following a difficult time with injuries that had previously stunted his promising career in the paid ranks.
The London 2012 Olympic bronze medal hero has blown away his three opponents inside three rounds since his return in May, and the 27 year old is preparing for an exciting clash with another man in great form.
Cunningham successfully defended his Midlands Area Middleweight title in a six round toe-to-toe war against Ryan Aston in May and then dropped down to add the Super-Welterweight strap by seeing off tough Jason Welborn over ten rounds.
Those wins extended the 28 year old's streak to five since his sole loss to former WBC International champion Tom Doran, and the Oldbury man will be confident to crash the Lowestoft man's party, but for Ogogo, he says it's time for his hard work to pay off and land his first belt.
"I'm delighted that this fight has now been confirmed and am incredibly excited to be fighting for my first title on such a great card in Birmingham live on Sky Sports," said Ogogo.
"I'm feeling fitter and stronger than I ever have done before and am looking forward to getting in the ring on fight night and doing the business.
"I am fiercely ambitious and determined to reach the very top of this sport but know that I can't look beyond Cunningham. He is a good fighter with a good record but I am completely focused on what I need to do to win that belt.
"I would like to thank Eddie Hearn and Matchroom Sport for having me on the show as well as my promoters Team Sauerland and Golden Boy Promotions for helping make this fight happen. I now can't wait to get out there in front of what will be an amazing Birmingham crowd and show the world what I can do."
"This is a great opportunity for Anthony to claim his first major title as a professional," said Nisse Sauerland. "He has come back from injury, and with three great victories, has proven he is ready to compete at international level. I believe we are still yet to see the best of Anthony, and as the level of opposition improves, so too will his performances, and I'm confident this will be his first of many titles."
"Anthony is so talented; after recovering from his injuries, it was only a matter of time before he got a title shot," said Golden Boy Promotions Chairman and CEO, Oscar De La Hoya. "We are fully confident that Anthony will bring home the WBC International Championship on October 22 and look forward to working with him as he continues his march up the Middleweight ladder."
Ogogo and Cunningham's clash is part of a huge night of action in Birmingham topped by a fierce local derby between Frankie Gavin and Sam Eggington for the vacant WBC International Welterweight title.
Sahota Looking to Make it 4-0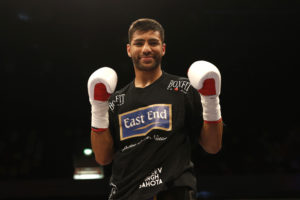 Sikh starlet Sanjeev Singh Sahota has the welcome responsibility of delivering a whole new audience to the sport of boxing, writes Glynn Evans.
The 25 year old light-welter from Emerson Park, Essex – – unbeaten in three – is one of the first fighters from Punjabi origin to make an impact within the paid brigade and his community seem keen to share his journey to title contention, every step of the way.
'On Saturday, I predict there'll be more Sikhs at a British boxing venue than there's ever been before!' says 'the multi-lingual Triple S' who faces grizzled Newark circuit fighter Fonz Alexander over four rounds on the BoxNation televised event from Harrow Leisure Centre.
'I've sold over 230 tickets and a good 80% of those are to British Asians. There are no other Sikh boxers so they focus on me. They're coming from Manchester, Birmingham, Coventry, Spain …..everywhere.'
'I'm getting a lot of attention within my community and it's growing with every win. There's a lot of press releases in the Indian papers, I've been on the Sikh tv channel, several radio stations and even feature in the Spanish press. There's huge pressure but I'm going to deliver on it.'
Trained by Dom Negus and Lennie Butcher at the Five Star facility in Romford, the smokin' Injun is fluent in English, Punjabi and Spanish, having passed his teenage years in Murcia on Spain's Mediterranean coast.
'I'm starting to get fan mail and social media messages from all over Britain, Spain and India; requests for advice on diets, techniques, training tips. It's great to be a role model so early in my career. I'll do anything I can to encourage kids off the streets and into sport.'
After bashing up a Latvian and a Croatian on home soil, smouldering Sanjeev significantly expanded his fan base last time out, whilst starring on the undercard of Olympic medallist Vijender Singh's triumphant Indian homecoming in mid July.
Confronted by previously unbeaten home hero Vikas Kumar, 'SSS' registered an impressive four round shut out at the Thyagaraj Stadium in Delhi.
'India was just amazing. The stadium had about a 9,000 capacity and was a complete sell-out and the noise the fans made was like a Vegas fight,' recalls the Spartan front foot pressure fighter.
'It was a nine hour flight, different food, different air. The Stadium was indoors but it was very warm and humid, the hottest time of the year over there.
'We went out five days before the fight and I was very focussed. It was a big opportunity and a big stage for me. I treat every fight as a world title fight.
'I didn't get the best reception as I walked to the ring because my opponent was an unbeaten state champion. The kid was strong but I won the fight and won over the public. Afterwards I had great feedback and everyone wanted photos. I felt like a world champ. It really helped that I could speak the lingo!
'About 20 fans and friends came over from the UK and other family joined us who are already over there. Afterwards I got to enjoy time with them and appreciate some real Indian grub!
'It was a historic event not just in Indian boxing but in Indian sport and I was honoured to be a part of it. Vijender is building a great fan base. I never look beyond my next fight but, of course, it would be fantastic to return some day.'
The Harrow gig represents the ultra dedicated Singh's fourth public airing since joining the profession in late April. However, he concedes that, due to a nominal amateur career over in Spain, the real development takes place behind closed doors at the gymnasium.
He says: 'Right now, I have hardly any life away from boxing. But I won't ever allow myself to lose a fight because I didn't diet or train right. I only ever want to concede if the opponent was the better man.
'I constantly work on everything; fitness, speed, power, head movement. I've developed so much over the past six months yet there's still so much more to learn.'
Having previously mucked in at the family's restaurants, young Sanj enjoys copious sponsorship – St Matthews Health Care, Benning Construction, Pro Nutrition, Hindustani Foods and East End Foods all chip in – which accords him the luxury of focussing full time on his ring apprenticeship.
'For Saturday, I've had an eight week camp – four in Spain, four in Essex – and it's like I'm training for a 10 round fight!' he disclosed.
'The Spanish sparring – including (ex IBF super-bantam champ) 'Kiko' Martinez – is always very tough, the British spars are more technical. I benefit from the best of both. I've also worked with some of the lads at Al Smith's iBox gym in Bromley.'
Everything is primed then for another Five Star performance in his first outing against domestic opposition.
'I've not seen anything of Fonz, I leave all that to my team. They tell me what to do and not do,' he concludes.
'I've heard he's is a very tough boy so I'll not say I'm going to stop him. I'll just be looking to get the win and for us both to emerge healthy. Another step up the ladder.'
Next Step for Unbeaten Ben Smith
Swift, slick and stylish, the intelligent (8 GCSEs) two time national junior champion and Young England skipper hunts for a fourth pro win when he swaps leather with Plymouth's flighty Chris Adaway over four rounds.
Last Tuesday, Glynn Evans caught up with the 20 year old ticket seller to evaluate his progress thus far.
You're causing quite a commotion up in Buckinghamshire!
Just a bit. Though West Ham is my Premier team, I've lately attached myself to Wycombe Wanderers and started knocking around with several of the players. My sponsors pay for a huge billboard at Adams Park and I've been invited on to the pitch before fights. Some players are starting to attend my fights and hopefully, I can build on the Wanderers passionate support as my career progresses.
Thus far, you've logged three four round shut outs since debuting as a teenager a year ago. How do you assess your progress?
I've delivered controlled performances against three very established British journeymen and I've taken something different from each one. On my debut, Kristian Laight surprised me with his cleverness; moving backwards, frustrating me. Dan Carr gave me a ridiculously tough scrap while the Fonz Alexander fight was on a huge bill at the Copper Box.
In what ways have you developed away from the public eye, under the guise of coach Mark Tibbs at the West Ham gym?
I've done some really good rounds with the likes of Ahmet Patterson, Billy Morgan, Romeo Romaeo, Sam McNess, Archie Sharp and Billy Ellington. Now I'm sparring eight rounders against rotating opponents without fading.
I don't have an 'off season'. I'm constantly in the gym and eat clean all the time. My life is train, eat, sleep, repeat.
My sponsors Core Athletic pay for me to train full-time and pay for a nutritionist which allows me to do the weight far easier whilst staying very strong. Over the year, I've slowly filled out physically – but there's plenty more development to come.
I also watch a lot of fights on DVD. Dad used to sponsor Kevin Mitchell and I've become huge into (WBA lightweight champion) Jorge Linares since their fight. I study him a lot. We've similar styles – at different levels obviously – and I love his flashy combinations. Against Kev, he was losing the fight but never lost his game plan.
It's been a sombre week for the sport after Dundee's Mike Towell lost his life in battle last Friday. How does such harrowing news affect the mindset of a bright young prospect such as yourself, who's embarking on a career in this hardest, most dangerous of sports?
It was very sad – condolences of course to Mike's family – but it really doesn't affect my way of thinking. People regularly die in other sports such as skiing yet it's only boxing that gets a bad name. There's always a fear factor. Your opponent is coming to hurt you but we have scans every year and the Board and referees look after us. It's not affected me unduly.
After five and a half months on the sidelines, you return to duty at Harrow on Saturday. What are your hopes for the forthcoming season?
If I come through in style, I'd like to move up to six round fights and, by the end of 2017, I'd like to be fighting eight rounders and be on the cusp of some form of title. But Mark (Tibbs) and Frank (Warren, his promoter) know what they're doing. Billy Joe Saunders turned pro with them at a similar age so they've done this before. It's up to me to keep winning and improving and they'll get me up there.
Harrow Leisure Centre – just 25 miles from High Wycombe – is a happy hunting ground as you triumphed there in some style on your debut 12 months ago. Good to be back?
Yeh, good memories. Last time, I was really nervous because I'd sold 270 tickets and there was a huge roar as I walked out. The Harrow venue is very compact and the atmosphere really echoed, even more than at the York Hall.
It's always nice to be familiar with the surroundings. This time, I've done about 130 tickets but there's hardly any left. I think it's almost sold out.
What would represent a successful night for Ben Smith on Saturday?
Hopefully, I'll get to feature live on BoxNation and attract a few more fans.
Adaway has a losing record but can make things awkward so I don't want to make silly predictions. I'm punching much harder in the gym and just want to impress, entertain and look good. Honestly, I've never felt better.