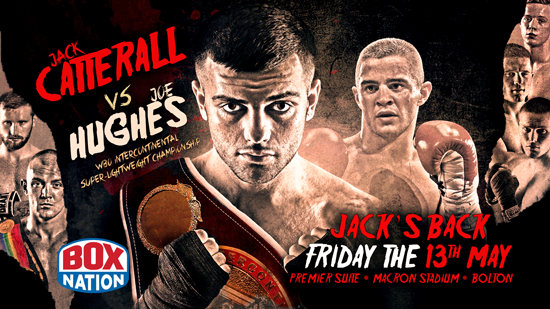 Jack Catterall is headlining for the first time – and fronting a live BoxNation card – at the Macron Stadium in Bolton this Friday. The bull strong southpaw has racked up 14 straight wins with nine premature endings whilst serving as a supporting act to major promotions in the north-west.
Now the time has arrived for one of the nation's brightest prospects at any weight to assume top of the bill status. One senses the mature 22 year old is unlikely to suffer stage fright.
'I've really not thought too much about it, just another day at the office, another fight,' says 'El Gato' who defends his WBO lnter-Continental belt against Malmesbury's ex ABA champion Joe Hughes in what promises to be an high paced, high quality spat.
'My last ten fights have been in either Liverpool or Manchester so this is a little closer to home and the tickets are a bit cheaper. I'll have a lot more of my fans there.
'But I'm particularly excited to be back against a top domestic name who the fans can relate to. That generates more interest.'
The brutal body puncher enjoyed a sparkling 2015 in which he marmalized four imports.
'2015 was a top year. I had four stiff tests, and remained undefeated. The Finn (12-0 Jarkko Putkonen) took me 10 rounds for the first time and the Mexican (Noe Nunez) was a very live opponent, so it was all good,' assesses Catterall who also profited from priceless sparring tutorials with Floyd Mayweather and Canelo Alvarez over in the US.
'I always work hard and live right, that's my secret. After the New Year, I was straight back in the gym with my trainer-manager Lee Beard, helping Vijender (Singh, the 2008 Olympic medallist and stablemate) and others prepare for fights.
'I'm my biggest critic. After reviewing each fight on TV, I always think I look shit. I'm never happy so I strip everything down. You can't practice the basic drills enough. Then, when the Joe Hughes fight was made, we started to construct a game plan and practice stuff specific to him. After five months away, I'm fully fit and ready to fight.'
The showdown with Hughes doubles as a final eliminator for the British 10st title.
'To be honest, I've considered myself the number one British light-welter for a while now,' claims the stocky 5ft 7in Lancastrian who rose to prominence by smashing Scouse amateur stars Nathan Brough and Tom Stalker in 2014.
'If I could choose one domestic opponent to face it'd have to be Tyrone Nurse cos he's got the British title. No one else in the top 10 or 15 motivates me hugely. God willing, when I come through on Friday, I'll get a shot at that.
'I've watched Tyrone spar. He's experienced but looks weak at the weight. I'm very confident that it'd just be a matter of time before I broke him down and stopped him.
'Right now, Joe Hughes is my focus. If, afterwards, I can't get a straight shot at the British title, I'll look to continue climbing the rankings to a world title shot.
'My goals this year are two or three more fights to move me further up the rankings and another belt, British or international. I've been studying the European champion (Ruben) Nieto of Spain for a while now and he'd pose no problems. Easy fight.
'But it's far more important to me to put good fights on than to chase the British, Commonwealth and European belts. While I'd love a Lonsdale Belt, a world title is my ultimate and I'll let nothing get in the way of that.'
Catterall's stone fists and savage body assaults have terminated five of his last six gigs before the cards were called in, catapulting him to the number four slot in the WBO world rankings. A world title call could be imminent but Omaha's formidable Tertence Crawford cuts an imposing presence on the throne.
'Like any fighter, if I got the call to fight for a world title, it'd be hard to turn the opportunity down,' states Catterall.
'I'd love to share a ring with Crawford but realistically that's 12 to 18 months away. When my time comes, I'll be ready for any of them.'
Beautifully balanced in both body and mind, Jack the Lad refuses to be deflected away from the stiff challenge that fellow prospect Joe Hughes will undoubtedly present on Friday evening.
'Like me, Joe will have had a long camp so we're expecting that he'll be very fit and will give me a tough fight. It's a big opportunity for us BOTH,' he acknowledges.
'He'll likely come forward and force the fight – there's not much skill and he can't box back foot – so that should suit me.
'Regardless, I've better skills, a better boxing brain and I'll be too smart. I'm confident I can adjust to whatever he brings; box my way to victory or, if I feel stronger, take him out in style.
'I'll make it as easy as I can to get the win. Points or stoppage, I'll be happy. He's just a stepping stone to bigger and better fights.'
GB star Felix Cash turns pro with Matchroom
Felix Cash has signed a promotional deal with Matchroom Boxing and will make his professional debut at The O2 in London on June 25, live on Sky Sports Box Office.
Decorated amateur Cash kicks off at Middleweight in the Greenwich venue and the Wokingham talent believes he'll be hunting titles next summer as the 23 year old looks to transfer his amateur pedigree into the paid ranks, starting with a pro bow on the undercard of Anthony Joshua's first IBF World Heavyweight title defence.
"I feel that I will settle into the pros quickly and I want to move at pace," said Cash. "I think this time next year I'll be in a position to move towards a first title.
"I can't think of a better night to make my pro debut with Joshua defending his belt and George Groves and Martin Murray in a huge fight. It's a massive show and I'm really looking forward to being a part of it.
"I learnt so much with Team GB and my time on the squad has improved me hugely, plus all the travelling and competing in different countries means I already know how to adapt to all sorts of different styles and conditions.
"Winning gold in the Golden Belt last summer in Romania was a real highlight for me but just getting into the Team GB setup was a massive achievement. I won a lot of junior titles and was five-time national champion, so I had a lot of success in the amateurs, it's going to set me up perfectly for the pros.
"Obviously I was disappointed not to make it but Anthony Fowler did brilliantly to make it and I hope he goes on to do well in Rio. I wasn't going to wait around for four more years to go to the 2020 games. I'm 23 now and I think that this is the perfect time to turn over."
Cash's debut is part of a blockbuster night of action at The O2, with Joshua putting his title on the line against unbeaten American Dominic Breazeale.
Groves and Murray meet in a mouth-watering domestic Super-Middleweight blockbuster and WBA World title eliminator bout, John Wayne Hibbert clashes with Andrea Scarpa for the vacant WBC Silver Super-Lightweight title and Conor Benn is in action for the third time in the paid ranks.
BOLTON LAD JACK FLATLEY CONFIDENT OF KO
Former ABA finalist Jack Flatley is itching to resume business at The Macron Stadium in his home town of Bolton on Friday, writes Glynn Evans.
The last time the unbeaten middleweight donned the gloves at the venue, he scalped world ranked heavyweight contender Hughie Fury!
The north-west rivals collided four times as teenage amateurs and 21 year old Flatley prevailed in three of them.
'I really hope that Hughie goes on to become heavyweight champion of the world. It'll be nice to tell the grand children I beat 'The Man' ….three times!' quips the articulate Lancastrian who would now spot 'Fists of Fury' six inches and five stone!
'All four were action packed fights. Hughie was much taller even then but still came forward. One time we were actually fighting out of the same gym which was weird. We often cross paths at shows and still always speak.
'And I don't see any reason why he can't develop into a world heavyweight champion, like his cousin (Tyson). I've shared a camp with him recently over in Belgium and he has a good team around him. Those Fury's train HARD.'
Dubbed 'Jack the Giant Killer' after scalping several more fancied naps en route to the 2015 ABA middleweight final, the Bolton wonder has stormed to three shutout points wins over domestic circuit fighters since vaulting to the paid brigade under manager Steve Wood last October.
Nevertheless, he insists the real learning takes place behind the closed doors of coach Alex Matvienko's Elite Fitness Gym in Bolton.
'I take off one week maximum after a fight then I'm back in the gym learning, looking to increase the variety of my moves, feints, punches and defence,' states joltin' Jack, a final year sociology student at the University of Manchester.
'I've had some great sparring with the likes of Jack Arnfield and Martin Murray plus my stable mate Luke Blackledge (the reigning Commonwealth super-middle champ). They're quality bigger guys but I usually do alright so I've no cause to fear anyone my own size and level.
'I've also worked with (WBO lightweight boss) Terry Flanagan who's very good on his feet, a lot quicker and more advanced than me. They're all kind enough to give me pointers. It's great experience and provides an indication of where I'm at and what I need to do to join them at the top.'
Friday's BoxNation screened bill – headlined by the salivating WBO light-welter spat between local favourite Jack Catterall and ex ABA champ Joe Hughes – sees Flatley debut in his home town as a pro, against his first import.
'It's a top venue and I'll know most of the people there. I've personally shifted about 120 tickets,' claims the six footer who squares off with 30 year old Bulgarian veteran Valentin Stoychev in a scheduled four rounder.
'I've only seen a tape of one of his fights and he gets knocked out!
'He's more experienced than me but I've got the skill set to adapt quickly to any style I face. I know what I'm capable of. I enjoy fighting the local lads but he's my first foreign opponent so that's another box ticked. I know very little about him so it'll be like being back in the amateurs; just turn up and fight!'
Yet to concede a round as a pro, Bolton's blond bomber intends to showcase his more volatile qualities come Friday.
'A win is obviously paramount but, personally, I'd love a knockout or stoppage this time cos I've not had one yet as a pro,' he concludes.
'Alex (Matvienko, his coach) says it's not important but it attracts the public, gets a buzz going.'