Ryan Walsh (21-1-1, 10 KOs) is promising a career-best performance when he travels to Denmark to face Dennis Ceylan (17-0-1, 8 KOs) for the European Featherweight title on October 15 at the Arena Nord in Frederikshavn.
The 30 year-old from Cromer says he is looking forward to fighting overseas and believes the pressure of being away from home will bring out his best.
''I'm really excited to be fighting away from home,'' said Walsh, the current British Champion. ''I've done it once in Tenerife, but I still felt like the home fighter there. I know I won't feel one bit like that in Denmark.
''I've always wanted to be the away fighter and to have everyone routing for the other guy. I want to be booed, I want to be the underdog and I want to feel the pressure.
''Pressure can either make you or break you as a fighter, and I love pressure. There is a saying that pressure makes diamonds, and I believe that will be the case for me next Saturday.
''It will be the best possible Ryan Walsh on the night, and it will have to be as this is by far the biggest fight of my career. I know it's going to be a tough, and when you're fighting for the European title it should be a tough, but I'm ready for the challenge.
"This is the next step for me. I've won English and British titles, the European is next, and then I want to challenge for World honours.''
Walsh has only one loss on his record, a points defeat to the current IBF World Featherweight Champion Lee Selby, but rather than see this as a negative, the British boxer believes this setback has led him to where he is today.
''I don't call it a loss, I call it a learn,'' he says. ''I've learnt so much from that one loss compared to all my other fights, and it all comes down to your attitude.
''If you look at a loss like it's the end of the world, and think I've lost so I'll retire, then you have lost. The only way you can truly lose is to give up. If you get back up, dust yourself down and come back, then it's not a loss.''
Dennis Ceylan's European title fight with Ryan Walsh tops a blockbuster bill at the Arena Nord in Frederikshavn on October 15. Rashid Kassem faces his toughest career test against British boxer Joe Murray, Abdul Khattab takes on Bartlomiej Grafka, Dina Thorslund faces Oksana Romanova, and professional debutant Mikkel Mielsen meets Andrei Dolhozhyieu.
Unbeaten Teenager Boy Jones Jr. Looking to Take the Next Step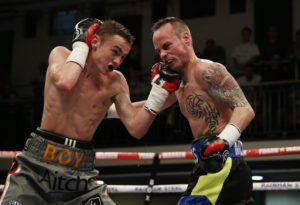 With title fights suddenly on the horizon, tittering teenage talent Boy Jones Jr is starting to get serious about the fight game, writes Glynn Evans.
The 19 year old super-featherweight with the cherubic face and infectious giggle is now undefeated in 10 (one draw) since debuting in February 2015. This weekend, the six foot stylist enters his first eight rounder knowing that an impressive win will rubber stamp a showdown with Orpington's Martin Hillman for the vacant Southern Area belt in his home county of Essex in late November.
On Saturday, expect Chingford to descend en masse to the Harrow Leisure Centre to witness their favourite fighting son swaps blows with Hungary's useful (11-9-1) Tamas Laska and, for once, BJJ is not smiling.
'It's fight week and I'm starting to get focussed. This is how I pay my bills now,' explains the angel faced assassin who has stopped six of his nine victims inside four rounds.
'I hate to mention what happened in Scotland last week but it reminds us all that you can't mess about with this. You can't 'play' boxing. It's about two men having a fight. I may look like a choir boy but once I put my wraps and gloves on I turn just as horrible as any of the others, believe me. I want to be the best I can be.'
Twenty year old Laska represents only the second foe with a winning card that Jones Jr has confronted during his 20 month innings as a prizefighter and, with five early wins of his own, the man from Budapest is certainly a live threat.
'I never underestimate any opponent. Dom (Negus, the former Southern Area cruiserweight champ who trains him in tandem with Lenny Butcher) would never allow it and my mum would slap me!' quips Jones (real name Ben) who is managed by Andy Ayling.
'Laska went the full six with Hillman (losing 59-57 in June) so it'd be nice to make a statement and show I'm different class.
'I've been sparring 10 rounds in the gym since I stepped up to six round level so I know I'm ready for eight but I am a bit nervous because it's new.
'I'm good to go the eight rounds but if the knockout comes, it's a bonus. After facing me, all my opponents tell me I hit hard. And the longer I'm at the gym, the more power I'm developing. I may only be 19 but, seriously, I feel stronger as the rounds go on.
'But boxing's not all about strength and power. You need to be able to dodge 'em too. It's more important for me to show off the skills I've developed, especially as I never had any amateur fights. I want to show everybody my talent. As long as I win and get the 'Thumbs up' from Dom and Mum I'll be happy.
'I've trained hard, done bundles of tickets as usual and, as Biffy Clyro says: 'It's gonna be Biblical!'
It's been a stratospheric rise through the ranks for the teenage terror who entered the profession bereft of an amateur education and with just a fistful of flare-ups on the unlicensed circuit. He's hit double figures at an impressive ratio of one fight every two months since starting out at London's O2 Arena early last year.
He says: 'It's gone really quickly. Staying so busy keeps me away from mischief and has really sped up my learning. I have to give a 'shout out' to Andy Ayling and Frank Warren for sticking me on so much.
'Starting out with no amateur fights, I didn't even think I'd get this far. But I know I'm still on my apprenticeship, still a long way off British and Commonwealth title level and I'm certainly not going to start calling anybody out.
'I never look more than 100 metres ahead. I've got to get Saturday out of the way before I even start thinking Area titles.'
Structured camps at Romford's Five Star facility and 'La Palestra' gym in Murcia have accelerated his development and brought encounters with world champions.
'Whilst training over in Spain, I saw (ex IBF super-bantam boss) 'Kiko' Martinez sitting in the gym. Next thing I knew, we were both putting our head guards on, the bell rang and I was facing him. I learnt I could take a shot. Cor, could he punch! He complimented me after,' says Jones.
'I do most of my sparring in England with (recent WBO 'interim' title challenger) George Jupp at our gym and Danny (DP) Carr at the iBox in Bromley; two very different styles. George is so fast and has that experience at world level while Dan is a big, big puncher. I recently sparred a few rounds with (Southampton's unbeaten) Ryan Garner, a good boy who done far more as an amateur than me. I learn bundles from them all.'
Those experiences have enabled the tenacious tearaway to morph into a far more rounded professional of late.
'Now I'm using my brain far more and my composure is far better,' he acknowledges.
'I've developed a wicked jab and can go back foot. I can change things up. Lately, I'm starting to
'open the gate' and pick holes better, to get my shots in.'
Boy wonder's charge to the titles allows him little 'down time' but it is a sacrifice that he is willing to undertake if it concludes in the Area belt being clasped around his waif like waist following his encounter with Hillman in seven weeks time.
'Away from boxing, I play a bit of snooker and TopGolf. After Brentwood, I might go to Austria for a Christmas market, treat my mum!' he finishes.
'I don't watch too much of opponents on tapes because you can see things that start to worry you. But I don't get intimidated either. I'm the fifth youngest of six brothers, remember!
'Martin is a fit, game lad who's got a nice engine on him but so have I. I'm gonna win that title and kick on to even bigger things.'
Anthony Upton teams up with Tommy Martin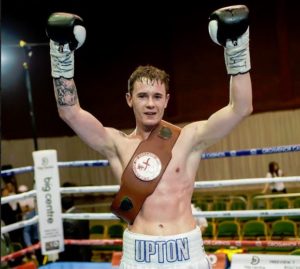 English super-lightweight champion Anthony Upton (13-1) has teamed up with close friend and fellow 140-pounder Tommy Martin in his West Ham Gym under the tutelage of new trainer Barry Smith.
The 24-year-old is the current English super-lightweight titleholder, which is the same belt that Tommy Martin made history with back in January 2015 when he became the youngest ever English champion.
The pair were friends back in 2012 when Martin, aged 18 at the time, first turned pro and trained at the same Canning Town gym.
Anto commented on the new partnership, "We first started training alongside each other at the TKO Gym when Tommy had first turned pro.
"We used to spar a lot, we done a lot of rounds together.
"He was with Barry Smith and I was with Mo Hussein at the time.
"He was still young and new to London so we used to hang out together outside of training."
Anto, along with brothers Pauly and Sonny, were all part of Ricky Hatton's Manchester gym until collectively they decided to part ways and head back down south to Essex.
"When I left Ricky, I had a nice break and went on holiday with my Mrs and kid, which was well overdue," said Upton.
"I spoke with my manager about finding a new trainer and gym and he put out a few names and the one that stood out was Barry Smith; I had him in mind anyway.
"He's a good up-and-coming trainer and I've seen him training Tommy and when it was offered, he took it with both hands."
Whist under Ricky Hatton's management, Anto won the English Championship on his second attempt last July, having previously lost out on points to the former titleholder Joe Hughes (13-1) in December last year.
He defeated West Midland's Luke Paddock (14-2) with a stunning one-punch KO finish in the penultimate round at Chase Leisure Centre in Cannock last July to lift the English title, while Martin defeated Ricky Boylan on points at the O2 Arena to lift the same belt 18-months prior.
The trio of skilled siblings ensured that their move was as a collective, Anto explained, "Its good being together, we've done it all our lives.
"Turning pro at first, Pauly and me was in Essex and Sonny was with Ricky in Manchester and it didn't feel right.
"It's good to have them with me, I was sparring my brother Paul in the gym today."
English super-lightweight champ Anto, Irish light middle champ Pauly, and upcoming English super-welterweight title challenger Sonny are all managed by Spanish-based management team MGM.
Anto is eyeing his next fight in a month's time on the Belfast BoxNation TV show at the Titanic Exhibition Centre on November 5th, headlined by Jamie Conlan in a defense of his Commonwealth super-flyweight title.
He confirmed, "I'm hoping for the 5th November in Belfast. I'm looking to have two warm up fights before the end of the year, then to have a break over Christmas and look for something big
next year in March."