So far, Deion Jumah is pretty relaxed. The young Brit will be making his debut as part of the bill to the European Championship fight between Eduard Gutknecht (24-1, 9 KOs) and Juergen Braehmer (38-2, 30 KOs) at the Max-Schmeling-Halle in Berlin, Germany on February 2. In his first professional fight the 23-year-old takes on Ruslan Bitarov (2-5-1, 2 KOs).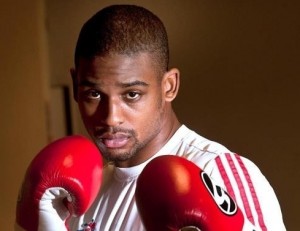 However, when speaking to the Cruiserweight, you get a very laidback vibe and not the slightest hint of nerves.
For some boxers the task of their first ever fight in the pro ranks can be quite nerve-racking. Jumah on the other hand  feels nothing but excitement. Excitement about taking the next step – excitement about being able to show the crowd his potential. "Honestly, I can't wait", said the cruiserweight. "This is an important step in my life, because I live for this sport. I want to entertain the masses – that is what I was born to do."
The first opponent for the 1.87 meter tall Londoner is Ruslan Bitarov. The man from Lithuania already has eight fights under his belt and therefore more experience on this level. Nevertheless, Jumah is not really bothered. "I believe that he is beatable. I will only focus on myself and what I can do. I will just do my thing."
The massive believe in his own abilities comes from his days as an amateur. "When it comes to training, I have always been an unconventional amateur. I started early with professional preparations for fights. The only thing that I have to keep in mind is not to over-pace myself in order to last more rounds."
It remains to be seen, if Jumah is able to keep his calmness once he enters the squared circle on February 2. However, one thing is for sure: If he is able to win his first few battles, England could once again have an excellent cruiserweight that has the potential to reach the very top of the game.