Team Sauerland is pleased to announce the signing of British amateur star Deion Jumah. A two-time ABAE Cruiserweight Champion and former England international, Jumah will be joining a stable of cruiserweight champions including Marco Huck (WBO), Yoan Pablo Hernandez (IBF) and Mateusz Masternak (European).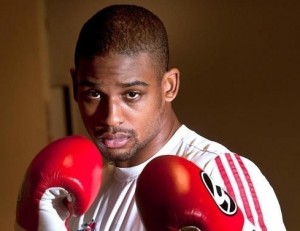 Boxing out of London's famous Dale Youth Amateur Boxing Club, which amongst others has produced Commonwealth Super-Middleweight Champion George Groves and European Super-Middleweight Champion & Olympic gold medalist James DeGale, Jumah amassed an impressive amateur record (22-1, 13 KOs). "At this stage of his career he is as good as anyone I have ever trained, including Groves and DeGale," said Mick Delaney, Head Coach at Dale Youth A.B.C. "He has got everything going for him and can definitely go a long way."
Having spurned the advances of a number of British promoters, Jumah has opted to sign with Team Sauerland. "I met Nisse Sauerland in London and we got on really well," said the 23-year-old. "I grew up watching Sauerland fights. As a cruiserweight I always followed boxing on the European scene as the division is stronger there than in the UK or US. It is an honour to think that I can now be a part of that."
The powerful southpaw is relishing the unique opportunity he will be given at Team Sauerland. "A lot of fighters do not get the chance to travel until later in their career and it can come as a shock to their system," said Jumah. "From the beginning of my career I will be fighting all over the world and at home in the UK. I will be gaining valuable experience which will help me become a worldwide star."
Jumah remains unfazed by the prospect of turning professional. "I think my style is more suited to professional boxing," he remarked. "I enjoy big crowds and a big ring. Even as an amateur I always went for the big shots and stoppages. I love fighting, this is who I am and this is what I am made to do."
Promoter Nisse Sauerland has no doubts over Jumah's ability. "We hit it off from the moment we met and as soon as I saw him fight in the ABAs I knew he could go all the way," said Sauerland. "I aim to keep him as busy as possible over the next few years and have him fighting all over the world. Deion is a promoter's dream and I am sure we are looking at a future world champion."
Jumah is set to make his professional debut on February 9 as part of Team Sauerland's Nordic Fight Night series at Blue Water Dokken in Esbjerg, Denmark. In the main event of the evening, 21-year-old Danish star Patrick Nielsen (17-0, 8 KOs) will make the third defense of his WBA Intercontinental Middleweight Title. Tickets for the show are available at billetten.dk.