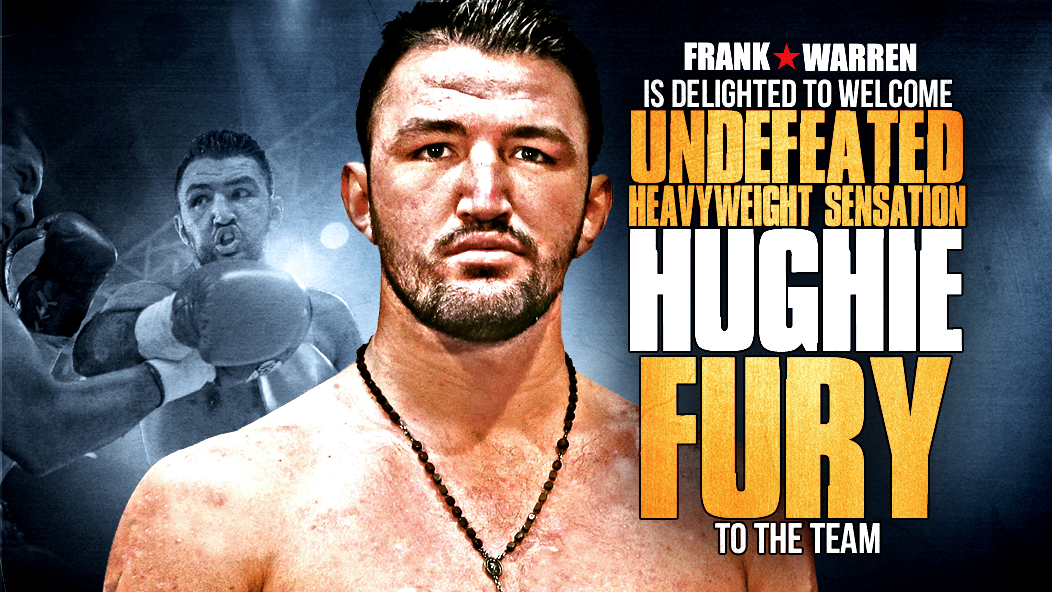 George Groves will face David Brophy in a Super-Middleweight battle of Britain at The O2 in London on April 9. Three-time title challenger Groves meets the Scotsman over 12 rounds on the undercard of Anthony Joshua MBE's Heavyweight title clash with Charles Martin, as the Londoner aims to stay on track for a fourth shot at world honors.
Groves returned to the ring in style in January, stopping Andrea Di Luisa inside five rounds at the Copper Box Arena in east London in his first fight with new trainer Shane McGuigan, and 'Saint' George's promoters Sauerland are in talks with Eddie Hearn for a summer showdown with St. Helens' Martin Murray, but must get past the Scotsman first.
"It's nice to be in a domestic dust-up!" said Groves. "David is an undefeated fighter so I'm sure he will be coming with a lot of confidence. It's great to be back on Sky Sports and part of a great Box Office line-up. I'm looking forward to it.
"I had a good performance last time out against Di Luisa and I will be using that momentum going in this fight. Hopefully I'll get a similar result and we can move on to the bigger fights in the summer.
"The work with Shane is going well. I think we will see even more improvements. The sparring has been better, the technical sessions have been better. I think that will come out more and more in this next fight.
"I'm sure it won't be long until back in the World title mix. There's plenty of big fights out there for me, and I'm willing to fight anyone, so we will see what routes open for me."
Groves' promoter Kalle Sauerland said: "George has never shied away from a challenge, and on April 9, he's back in action against a young undefeated prospect. This will be another good test for George and a chance for him to showcase more of the improvements he has made since teaming up with Shane McGuigan. It's an exciting time for the 'Saint' with a lot of big fights on the horizon."
Unbeaten Brophy – 16-0 – will have other ideas though and the Caldercruix talent can gate-crash the upper-reaches of the 167lbs division if he can land a career-best win in Greenwich.
"This is a massive opportunity for me," said Brophy. "I have done my apprenticeship and I have waited patiently for a chance, so this is a great chance for me to show what I can do on an outstanding show.
"I said yes to the fight straightaway. I didn't even know how many rounds it was, or anything about the money, I just said yes. I haven't been in the limelight, you never really are in Scotland, so opportunities don't come too often and you miss 100 per cent of the opportunities you don't take.
"I don't mind being the underdog. I know people will say I am the underdog straight away and George is a good fighter and I know that. But I am more than prepared for this step up and I will give it everything I have got. I feel really confident and I would have taken the fight if I wasn't. I'm not here to make up numbers and that's the first mistake that anybody will make. I'm there to do a job.
"I expect George to be fast and to try and do a job on me. I feel as if he is going to have a big fight in the summer, and whatever that is I think they will be treating me as a stepping stone and that is even better for me because I don't mind being the underdog and I don't mind going into somebody's back garden either."
Groves' clash with Brophy is part of a huge night of action in London topped by Joshua's first World title fight, as Lee Selby defends his IBF World Featherweight title against Eric Hunter, while there's a key Middleweight battle between former World title challengers Matthew Macklin and Brian Rose, plus more fights to be confirmed soon.
Erik Skoglund Back on April 23
Boxing returns to Stockholm on April 23 when the Nordic Fight Night hits the Hovet and Erik Skoglund (24-0, 11 KOs) takes on the tough South African Ryno Liebenberg (17-2, 12 KOs).
Skoglund has been at the forefront of the revival in Swedish professional boxing. Last September, the 24 year-old from Nyköping made history when defending his IBF title against Oleksandr Cherviak – the first fight over championship distance on Swedish soil since the ban on professional boxing in 1969.
Three months later, the 'Swedish Sensation' returned with a one-sided points victory over the American knockout specialist Derek Edwards – the only man to have beaten current Swedish World Champion Badou Jack.
Now, Skoglund must prepare for his next challenge, a twelve-round battle with the 31 year-old South African Ryno Liebenberg, who is coming to Stockholm full of confidence, believing he has the beating of the IBF Intercontinental Champion.
''Erik can run, but he can't hide. I'm coming for him,'' says Liebenberg, who has been vocal about his desire to face the Swedish star.
''The South African fans know me: I come to fight from the beginning to the end, and will do everything it takes to get the decision. Erik is well-schooled, well-rounded boxer, but I'm confident I can beat him!
''I'll prepare for this fight the same way I always do, with lots of hard work. The only change is I'm doing more running because I think Skoglund will be doing lots of running in the ring trying to keep out of range from my punches.''
Skoglund, who is already four weeks into his training camp, expects his South African opponent to provide a stern test, but plans to prove he is ready for a World title challenge with his first victory of 2016.
''Ryno is a tough opponent,'' says Skoglund. ''He's more of a brawler than a boxer, but he is a dangerous fighter. He's strong and he can punch. It will be a good test for me.
''He's been up against some of the best. He did a really good job against Tommy Oosthuizen, which ended in a split decision, and I think if I put in a good performance and get a clear decision, it will show that I'm ready for a World title challenge.
''We brought professional boxing back to Sweden last year, but now, we need big shows like this in the capital city to build more interest. I'm looking forward to fighting in Stockholm at the Hovet.
''I'm sure lots of my fans from Nyköping will travel to support me, and I hope people from Stockholm and all over Sweden will get behind me as well, as this is going to be another great night for Swedish boxing!''
Promoter Nisse Sauerland is pleased to be hosting his first show in Stockholm and is promising fans an action-packed night of boxing at the Hovet.
''We're delighted to be bringing the Nordic Fight Night to Stockholm,'' said Sauerland. ''The Hovet is a fantastic venue and will provide the perfect setting for an evening of World-class boxing action.
''Erik Skoglund faces another tough test against Ryno Liebenberg, who is a serious opponent and will be coming to Stockholm to win. He will need to bring his A-game or could find himself in trouble, but a win for Erik would be a big statement and bring him closer to the big fights he craves.
''Alongside our main event, we will be bringing fans another championship contest and a full undercard showcasing the very best of Swedish boxing. This is out first show in the capital and we plan to make it one to remember.''
Further information about the big Team Sauerland show in Stockholm on April 23 at the Hovet including ticket details and undercard announcements will be released shortly.
Hughie Fury Fights April 30th
Hughie Fury, will feature on the event at the Copper Box Arena on Saturday April 30th and after April he will be set to appear regularly for promoter Frank Warren. The exciting and undefeated Manchester star will have his first fight on the undercard of Billy Joe Saunders' WBO Middleweight title defense against "Mad" Max Bursak.
The 21-year-old, who is the younger cousin of Unified World Heavyweight Champion Tyson, has a fight lined up first at Wembley Arena against Nagy Aguilera where he aims to take his perfect record to 19-0 and then it's full steam ahead as he works towards a world title and join Tyson.
With the heavyweight division in a new era after the Klitschko brothers long dominance, Fury is in a perfect position to capitalise as he also eyes showdowns against British rivals David Haye and Anthony Joshua, who he believes he has the beating of.
Fury has ripped through the division with his devastating, all-action, style that has seen him halt 10 out of 18 opponents early with eight coming inside three rounds and is looking to make a big impact at the Copper Box Arena.
"I'm delighted to be featuring on Boxnation I boxed on their shows in the past and really enjoyed the experience. I am going to make a big impact over the next few years and join my cousin Tyson at the very top of the sport. Thank you Boxnation and look forward to the 30th April and future fights." Enthused Hughie.
Warren said, "Hughie is one of the best and most exciting young heavyweight prospects in the world and I'm thrilled to sign him. He wants to fight regularly and for a heavyweight talent of his potential that's essential as he closes in on a world title. The division is certainly opening up with plenty of opportunities and Hughie is going to figure dominantly in the next few years."
Hughie's father Peter, who trains him alongside Tyson, said, "We're delighted at Team Fury for Hughie Lewis Fury to be fighting on the Frank Warren and Boxnation show on the 30th April on the Billy Joe Saunders bill. We look forward to future fights with Boxnation with Hughie who is without doubt a future superstar in the sport."
WBO World Middleweight Champion Billy Joe Saunders makes the first defence of his title against "Mad" Max Bursak and headlines an action-packed card that also features: The Vacant European Cruiserweight title between Ovill McKenzie v Dmytro Kucher; Ryan Walsh defends his British Featherweight Championship against James Tennyson. The full undercard will released shortly.
Bizier Planning to Leave Everything in the ring against Brook
Kevin Bizier says he will pile the pressure on Kell Brook when he challenges for the IBF World Welterweight title at the Sheffield Arena on March 26, live on Sky Sports.
Bizier is the second mandatory challenger that Brook has defended his title against, and like the first, Jo Jo Dan, 31 year old Bizier also hails from Canada.
Brook dismissed the test of Dan inside four rounds at his Sheffield fortress last March and one year on, Bizier says he will leave everything in the ring as he aims to rip the title from the champion.
"I'm going to give 100 per cent on March 26," said Bizier. "I will give everything in the ring for this fight. I don't want to regret anything, I don't want to leave that ring knowing I didn't give it all when fighting for a World title.
"To win rounds and spoil Brook's party, I'll have to apply constant pressure to him and get in his face. I've worked a lot on my inside work as I cannot stay at the end of his jab.
"Brook is a big hitter who manages distance well, I'll have to get into the pocket. Boxing inside will give me a better chance to win.
"I know the fans are going to scream for him, but I will block that out. If Brook gets carried away by the emotion of the crowd, it could play into my hands – I intend to give value for money."
Richard Commey Staying Busy with Fight this Weekend
Richard Commey (23-0, 21 KOs) is back in action on Saturday night against Anzor Gamgebeli (27-13-3, 12 KOs) in an eight-round contest at the Albertslund Musikteatret in Copenhagen, Denmark.
The Ghanaian lightweight star, who is mandatory challenger for the IBF World title, has opted to take a tune up bout ahead of his soon-to-be-scheduled fight with the reigning IBF Champion Rances Barthelemy.
''I'm really looking forward to coming back to Copenhagen and putting on a show for the Danish fans,'' said Commey.
''This is an important fight for me as I need to stay active. It's a once in a lifetime opportunity to challenge for the World title, and I want to make sure I have no ring rust and I'm in the best possible shape, both physically and mentally.''
Despite having a World title fight on the horizon, the 29 year-old from Accra says there will be no complacency in his performance.
''I will treat Gamgebeli no different from my previous opponents,'' he said. ''I respect him and I will be doing utmost to win in fine fashion. I will not be complacent and I will not be taking him for granted, for Team RC, it's business as usual!''
Commey fights on the undercard of Micki Nielsen's WBC International Cruiserweight title defence against former World title challenger Mirko Larghetti. Tickets are available online via www.billetlugen.dk or by calling (+45) 70 263 267.
Bizier's clash with Brook is part of a huge night of action in Sheffield as Luke Campbell MBE returns to the ring, facing fellow Yorkshireman Gary Sykes for the vacant Commonwealth Lightweight title.