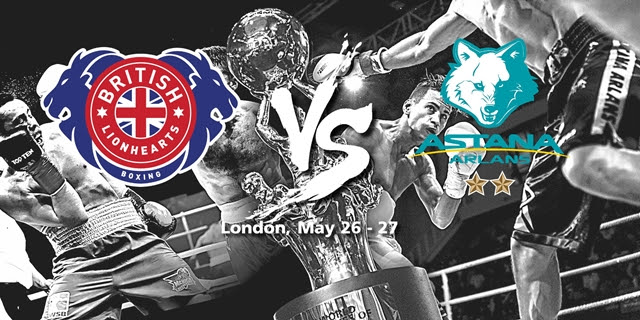 British Lionhearts roar into WSB Season VI final with 7-3 win over Astana Arlans Kazakhstan
The British Lionhearts were on dazzling form in London's York Hall on Friday night, going one better than their 3-2 first leg win to record a famous 4-1 victory over the titleholders to reach their first ever WSB final. The 7-3 aggregate score means they will now meet the Cuba Domadores in the final in Tashkent, Uzbekistan, next weekend.
The Arlans' former National Champion Azamat Issakulov started brightly against the Lionhearts' Armenian draft pick Koryun Soghomonyan with some swift attacking flair, but Soghomonyan soon found his rhythm and accuracy in the second and third rounds to assume the advantage. Issakulov finished strongly, but the Armenian flyweight had already done enough to earn a unanimous decision and set the home side on their way.
Luke McCormack then met ASBC Asian Confederation silver medallist Zakir Safiullin in a patient, tactical lightweight bout. Safiullin was wary of his opponents body shots and defended well in the opening rounds, but McCormack kept his focus, taking a crucial lead that the Kazakh's resilient spirit could not break through and earning the home side a healthy 5-2 lead.
The Arlans were far from finished, however, and Aslanbek Shymbergenov came out blazing against Josh Kelly as the visitors tried to force their way back in to the tie. The Kazah welterweight was imperious in the opening round, boxing from distance and closing up when required, controlling the match right to the final bell to make it 5-3 and give his side a glimmer of hope.
The Lionhearts' Bulgarian boxer Radoslav Pantaleev had other ideas, however, and followed his teammates success in keeping his distance from the experienced Nurdaulet Zharmanov. As Zharmanoc fell behind he was forced to chase the match, and as he tired, Pantaleev was able to capitalise on the small errors, earning a unanimous points win and confirming the Lionhearts' place in the Season VI final.
With the win guaranteed, British powerhouse Frazer Clarke was able to enjoy a crowd-pleasing finale against fellow promising super heavyweight Kamshybek Kunkabayev. Both boxers have big-hitting reputations, and the Kazakh landed a solid left in the second round to floor Clarke, but the Lionhearts star responded well, taking control of a superb final contest to win by split decision, raising the roof in London's York Hall.