Olympian Lawrence Okolie signs promotional deal with Matchroom Boxing
Lawrence Okolie has signed a promotional deal with Matchroom Boxing. The 24 year old's decision to turn over is the latest step in a remarkable rise, having been inspired by Anthony Joshua's London 2012 Olympic gold medal win while he was working in McDonalds.
Okolie began boxing in 2010 just to lose weight but following Joshua's golden moment in east London, Okolie doubled his efforts and after landing back to back University titles in 2014 and 2015 he earned a spot in the British Lionhearts World Series of Boxing team before taking gold in the AIBA European Qualifier in Turkey to make it to the 2016 games in Rio.
Okolie is the first of the 2016 Team GB squad to turn professional, and the Hackney talent has set ambitious targets for life in the paid ranks.
"I want to be the best Cruiserweight that Britain has seen," said Okolie. "David Haye has done great things, so has Johnny Nelson and many others, but I want to cement my legacy, have my name go down in history and maybe follow Haye by winning the Heavyweight crown too.
"I want to get some excitement going in the division, not just from the fans but also have other Cruiserweights training hard and wanting to fight me, because I want to be in great and exciting fights. I want to have six to eight fights in 2017 and I'll be looking to get six to eight knockouts – I mean business.
"Even though I've only had 26 fights, people are going to say that I should be able to beat everyone because I've been to the Olympics. There's pressure there but it'll bring the best out of me. Even if people expect me to win, because then I will want to win in style and make a statement.
"I went into the gym the day after Anthony won gold and I went into McDonalds and told them that I wanted to concentrate on boxing so I cut my hours and eventually stopped working there.
"I've got natural attributes to box. I was never good at other sports, but boxing happens to be one that I've done well in. It's been down to hard work, application and dedication. I think with most things, if you put time and effort in, you will get better. If you have two fighters that are on a similar level, nine times out of ten the winner will be the one that puts in more time to win, and I'm going to bring that to the pro games.
"I have a lot of self-belief but there's always that shadow of doubt there that 'can you do this?' The answer is always yes but the question is there. Getting thrown in at the deep end is something that works for me as if I know that I am going to win I can go through the motions, but if the pressure is on, there's a big crowd, it's a must-win, that's when I produce my best.
"Outside the ring I want to be a role model in Hackney and show people there that if you work hard and believe in yourself you can achieve a lot."
Promoter Eddie Hearn is excited to welcome Okolie to his stable of champions, and says that the first step on his path to the top will be announced next week.
"I am delighted to welcome Lawrence to the team," said Hearn. "Lawrence is the first Team GB Olympian to turn over and I think he has a huge future in the Cruiserweight and Heavyweight divisions.
"Lawrence has all the attributes to become a star inside and outside the ring, and we will announce his debut fight next week. These early stages are where fighters build their foundations and profile to ensure they achieve their dreams and become super stars in the sport – Lawrence has the perfect platform to do that. He will box eight times in his first year on the biggest shows all over the country. It's official – Okolie's out the cage!"
THOMPSON: "I'M PLANNING ON MAKING A BANG WHEN I GET MY CHANCE!"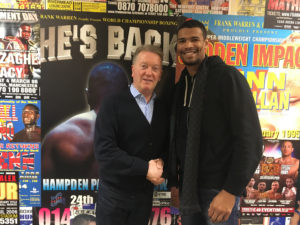 Manchester Cruiserweight starlet Jordan Thompson has signed a long-term promotional deal with Hall of Fame promoter Frank Warren. 'Troublesome' is planning an attack on the domestic Cruiserweight division and is confident he will be at the top of the pile by the end of the year.
The 23-year-old banger turned pro at the back end of 2015 and made an explosive start to life in the paid ranks, knocking out his first three opponents inside the opening round. He then outpointed tough journeyman Remigijus Ziausys, who Dillian Whyte and Dereck Chisora both failed to stop, before scoring a second round stoppage win in his last fight.
"Teaming up with Frank is massive and I'm going to repay the faith he's shown in me," said Thompson. "I've got a huge opportunity to increase my profile with the extra exposure BT Sport and BoxNation will give me. I'm planning on making a bang when I get my chance!
"The domestic Cruiserweight division is wide open and I'm really excited about putting myself right in the mix. Down South you have Isaac Chamberlain who recently beat Wadi Camacho for the Southern Arena title and up North closer to me you have Sam Hyde. I believe I beat them both already but I'm still learning and I need to listen to the advice of those around me.
"I just want to get in that ring against some good opposition, entertain the fans and put on a show because that's what it's all about. I think there's a big space for me in the Cruiserweight division, I'm charismatic and bring something different to the rest of the prospects. I can see myself achieving a lot in this division and very quickly."
Thompson, whose parents were both karate World Champions, is trained by Haroon Headley at the Heavy Hitters Gym in Manchester alongside Frank Warren stablemate and WBO Inter-Continental Super-Lightweight Champion Jack Catterall.
"I've always had a great relationship with Haroon so it made sense to go with him. We go way back to before I even started boxing and it's good to have him in my corner. I put my trust and faith in him and I know that we're going to achieve big things together.
"Haroon took me down to Lee Beard's gym when I started out in boxing and gave me the opportunity to be where I am now. I have a lot of respect for him and he has a lot of respect for me and that's why we get on so well together."
"Boxing is Manchester is on the up again with WBO Lightweight Champion Terry Flanagan leading the way and our Jack making a name for himself as one of the best Super-Lightweights in the country. We just need someone flying the flag in the Cruiserweight division and that's going to be me."
Promoter Warren said: "Jordan is an exciting addition to our growing team of young talent and I'm looking forward to guiding him to the top of the domestic Cruiserweight division and beyond. He certainly possesses knockout power and has an entertaining style that fans will love."