After 24 hours of nonstop rumors, conflicting information and a general maelstrom of controversy, the latest we have is that the Adrien Broner vs. Vicente Escobedo match-up slated for HBO Boxing tonight is back from the dead, and is going to take place after all.. The word comes from the Twitter account of an Everlast representative who has some inside sources with team Escobedo throughout the ordeal, as have many of the updates we've been providing on this story.
We're still treading lightly in terms of what is definitively taking place — however, as of 5 pm Eastern, Golden Boy finally Tweeted that the fight is indeed on!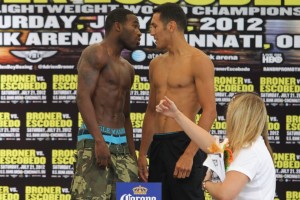 This has been an ongoing saga since Broner widely failed to make weight on Friday afternoon, and made no effort to reach the Super Featherweight limit. [Read the original weigh-in story here].
He weighed in 3.5 pounds over, for 133.5 lbs, and after ongoing negotiations from both sides, was told to weigh-in at no more than 140 pounds on Saturday morning. Instead, he continued to apparently try to buck the system, and weighed about 143 pounds instead.
After a morning and afternoon filled with potential offers being made, more money being thrown towards Vicente Escobedo's team and who knows what else, eventually it seemed that team Escobedo decided the unfair advantage was simply too much, and that it wasn't worth any amount of money to go through with that fight under those conditions.
However, the latest indications are that team Escobedo finally succumbed to the pressure, with the assistance of several hundred thousand dollars, and with Broner supposedly weighing in at 148 pounds and perhaps staying at that figure pre-fight.
Here's what we saw most recently from Ernest Gabion's Twitter account:
Dear goodness. Lol I guess money talks. 100s of K later we have a fight. Broner at 148 right now not sure if he is to stay at that weight
According to other reports, the specific details in terms of the financials and whatever other terms were agreed to are confidential.
Golden Boy then offered this confirmation, ending a day of silence:
Despite rumors circulating, the @AdrienBroner vs. @ChenteEscobedo fight is ON!
Which follows this previous news of the cancellation:
Haymon went to team Escobedo and apologized for his fighters lack of respect. Team Escobedo said that it's not the money its the fairness At which they want this fight to happen. They felt they weren't being treated fairly so fight is off officially

Playing field being offered (Imo pressured) by all involved to make a fighter happen. They stood by their fighter and as much as they want Chente to fight for a title not against a guy who might be two full weight classes above him

quote someone on the team the offer could have been a million and it would not have mattered it was the fairness
Again, no official word from HBO or Golden Boy on this as of yet. Nor do we know yet what to expect from the HBO broadcast tonight. The view is that they are going to show some kind of broadcast, perhaps the two highest undercard bouts, or perhaps just the top bout of the undercard, with extended analysis/discussion of the controversy. But again, that's just speculation for now.
For team Broner, even if the fight does go on as planned, this is a major blow. He will surely be persona non grata at HBO for a while after this. Not to mention that, for a fighter already struggling to be accepted by fight fans, despite his immense talent, he's going to be disliked even more. Meanwhile, if the fight manages to be cancelled yet again, Escobedo will be in line to challenge for the vacant WBO strap in his next fight, and will likely have some sort of financial guarantees or incentives in his contract stemming from this fiasco.
On another note, it is Twitter that is continuing to break all of these stories and news updates. For any boxing fan, you gotta be on Twitter to see the most up to date information.
Stay tuned for more updates regarding the on again, off again cancellation of Broner vs. Escobedo.